Recetas
For some reason, I was craving this on Saturday. Nothing else would do. All I wanted was a warm, gooey, chocolate chip cookie, straight out of an iron skillet. With just a little ice cream. I flipped through a cookbook or two, and discovered you could make chocolate chip cookies with melted butter. One recipe (from The Weekend Baker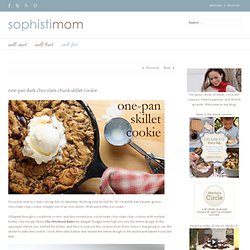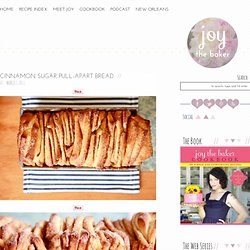 I'm sorry. I know it's Monday morning and you probably came here for some pretty pictures of food that you could glance at, and then move on with your day… and here I go thrusting warm, soft cinnamon sugar bread in your face. It's not fair. I know it's not fair. I know that now you're craving cinnamon rolls, and cream cheese frosting and chili fries and hot dogs. I am too… and I already ate half of this warm bread.
Carrot Cake Recipe from Betty Crocker
Yellow Cupcakes
Hey Guys! So…it's still really hot out…wtf! I'm totally ready for fall…forget this, "I just don't want summer to end" BS…I'm OVER IT! Okay, I apologize for being aggressive right there, but man does this weather make me grumpy. There are a few things that get my mood up during weather like this: 1) My Dog (always) 2) Frequent Fro-Yo and Hawaiian Ice trips with the boyfriend 3) This Roasted Onion Dip.
Chipotle Shredded Pork Enchiladas
Now that I live in Southern California, I've been diving into the world of Mexican food. I've shared with you before that I've never been a fan, until recently. Ben is partially responsible for my conversion, but I think the other reason is because I've finally been exposed to good Mexican food. Through-out my childhood and up until I got married, I always related Mexican food to places like Taco Bell.
Fresh Basil Pesto
Basil pesto is a newer staple in my fridge. It is something I can quickly whip up and use in so many different recipes. Keep it in an air tight container or jar, drizzle some olive oil on top, and it will keep in the fridge for a few weeks. You can also freeze it for months.