Spatial planning
Worldometers - real time world statistics. Antecedentes | La Fundación | Nosotros | Ciudad del Saber. Panamá logró su plena soberanía gracias a los Tratados Torrijos-Carter (1977) que suponían la devolución a Panamá de la soberanía sobre el Canal interoceánico y de las áreas adyacentes que estaban bajo el control de Estados Unidos, un total de 1.432 kilómetros cuadrados.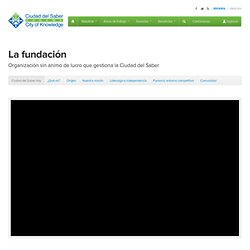 Este momento histórico fue también un tiempo de sueños y de proyectos innovadores para el país en busca del camino definitivo hacia el desarrollo. La Ciudad del Saber es hija de esos sueños y cimiento de ese desarrollo basado en la innovación, la cultura emprendedora y la sostenibilidad. En 1994, el industrial panameño Fernando Eleta Almarán hizo la propuesta de crear en las llamadas Áreas Revertidas una Plaza Socrática, un centro de intercambio de conocimiento, y de transformar el entonces Panama Canal College en la Universidad de las Américas. Songdo Landmark City Block A4 / REX. Architect: REX Location: Incheon, Korea Client: Songdo Landmark City (SLC) Program: Residential towers with a total of approximately 2,000 units, community facilities, retail, and underground parking Area: 342,900 sqm Project Status: Completed Concept Design Landscape Architect: Bureau Bas Smets Executive: HYUNDAI Architects & Engineers; SAMOO Architects & Engineers Key Personel: Adolfo Albaisa, Haviland Argo, E.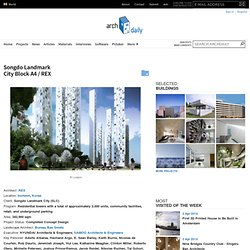 Sean Bailey, Keith Burns, Nicolas de Courten, Rob Daurio, Jeremiah Joseph, Hui Lee, Katharine Meagher, Clinton Miller, Roberto Otero, Michelle Petersen, Joshua Prince-Ramus, Jacob Reidel, Nikolas Rychen, Tal Schori, Hala Sheikh, Nuo Xu Consultant: Magnusson Klemencic Associates REX was asked to design a residential complex in Songdo Landmark City in which every apartment offers direct southern exposure, cross-ventilation, and views. Masdar HQ. This design for the Masdar Headquarters by the architecture firm AS+GG has been awarded this year's Arabian Property Award for Architecture - Mideast Region by International Property Awards, as well as three other awards in 2008.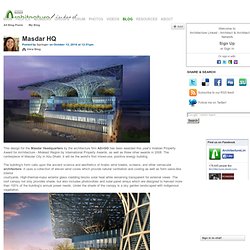 The centerpiece of Masdar City in Abu Dhabi, it will be the world's first mixed-use, positive energy building. The building's form calls upon the ancient science and aesthetics of Arabic wind towers, screens, and other vernacular architecture. It uses a collection of eleven wind cones which provide natural ventilation and cooling as well as form oasis-like interior courtyards. Masdar: The World's First Zero-Carbon City | kontraPLAN | kontraPLAN. In 2007, the Abu Dhabi government announced that it would create the world's first zero-carbon city, which would be known as Masdar (Masdar means source in Arabic).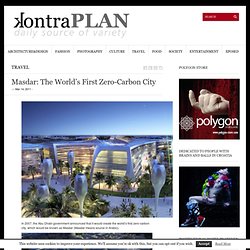 The announcement stated that Masdar would rely solely on renewable energy (primarily solar), while yielding no waste. Masdar would become home to a university with the purpose of studying sustainability and attracting the top clean tech companies. All of the transportation in the city would be via Personal Rapid Transit (PRT) car, instead of traditional cars. Avery Index to Architectural Periodicals - TU Delft Discover. Write a Resumé that Travels Across Countries and Cultures - Tom O'Neil. By Tom O'Neil | 5:09 PM May 3, 2012 If you're applying for jobs outside your native country, you need to re-examine much of what you know about putting together a resume.
How many pages should it be? What format is best? Do you send it in MS Word or as a PDF? As a giant generalisation, Greek employers prefer larger resumes, while in Norway resumes should be no longer than two pages. Sustainable Cities.
Blogs
MegaCities | Home. Ethical urban planning – is there such a thing? - Sustainability. The book is a textbook in planning and urban development and can also be read by professional planners.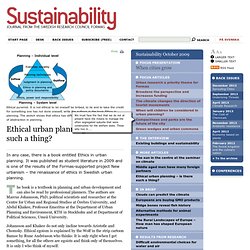 The authors are Marcus Johansson, PhD, political scientists and researcher at the Centre for Urban and Regional Studies at Örebro University, and Abdul Khakee, Professor Emeritus at the Department of Urban Planning and Environment, KTH in Stockholm and at Department of Political Sciences, Umeå University.
Johansson and Khakee do not only incline towards Aristotle and Chomsky. Ethical egoism is explained by the Wolf in the strip cartoon Bamse by Rune Andréason who thinks: It is only right when I get something, for all the others are egoists and think only of themselves. It is only I who think of myself. Planning Practice & Research.
Peruvian planning. AESOP 2012. The Association of European Schools of Planning (AESOP) will hold its 26th Annual Congress in Ankara, Turkey, from 11 to 15 July 2012.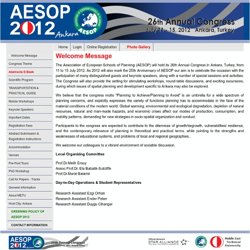 As 2012 will also mark the 25th Anniversary of AESOP our aim is to celebrate the occasion with the participation of many distinguished guests and keynote speakers, along with a number of special sessions and activities. The Congress will also provide the setting for stimulating workshops, round-table discussions, and exciting excursions, during which issues of spatial planning and development specific to Ankara may also be explored. We believe that the congress motto "Planning to Achieve/Planning to Avoid" is an umbrella for a wide spectrum of planning concerns, and explicitly expresses the variety of functions planning has to accommodate in the face of the material conditions of the modern world.
Travel from Ankara to Cappadocia. There are no non-stop flights to make the 285-km (177-mile) trip between Ankara and Cappadocia (map), the trains (see below) are slow and run mostly at inconvenient times, so the best way to go is by road: bus or car.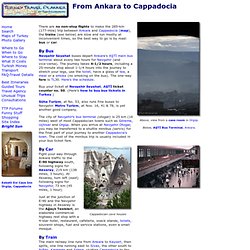 By Bus Nevşehir Seyahat buses depart Ankara's AŞTİ main bus terminal about every two hours for Nevşehir (and vice-versa). The journey takes 4-1/2 hours, including a 25-minute stop about 1-1/4 hours into the journey to stretch your legs, use the toilet, have a glass of tea, a meal or a smoke (no smoking on the bus). The one-way fare is TL30. Here's the schedule. Classic Hotel, good location, good for business - Buyukhanli Park Hotel & Residence, Ankara Traveller Reviews. Planetizen | Urban Planning, Design and Development Network.
TU Delft: Urbanism. Spatial Planning BLOG. TU Delft - Graduating. On this page, you will find the necessary information which you will need during and after graduating.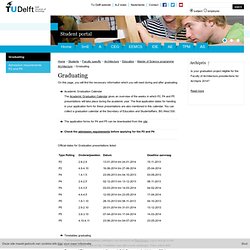 Academic Graduation CalendarThe Academic Graduation Calendar gives an overview of the weeks in which P2, P4 and P5 presentations will take place during the academic year. The final application dates for handing in your application form for these presentations are also mentioned in this calendar. You can collect a graduation calendar at the Secretary of Education and Studentaffairs, BG.West.530.
---