Movies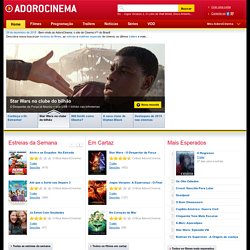 A man who uploaded a single movie to The Pirate Bay kickstarting South Africa's first online piracy case has been sentenced today. After striking a plea bargain with the state over what was unusually framed as a criminal rather than civil offense, the 29-year-old was handed an unprecedented five-year suspended jail sentence. Several large "pirate" movie streaming portals are using Google's servers to distribute copyrighted material. More than 18,000 videos are currently publicly available, and requests to Google to remove the files have reportedly gone unanswered. For more than half a decade Spotify has relied on P2P technology to quickly deliver songs to its millions of subscribers.
Definições de cookies Cookies são pequenos ficheiros de texto que são guardados no seu computador quando visita alguns websites. Nós utilizamos cookies para lhe proporcionarmos uma melhor utilização do website. Pode remover os cookies armazenados no seu computador, mas poderá impedir de utilizar partes do nosso website. Selecione uma destas opções para alterar as definições das cookies. Estritamente necessário e desempenhoFuncional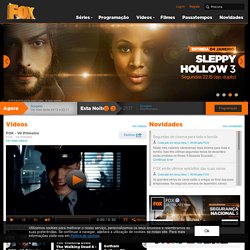 Fox
Entering its 11th season, FAMILY GUY continues to entertain fans with its shocking humor, infamous cutaway gags and epic episodes. Since its debut, the show has reached cult status among fans, and its breakout star, a talking baby, has become one of the greatest TV villains of all time. FAMILY GUY has racked up numerous awards, including an Emmy Award nomination for Outstanding Comedy Series, only the second animated series in television history to be honored with such a distinction. The show follows the adventures of an endearingly ignorant dad, PETER GRIFFIN (Seth MacFarlane), and his hilariously odd family of middle-class New Englanders in Quahog, RI. LOIS (Alex Borstein) is Peter's wife, a stay-at-home mom with no patience for her family's antics.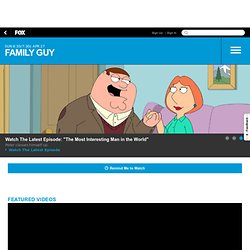 Cleveland Show
AMERICAN DAD follows staunch GOP supporter and CIA agent STAN SMITH (Seth MacFarlane) and the misadventures of his unconventional family in Langley Falls, VA. The series returns this fall for a 10th and final season on FOX. Stan's blissfully unaware wife, FRANCINE (Wendy Schaal), has an unfaltering loyalty that allows her to turn a blind eye toward Stan's unabashed arrogance.