VARIOUS
Mind. Baby Growth Chart - Graph Your Baby's Height and Weight. Plot your child's height and weight against national percentiles in this online growth chart. The chart graphs from birth to three years of age. Fill in one or more rows of the table above and press Graph. InstaMapper - Free Real-Time GPS Tracking. Stamp Albums - PALO ALBUMS. World's Craziest Dictators. Saparmurat "Turkmenbashi" Niyazov (Turkmenistan): Renamed a month after him; banned recorded music, video games and beards!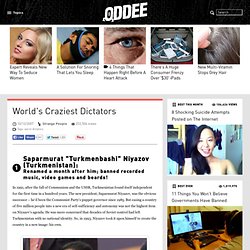 In 1991, after the fall of Communism and the USSR, Turkmenistan found itself independent for the first time in a hundred years. The new president, Saparmurat Niyazov, was the obvious successor – he'd been the Communist Party's puppet governor since 1985. But easing a country of five million people into a new era of self-sufficiency and autonomy was not the highest item on Niyazov's agenda.
He was more concerned that decades of Soviet control had left Turkmenistan with no national identity. Do something, Learn something, Share something, Change something - Meetup. Turn an FM Transmitter into a Micro Pirate Radio. From Wired How-To Wiki Illustration: Lab Partners' Corporate radio is preprogrammed junk.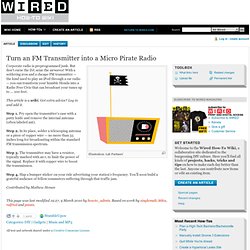 But don't curse the DJ; seize the airwaves! TripCart :: The Travel Blog: POTD. Papervision3D. Panorama.
---