September_2011
Please add sap@mailsap.com to your address book or safe senders list to receive SAP related information properly. RUN BETTER See how easy it is to perform in-depth analysis using your own data. What do Business Analytics and Fantasy Football have in common? They both love data. SAP has launched the Fantasy Football Experience to provide fans with an exciting and fun way to pick your dream team and see football statistics in an entirely new way.
Special Invitation: Explore Your Own Data, RSVP Today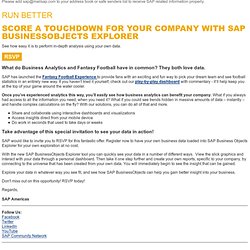 Please add sap@mailsap.com to your address book or safe senders list to receive SAP related information properly. CONTROL THE FUTURE OF YOUR BUSINESS Join SAP's SME Growth Webinar Series for September Do you have limited capital budget, minimal IT support, or no desire to build and maintain a large in-house IT infrastructure? Every business is unique, which is why we offer a complete portfolio of business management and business intelligence solutions designed to fit the way you do business – and your budget.
Your Business Is Unique. So Is This Expert Advice.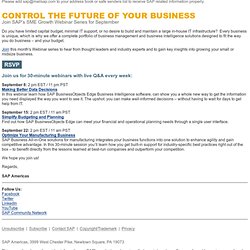 Gmail - Presenting for Profit: Creating Presentations that Persuade - charles.a.wilson
Learn how top companies make smarter decisions—Complimentary Seminar, September 15
SAPinsider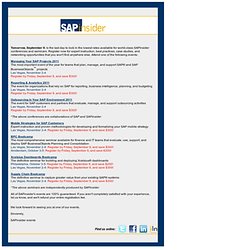 Tomorrow, September 9 , is the last day to lock in the lowest rates available for world-class SAPinsider conferences and seminars. Register now for expert instruction, best practices, case studies, and networking opportunities that you won't find anywhere else. Attend one of the following events: Managing Your SAP Projects 2011 The most important event of the year for teams that plan, manage, and support SAP® and SAP BusinessObjects ™ projects Las Vegas, November 2-4 Register by Friday, September 9, and save $300!
SNW Fall 2011
Solution Summit: Deep Analytics for Big Data -- TDWI Events
The page that you have requested has changed locations or is no longer available on our server. Please use the links on one of the following pages to locate your file or to find the information you are looking for. TDWI Events Home TDWI Home page Help us help you! Please email us to report a broken link .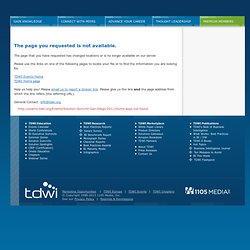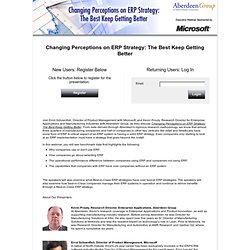 Changing Perceptions on ERP Strategy: The Best Keep Getting Better
Join Errol Schoenfish, Director of Product Management with Microsoft, and Kevin Prouty, Research Director for Enterprise Applications and Manufacturing Industries with Aberdeen Group, as they discuss Changing Perceptions on ERP Strategy: The Best Keep Getting Better . From data derived through Aberdeen's rigorous research methodology, we know that almost three quarters of manufacturing companies and half of companies in other key verticals like retail and healthcare have some form of ERP. A critical aspect of an ERP system is having a solid ERP strategy. Even companies only starting to look at an ERP implementation must have a strategy that goes beyond the install. In this webinar, you will see benchmark data that highlights the following: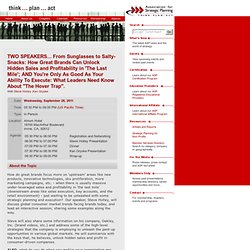 Association For Strategic Planning
With Steve Holley , Ken Gryske About the Topic How do great brands focus more on 'upstream' areas like new products, innovative technologies, sku proliferation, more marketing campaigns, etc. - when there is usually massive under-leveraged sales and profitability in 'the last mile' (downstream areas like sales execution, key accounts, and the retail environment) - just waiting to be unleashed with some strategic planning and execution?
"BOOMstart brought my marketers back to life. My marketing team had lost its energy. They didn't want to attend "another" marketing meeting... BOOMstart gave us the jumpstart we needed! The marketing team left our BOOMstart training with new marketing ideas, tools and strategies.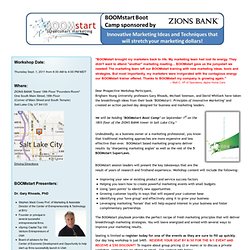 BOOMstart Boot Camp Workshop
Mobile Strategies for SAP Customers
WIS offers turnkey methodologies, processes, and resources to ensure that your meeting is a success. With experience ranging from small, intimate retreats to 5,000+ attendee conferences with large tradeshow floors, you can rest assured that we've already been there and done that. We believe that no meeting is the same as another. We treat each opportunity as a unique event and build from scratch to your specifications. You can count on WIS to provide first-class service to you and your attendees for: Destination research and site selection Hotel and vendor contracting Program design and theme development Program logistics management Pre-event and onsite registration Travel management Integrated marketing services Sponsorship recruiting and management Billing reconciliation and auditing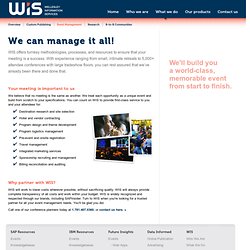 Data Integration and Data Management On Demand Webinars
Don't miss out: Register now for Virtual Performance
Reporting & Analytics 2011 - HOME
BPC Bootcamp -- Business Planning and Consolidation
BPC Bootcamp -- Business Planning and Consolidation
BPC Bootcamp -- Business Planning and Consolidation
TruQua | True Quality. Delivered
Today, finance executives do much more than monitor and report on enterprise performance. They actively drive change to stay ahead of the competition. But to excel in an uncertain business world, there are unique challenges.
SAP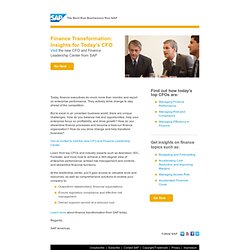 SAP, Center of Excellence for finance (Tom Rabbitt?) by amw96 Sep 8
SAP
SAP to Acquire Disclosure Management Solutions from cundus AG
WALLDORF, Germany - December 16, 2010 - Adding to its portfolio of solutions that create instant value for customers worldwide, SAP AG (NYSE: SAP) today announced its intent to acquire disclosure management solutions from cundus AG — headquartered in Duisburg, Germany — comprising cundus Financial Statement Factory and cundus informationCollector, including intellectual property, customer contracts and certain employees. As a result of this acquisition, SAP will extend its market-leading portfolio of finance solutions with a collaborative offering that helps enterprises achieve a timely, accurate and more cost-effective financial close process. In current economic conditions, companies and their finance departments are under greater pressure to comply with International Financial Reporting Standards (IFRS) and requirements to file financial and business information using extensible business reporting language (XBRL).
RJT Compuquest - ERP consulting services provider, system integrator
O'Reilly Strata NY Conference: Making Big Data Work