CFO_CPM Conf
Linium - Identify. Implement. Innovate. - linium. Home. Analytics8 | Awaken your business intelligence. Oracle Financial Reporting Tools | SAP Financial Reporting Tools | Excel reporting Tools SAP Oracle JD Edwards BPCS Lawson QAD Infor Peoplesoft web based applications fixed assets procurement. Performance Management – Host Analytics' online budgeting and forecasting solution to drive fact-based decisions | Performance Management with Host Analytics' Business Planning Software | Host Analytics. Hardware and Software, Engineered to Work Together. Budgeting Software | Forecasting Software | Corporate Performance Management Software | BPM Software (CPM) | PROPHIX.
Business Process Outsourcing | BPO | Sutherland Global Services. Sales Performance Management and Incentive Compensation | Varicent. ABUKAI - The quickest & easiest way to create expense reports. Adaptive Planning - Budgeting, Planning & Forecasting Software. BI & CPM all in one. In Cloud (SaaS) iDashboards In Cloud - Turn Your Excel Data into Insight Just seeing your data doesn't always solve the problem.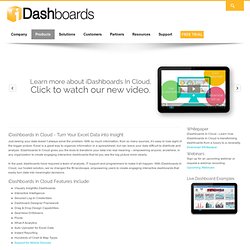 With so much information, from so many sources, it's easy to lose sight of the bigger picture. Excel is a great way to organize information in a spreadsheet, but can leave your data difficult to distribute and analyze. iDashboards In Cloud gives you the tools to transform your data into real meaning – empowering anyone, anywhere, in any organization to create engaging interactive dashboards that let you see the big picture more clearly.
In the past, dashboards have required a team of analysts, IT support and programmers to make it all happen. With iDashboards In Cloud, our hosted solution, we've changed the BI landscape, empowering users to create engaging interactive dashboards that easily turn data into meaningful decisions. Welcome to the AICPA. Performance Management & Financial Governance Software — Tagetik. Quickcomm – Telecom Expense Management, TEM. QueBIT. Sponsors.
---