Yahoo Vs Facebook
Yahoo and Facebook in Advanced Negotiations to Settle Patent Lawsuits - Kara Swisher
Top execs at Yahoo and Facebook have been hammering out the outlines of a deal over the last several days to end their contentious patent infringement litigation, according to multiple sources close to the situation. While that could change, sources said a settlement could happen in the coming weeks and that the advanced negotiations will put aside the lawsuits and counterclaims between the one-time close partners and return them back to what could be an even closer relationship.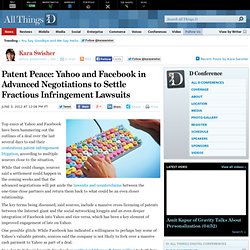 Executives at Yahoo and Facebook have completed an extensive strategic deal, as part of a final settlement of their contentious patent infringement lawsuit and countersuit.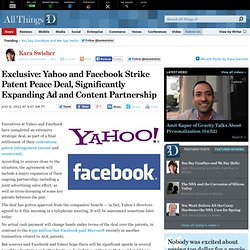 Exclusive: Yahoo and Facebook Strike Patent Peace Deal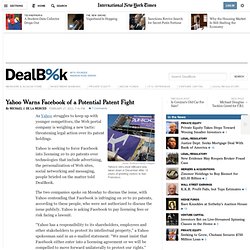 Justin Sullivan/Getty ImagesYahoo's retro-style billboard was taken down in December after 12 years of greeting visitors to San Francisco. As Yahoo struggles to keep up with younger competitors, the Web portal company is weighing a new tactic: threatening legal action over its patent holdings.
Yahoo Warns Facebook of a Potential Patent Fight
The Man Who Predicted the Yahoo/Facebook IP War on Why Patents Still Matter [TCTV]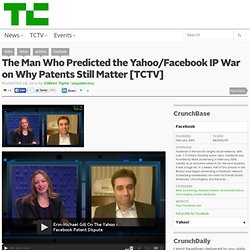 When news broke this week that Yahoo is accusing Facebook of violating as many as 20 of its patents, it took quite a few people by surprise — but at least one patent expert saw it all coming from a mile away.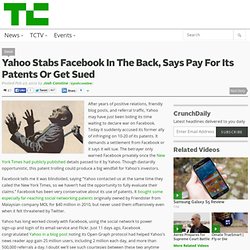 After years of positive relations, friendly blog posts, and referral traffic, Yahoo may have just been biding its time waiting to declare war on Facebook.
Yahoo Stabs Facebook In The Back, Says Pay For Its Patents Or Get Sued
In what is either the boldest gamble of its history or the most boneheaded, Yahoo has filed a massive patent infringement lawsuit against Facebook.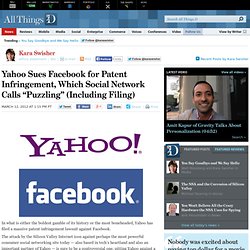 Yahoo Sues Facebook for Patent Infringement; Facebook: "Puzzling"
Yes, Yahoo (NSDQ: YHOO) went there today — claiming in a lawsuit that it, not Facebook, is the real king of social networks. The company points to ten patents that it says cover features like messages, advertising and privacy settings. We've provided here abstracts of those patents for your reading pleasure.
Meet The 10 Patents Yahoo Is Using To Sue Facebook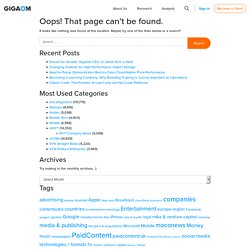 Yahoo reared its patent troll head this week, and it's not just Facebook that has reason to be worried — at least, judging by the extremely broad features that it's being targeted for.
Everyone Has The Features Yahoo's Suing Facebook For: Here They Are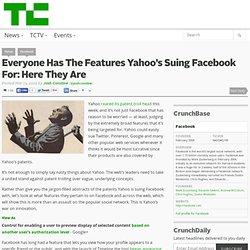 MSFT can & should save Facebook
Worst But First: Yahoo Uses Words of Facebook's Zuckerberg to Poke Him
Yahoo! Crosses The Line
It's Time for the Valley to Grab Torches, Pitchforks and Head to Sunnyvale
By Sarah Lacy On March 12, 2012 The two pieces of news about Yahoo today are likely not a coincidence. Perhaps the exact timing of the stories is, but there's almost certainly an underlying cause and effect. Just hours after the Wall Street Journal reports details on activist shareholder Daniel Loeb's plans for his run at the company, the New York Times DealBook answers back with a story about Yahoo following up on their threat from a few weeks ago and suing Facebook for patent infringement. Yahoo is sadly a company that is running itself like a teenager trying to placate angry parents. It's unable to fix the systemic, underlying problems like its woefully bloated staff, lack of direction and complete failure to adopt any sort of modern strategy.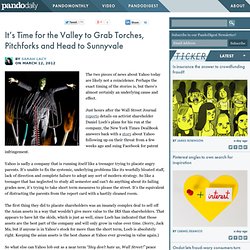 While most of the tech world was partying at South by Southwest in Austin yesterday, Yahoo announced it was filing a lawsuit against Facebook for allegedly infringing on 10 patents from their 1,000+ patent warehouse. I'm no fan of Facebook, but this is a deplorable move. It's nothing less than extortion, expertly timed during the SEC-mandated quiet period before Facebook's IPO. It's an attack on invention and the hacker ethic.
How Yahoo Weaponized My Work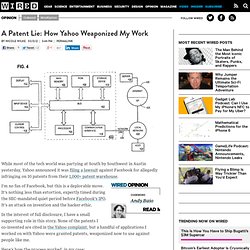 Facebook Inc. (FB) acquired 750 patents from International Business Machines Corp.
Facebook Is Said to Buy 750 IBM Patents to Boost Defenses
Law360 is reporting a source has told them that the lot of 750 patents Facebook is buying from IBM "were licensed to Yahoo."
Yahoo reportedly has a license to patents Facebook just bought from IBM
Facebook Smacks Back at Yahoo With Patent Claims in Counter-Lawsuit - Kara Swisher
Like many in tech, I believe all software patents should be abolished. That said, I think Facebook made the right move by filing a lawsuit against Yahoo's patent attack. As I see it, Facebook had 4 choices:
Facebook's response to Yahoo's patent lawsuit
This much is clear about the patent showdown between Yahoo and Facebook: Yahoo is losing friends left and right.
Silicon Valley has Facebook's back in Yahoo knife fight | Geek Gestalt
Facebook Paying Microsoft $550 Million for Former AOL Patents - Ina Fried - Mobile
Rather Than Pay Off Yahoo, Facebook Built A Patent Fortress
Yahoo: Facebook's AOL patent deal with Microsoft shows it is weak