Yahoo Vs Facebook
Yahoo and Facebook in Advanced Negotiations to Settle Patent Lawsuits - Kara Swisher. Top execs at Yahoo and Facebook have been hammering out the outlines of a deal over the last several days to end their contentious patent infringement litigation, according to multiple sources close to the situation.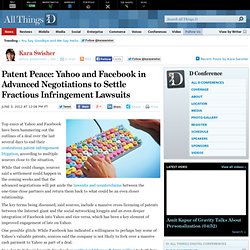 While that could change, sources said a settlement could happen in the coming weeks and that the advanced negotiations will put aside the lawsuits and counterclaims between the one-time close partners and return them back to what could be an even closer relationship. The key terms being discussed, said sources, include a massive cross-licensing of patents between the Internet giant and the social networking kingpin and an even deeper integration of Facebook into Yahoo and vice versa, which has been a key element of improved engagement of late on Yahoo.
One possible glitch: While Facebook has indicated a willingness to perhaps buy some of Yahoo's valuable patents, sources said the company is not likely to fork over a massive cash payment to Yahoo as part of a deal. Exclusive: Yahoo and Facebook Strike Patent Peace Deal. Executives at Yahoo and Facebook have completed an extensive strategic deal, as part of a final settlement of their contentious patent infringement lawsuit and countersuit.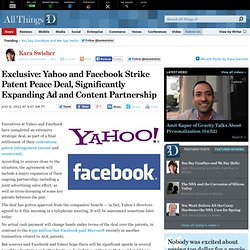 According to sources close to the situation, the agreement will include a major expansion of their ongoing partnership, including a joint advertising sales effort, as well as cross-licensing of some key patents between the pair. The deal has gotten approval from the companies' boards — in fact, Yahoo's directors agreed to it this morning in a telephonic meeting. It will be announced sometime later today. Yahoo Warns Facebook of a Potential Patent Fight. Justin Sullivan/Getty ImagesYahoo's retro-style billboard was taken down in December after 12 years of greeting visitors to San Francisco.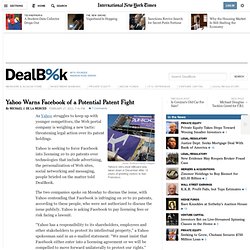 As Yahoo struggles to keep up with younger competitors, the Web portal company is weighing a new tactic: threatening legal action over its patent holdings. Yahoo is seeking to force Facebook into licensing 10 to 20 patents over technologies that include advertising, the personalization of Web sites, social networking and messaging, people briefed on the matter told DealBook. The two companies spoke on Monday to discuss the issue, with Yahoo contending that Facebook is infringing on 10 to 20 patents, according to these people, who were not authorized to discuss the issue publicly.
Yahoo is asking Facebook to pay licensing fees or risk facing a lawsuit. "Yahoo has a responsibility to its shareholders, employees and other stakeholders to protect its intellectual property," a Yahoo spokesman said in an e-mailed statement. The Man Who Predicted the Yahoo/Facebook IP War on Why Patents Still Matter [TCTV] When news broke this week that Yahoo is accusing Facebook of violating as many as 20 of its patents, it took quite a few people by surprise — but at least one patent expert saw it all coming from a mile away.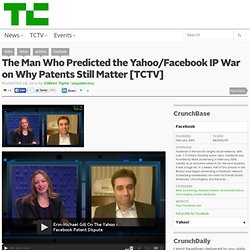 Erin-Michael Gill first publicly predicted a Yahoo/Facebook patent battle in an article published by Forbes.com back in November. Gill is currently managing director and chief intellectual property officer at MDB Capital, an investment bank that specializes in IP issues; his earlier résumé includes an appointment by the Obama administration to be Special Adviser to the Under Secretary of Commerce for Intellectual Property and Director of the USPTO. In short, the guy knows his stuff. So today we reached out to Gill to get his insights on the Yahoo/Facebook patent situation, now that things have finally started to come to a head. Yahoo Stabs Facebook In The Back, Says Pay For Its Patents Or Get Sued.
After years of positive relations, friendly blog posts, and referral traffic, Yahoo may have just been biding its time waiting to declare war on Facebook.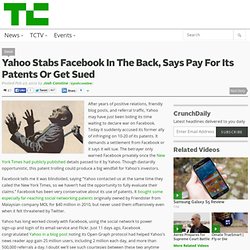 Today it suddenly accused its former ally of infringing on 10-20 of its patents. It demands a settlement from Facebook or it says it will sue. The betrayer only warned Facebook privately once the New York Times had publicly published details passed to it by Yahoo. Yahoo Sues Facebook for Patent Infringement; Facebook: "Puzzling" In what is either the boldest gamble of its history or the most boneheaded, Yahoo has filed a massive patent infringement lawsuit against Facebook.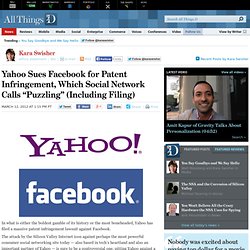 The attack by the Silicon Valley Internet icon against perhaps the most powerful consumer social networking site today — also based in tech's heartland and also an important partner of Yahoo — is sure to be a controversial one, pitting Yahoo against a company that has surpassed it handily in recent years in regards to popularity among consumers. "Facebook's entire social network model, which allows users to create profiles for and connect with, among other things, persons and businesses, is based on Yahoo's patented social networking technology," Yahoo's lawsuit reads, in part. That includes, Yahoo alleges, Facebook's popular News Feed, advertising methods, privacy settings and more.
Everyone Has The Features Yahoo's Suing Facebook For: Here They Are. Yahoo reared its patent troll head this week, and it's not just Facebook that has reason to be worried — at least, judging by the extremely broad features that it's being targeted for.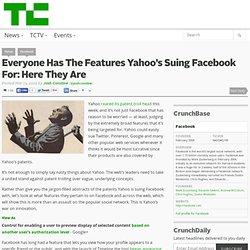 Yahoo could easily sue Twitter, Pinterest, Google and many other popular web services whenever it thinks it would be most lucrative since their products are also covered by Yahoo's patents. It's not enough to simply say nasty things about Yahoo. The web's leaders need to take a united stand against patent trolling over vague, underlying concepts. Rather than give you the jargon-filled abstracts of the patents Yahoo is suing Facebook with, let's look at what features they pertain to on Facebook and across the web, which will show this is more than an assault on the popular social network. MSFT can & should save Facebook. Worst But First: Yahoo Uses Words of Facebook's Zuckerberg to Poke Him. Yahoo! Crosses The Line. It's Time for the Valley to Grab Torches, Pitchforks and Head to Sunnyvale. By Sarah Lacy On March 12, 2012 The two pieces of news about Yahoo today are likely not a coincidence.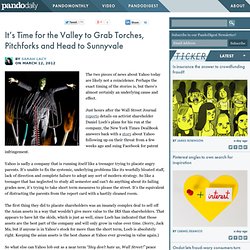 Perhaps the exact timing of the stories is, but there's almost certainly an underlying cause and effect. Just hours after the Wall Street Journal reports details on activist shareholder Daniel Loeb's plans for his run at the company, the New York Times DealBook answers back with a story about Yahoo following up on their threat from a few weeks ago and suing Facebook for patent infringement. Yahoo is sadly a company that is running itself like a teenager trying to placate angry parents. It's unable to fix the systemic, underlying problems like its woefully bloated staff, lack of direction and complete failure to adopt any sort of modern strategy.
How Yahoo Weaponized My Work. While most of the tech world was partying at South by Southwest in Austin yesterday, Yahoo announced it was filing a lawsuit against Facebook for allegedly infringing on 10 patents from their 1,000+ patent warehouse.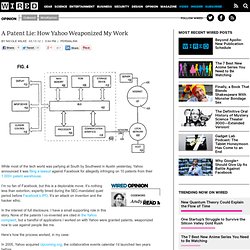 I'm no fan of Facebook, but this is a deplorable move. It's nothing less than extortion, expertly timed during the SEC-mandated quiet period before Facebook's IPO. It's an attack on invention and the hacker ethic. Facebook Is Said to Buy 750 IBM Patents to Boost Defenses. Facebook Inc.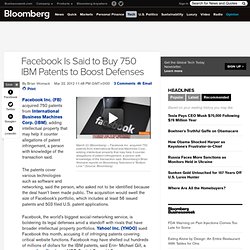 (FB) acquired 750 patents from International Business Machines Corp. (IBM), adding intellectual property that may help it counter allegations of patent infringement, a person with knowledge of the transaction said. The patents cover various technologies such as software and networking, said the person, who asked not to be identified because the deal hasn't been made public. The acquisition would swell the size of Facebook's portfolio, which includes at least 56 issued patents and 503 filed U.S. patent applications.
Facebook, the world's biggest social-networking service, is bolstering its legal defenses amid a standoff with rivals that have broader intellectual property portfolios. Yahoo reportedly has a license to patents Facebook just bought from IBM. Law360 is reporting a source has told them that the lot of 750 patents Facebook is buying from IBM "were licensed to Yahoo. " That's the extent of the insider information, but not the questions it raises. Why would Facebook do this? Is this a smart move? Facebook Smacks Back at Yahoo With Patent Claims in Counter-Lawsuit - Kara Swisher. Facebook's response to Yahoo's patent lawsuit. Like many in tech, I believe all software patents should be abolished.
That said, I think Facebook made the right move by filing a lawsuit against Yahoo's patent attack. As I see it, Facebook had 4 choices: Silicon Valley has Facebook's back in Yahoo knife fight | Geek Gestalt. This much is clear about the patent showdown between Yahoo and Facebook: Yahoo is losing friends left and right. Last month, Yahoo sued Facebook , claiming the world's largest social-networking company had infringed on 10 of its patents. And yesterday, Facebook countersued , arguing essentially that it hadn't done anything wrong, but hey, as long as we're on the subject, Yahoo violated 10 of our patents . Facebook Paying Microsoft $550 Million for Former AOL Patents - Ina Fried - Mobile. Facebook and Microsoft are about to announce a deal where the social networking giant pays Redmond $550 million for access to more than 600 patents, AllThingsD has learned.
The deal comes as the social network prepares for its initial stock offering and looks to protect itself in an increasingly litigious intellectual property environment. Yahoo sued Facebook last month, alleging infringement of 10 patents. Update: Microsoft has issued a press release on the deal, which covers a portion of the patents that Microsoft paid $1 billion earlier this month to acquire from AOL. In that auction, Microsoft got the ability to own or assign some 925 patents from AOL, plus a license to AOL's remaining patents, including 300 patents not for sale. Facebook had also been interested in the AOL patents, according to Bloomberg. Rather Than Pay Off Yahoo, Facebook Built A Patent Fortress.
Yahoo: Facebook's AOL patent deal with Microsoft shows it is weak.
---