Why it might succeed
Why Google+ might succeed. (TONY AVELAR/BLOOMBERG) I think Farhad Manjoo's puzzled reaction to Google+ misses what will ultimately be the social network's biggest draw: the opportunity to start over online.
Social networking has grown up alongside Facebook. In its early years, it was a quirky online activity mainly enjoyed by horny college students, and so profiles mainly featured pictures of people holding red party cups. Why yo momma won't use Google+ (and why that thrills me to no end) OK, I've been putting many hours into Google+.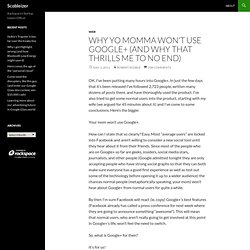 In just the few days that it's been released I've followed 2,723 people, written many dozens of posts there, and have thoroughly used the product. I've also tried to get some normal users into the product, starting with my wife (we argued for 45 minutes about it) and I've come to some conclusions. My mom, who's on Google+ n... Why I'm Rooting For Google+ The day Google+ launched, I sent a friend at Google who was involved in building the service an email requesting an invite.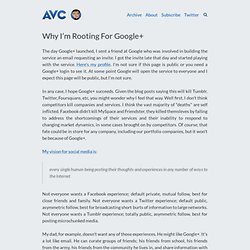 I got the invite late that day and started playing with the service. Here's my profile. I'm not sure if this page is public or you need a Google+ login to see it. At some point Google will open the service to everyone and I expect this page will be public, but I'm not sure. Inside Google+ — How the Search Giant Plans to Go Social | Epicenter  Google, the world's largest search company, is formally making its pitch to become a major force in social networking.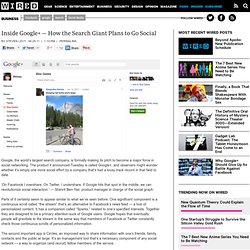 The product it announced Tuesday is called Google+, and observers might wonder whether it's simply one more social effort by a company that's had a lousy track record in that field to date. 'On Facebook I overshare. On Twitter, I undershare. If Google hits that spot in the middle, we can revolutionize social interaction.' — Shimrit Ben-Yair, product manager in charge of the social graph. Parts of it certainly seem to appear similar to what we've seen before. Why Google+ won't hurt Facebook, but Skype will hate it.
Google launched its much awaited and highly anticipated social networking platform today to a limited number of users.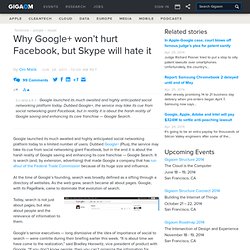 Dubbed Google+ (Plus), the service may take its cue from social networking giant Facebook, but in the end it is about the harsh reality of Google saving and enhancing its core franchise — Google Search. It is search (and, by extension, advertising) that made Google a company that has run afoul of the Federal Trade Commission because of its huge size and influence. At the time of Google's founding, search was broadly defined as a sifting through a directory of websites. As the web grew, search became all about pages. Google, with its PageRank, came to dominate that evolution of search.
Does The Google+ Interface Remind You Of Facebook? You're Not The Only One. Google+ Google+ Solves the Social Privacy Problem By Making Friending Very Complicated. I've been using Google+ for a little more than a day now, and I think I'm just starting to grasp how this "Circles" concept works.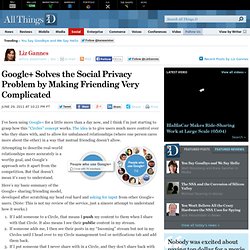 The idea is to give users much more control over who they share with, and to allow for unbalanced relationships (where one person cares more about the other) in a way that mutual friending doesn't allow. Attempting to describe real-world relationships more accurately is a worthy goal, and Google's approach sets it apart from the competition.
But that doesn't mean it's easy to understand. Here's my basic summary of the Google+ sharing/friending model, developed after scratching my head real hard and asking for input from other Google+ users. (Note: This is not my review of the service, just a sincere attempt to understand how it works.) Google+ could make Twitter the next Myspace. There are numerous comparisons between Google's new Google+ social offering and Facebook, but most of them miss the mark.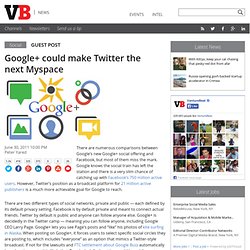 Google knows the social train has left the station and there is a very slim chance of catching up with Facebook's 750 million active users. However, Twitter's position as a broadcast platform for 21 million active publishers is a much more achievable goal for Google to reach. There are two different types of social networks, private and public — each defined by its default privacy setting. Facebook is by default private and meant to connect actual friends. Twitter by default is public and anyone can follow anyone else. Beware the buzz about Google+ When you're in this business long enough, you get a little jaded about "the next great thing.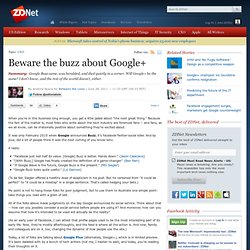 " Because the fact of the matter is, most folks who write about the tech industry are foremost fans -- and fans, as we all know, can be irrationally positive about something they're excited about. It was only February 2010 when Google announced Buzz, it's Facebook-Twitter-social killer. And by jove, did a lot of people think it was the next coming of you-know-who. A taste: What Google+ Learned from Buzz and Wave. After a half day of using Google+ with the limited number of people I know in the field test so far, I like it a lot.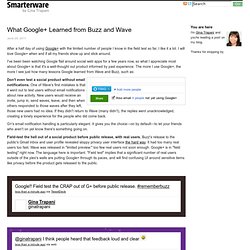 I will love Google+ when and if all my friends show up and stick around. I've been been watching Google flail around social web apps for a few years now, so what I appreciate most about Google+ is that it's a well-thought out product informed by past experience.
---