Web & Totalitarism
How the Internet strengthens dictatorships
How dictators watch us on the web
The internet is meant to help activists, enable democratic protest and weaken the grip of authoritarian regimes. But it doesn't—in fact, the web is a boon for bullies Read more in this debate: media guru, Clay Shirky, responds to Morozov's criticisms and defends the web as a positive force for democracy.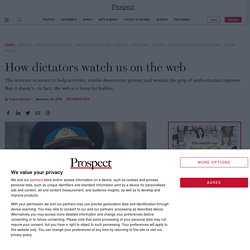 Prospect Magazine 's latest issue figures an excellent piece by my witty colleague Evgeny Morozov .
And So what?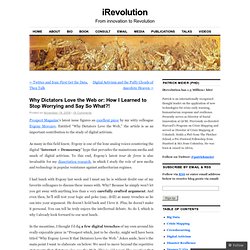 Responding to criticism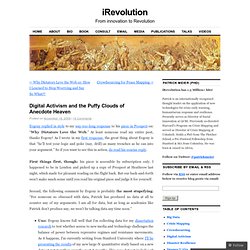 Evgeny replied in style to my way-too-long response to his piece in Prospect on: " Why Dictators Love the Web ."
Response to the response
Twitter and Iran: First Get the Data, Then Talk
I just attended a panel at Harvard University on "The Impact of Social Media in the Middle East" which is part of a 3-day conference on the Middle East and North Africa. My colleagues Rob Faris from the Berkman Center and Evgeny Morozov now at Georgetown were both on the panel in addition to Iranian-American activist Lily Mazahery and Kuwaiti blogger Ziad Al-Duaij .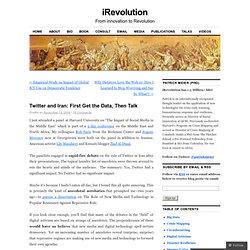 <img alt="Photo: Brock Davis" src="/magazine/wp-content/images/19-01/st_essay_totalitarians_f.jpg" title="Start" width="315" height="418" /> Photo: Brock Davis
Why the Internet Is a Great Tool for Totalitarians