Web & Tech Lobbying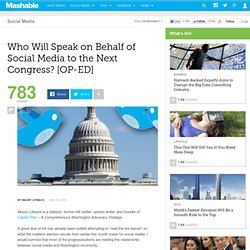 Who Will Speak on Behalf of Social Media to the Next Congress?
Maury Litwack is a lobbyist, former Hill staffer, opinion writer, and founder of Capitol Plan – A Comprehensive Washington Advocacy Strategy. A great deal of ink has already been spilled attempting to "read the tea leaves" on what the midterm election results from earlier this month mean for social media. I would surmise that most of the prognostications are reading the relationship between social media and Washington incorrectly.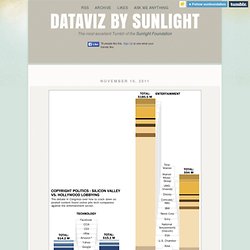 Hollywood's in a showdown over its TV shows, movies and music with an up-and-coming opponent in the Washington arena: the Silicon Valley gang.And that can only mean a huge payday for lobbyists.According to figures compiled by the Center for Responsive Politics, the film, music and TV industries have spent more than $91 million on lobbying so far this year — an amount that puts them on pace to beat all of their previous spending records.
Why SOPA is on the Congress Agenda
Dear Internet: It's No Longer OK to Not Know How Congress Works Dec 19, 2011 Clay Johnson This weekend I read a post titled "Dear Congress: It Is No Longer OK To Not Know How the Internet Works." The author, Joshua Kopstein, is right: it's not ok to not know about something before legislating or regulating it. The confessions by members of Congress that they are "not nerds" is frustrating at best because these guys, the guys that are regulating the Internet can't tell a server from a waiter.
Dear Internet: It's No Longer OK to Not Know How Congress Works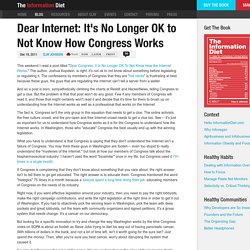 Monday's launch of a new think tank called DisCo that wants to educate Congress about disruptive technologies is just one of several new efforts proposed by the Internet and startup community to get their voices heard. No longer will the conversation between Silicon Valley and D.C. rely solely on big tech firms like Amazon, Google, Facebook and others. The Internet upstarts are hoping they can disrupt politics too. The Disruptive Competition Project. DisCo (short for Disruptive Competition) debuted Monday morning with a Web page and some blog posts that help outline its mission.
Isolationist no more: The Internet goes to Washington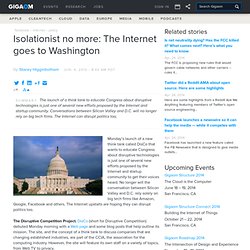 Facebook, Google, Amazon join forces in D.C. lobby - Post Tech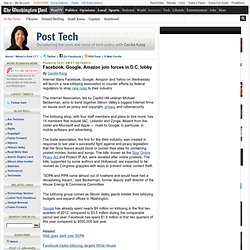 Posted at 12:01 AM ET, 09/19/2012 Sep 19, 2012 04:01 AM EDT TheWashingtonPost Internet titans Facebook, Google, Amazon and Yahoo on Wednesday will launch a new lobbying association to counter efforts by federal regulators to strap new rules to their industry. The Internet Association, led by Capitol Hill veteran Michael Beckerman, aims to band together Silicon Valley's biggest Internet firms on issues such as piracy and copyright, privacy and cybersecurity.
What the New Internet Lobby Looks Like
The Internet Association formally threw open its doors for business Wednesday, unveiling the 14 Web companies that make up its membership (they include AOL, Amazon, Facebook, Google, LinkedIn, RackSpace and Zynga, among others). The group's formation is worth noting not only because of the companies' newfound voice in the wake of the protests against the Stop Online Piracy Act and the PROTECT IP Act, but because it's going to be one of the more deep-pocketed organizations that are vying to be the voice of the larger "Internet community." Its launch, and its new chief, also mark a turning point on Capitol Hill. For years, many policymakers seemed to associate the Internet with just one thing: Filesharing and its attendant intellectual property piracy.
How a Silicon Valley Group Is Reaching Out to GOP - Washington Wire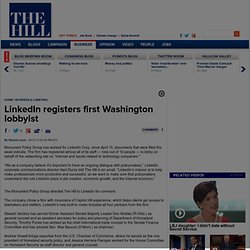 Monument Policy Group has worked for LinkedIn Corp. since April 10, documents that were filed this week indicate. The firm has registered almost all of its staff — nine out of 10 people — to lobby on behalf of the networking site on "Internet and issues related to technology companies." "We as a company believe it's important to have an ongoing dialogue with policymakers," LinkedIn corporate communications director Hani Durzy told The Hill in an email.
LinkedIn registers first Washington lobbyist - TheHill.com
Tumblr has hired former White House technology expert Andrew McLaughlin to join its team in New York. McLaughlin will assume the role of vice president, leading Tumblr's internationalization and community operations. His first day is Monday. Continue Reading McLaughlin brings to Tumblr some key Washington experience, most notably serving as the administration's deputy chief technology officer from 2009 to 2010.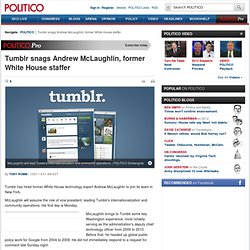 Tumblr snags Andrew McLaughlin, former White House staffer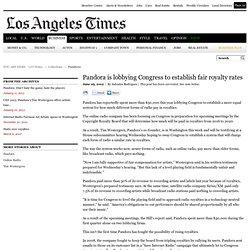 Pandora is lobbying Congress to establish fair royalty rates
Pandora has reportedly spent more than $50,000 this year lobbying Congress to establish a more equal system for how much different forms of radio pay in royalties. The online radio company has been focusing on Congress in preparation for upcoming meetings by the Copyright Royalty Board that will determine how much will be paid in royalties from 2016 to 2020. As a result, Tim Westergren, Pandora's co-founder, is in Washington this week and will be testifying at a House subcommittee hearing Wednesday hoping to sway Congress to establish a system that will charge each form of radio a similar rate in royalties.
California visitors to Wal-Mart Stores' (WMT) website must pay $214 to buy a Philips Electronics (PHG) 22-inch LCD HDTV, one of the hottest-selling flat-panel televisions on the Web. Customers of Amazon.com (AMZN) in that state see a price of $194 for the same product. The discrepancy stems largely from something that dates back to Julius Caesar: sales tax.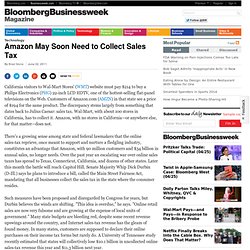 Amazon May Soon Need to Collect Sales Tax