Twitter
Get flash to fully experience Pearltrees
Twitter & Freedom of speech
It's no secret that mobile advertising is the holy grail that virtually every major digital player is trying to find, but no one seems to have cracked the code just yet. Facebook has admitted that while it has almost half a billion users on mobile devices, it still isn't sure whether its mobile business is working or not , and Google hasn't blown anyone away with its results so far either. According to some reports, however, one company that is having some success is Twitter — which now sees a majority of its advertising revenue coming from mobile . Is there something about Twitter that makes it more likely to succeed at mobile advertising than its larger competitors?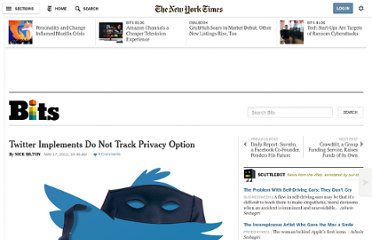 Illustration by Nick Bilton/The New York Times Facebook Twitter Google+ Save E-mail Share Print 9:03 a.m. | Updated Added Mozilla statement. It's no secret that Facebook is worth about $100 billion because it collected personal data about its users. A lot of data.
On March 21, 2006, Jack Dorsey tweeted the first ever tweet on Twitter . The sheer fact that you can understand that sentence shows you how far Twitter has gone since then . It has become the de facto short message system of the internet and the favorite social networking service of celebrities all around the world.
Six years may not be very long in human terms, but it's been quite an enormous span for the thing we know and love as Twitter. When @jack first sketched out his notion in March 2006, no one could have predicted the trajectory of this new communication tool. Now it seems that there are as many ways to express yourself in 140 characters as there are people doing it. And at last check, there are more than 140 million active users (there's that number again) — and today we see 340 million Tweets a day. That's more than 1 billion every 3 days.