Turntable
Finally Global? Turntable.fm Doing Deals with Labels (Report) Turntable.fm's Could Go Global With New Major Licensing Deals Turntable.fm has signed a licensing deal with EMI and is close to completing deals with Universal Music Group and Sony Music Entertainment, according to CNET.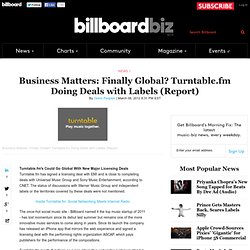 The status of discussions with Warner Music Group and independent labels or the territories covered by these deals were not mentioned. Inside Turntable.fm: Social Networking Meets Internet Radio The once-hot social music site - Billboard named it the top music startup of 2011 - has lost momentum since its debut last summer but remains one of the more innovative music services to come along in years. Since its launch the company has released an iPhone app that mirrors the web experience and signed a licensing deal with the performing rights organization ASCAP, which pays publishers for the performance of the compositions. Turntable.fm Goes Legit, Signs Deals With Major Music Labels. The biggest question hanging over social music startup Turntable.fm was whether the major labels would let it survive.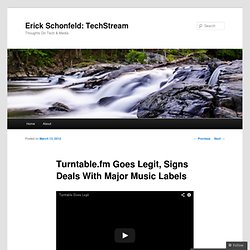 The answer to that question is, yes. Turntable chairman Seth Goldstein is announcing at SXSW that after 9 months of negotiating, Turntable has signed licensing agreements with all the major music labels. I caught up with Seth yesterday at the Four Seasons in Austin, where he told me about the deal in the video interview above. (Greg Sandoval at CNET caught wind of the news a few days ago, and now it is confirmed). Turntable launched less than a year ago, and now has reached one million users. Exclusive: Turntable.FM Signs Licensing Deals With All Four Major Labels -- It's Official. "This feels like an all-time record speed launch - when we launched we really didn't come at this from the music industry, it was all new to us," Goldstein told Billboard.biz of the nine-month-old service's new licensing deals.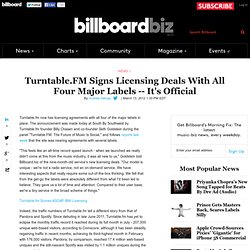 "Our model is unique - we're not a radio service, not an on-demand service. We have interesting aspects that really require some out-of-the-box thinking. We felt that from the get-go the labels were absolutely different from what I'd been led to believe. Turntable Gets Labels On Board, International Launches Coming Over Next Few Months. By Adrianne Jeffries 3/14/12 11:43am Share this: One of Turntable.fm's earliest proponents was a music blog in Germany that helped send the music sharing game viral.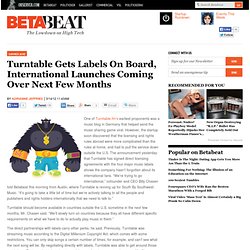 Lady Gaga And Kanye West Investing In Turntable.fm. Turntable.fm Really Is Awesome. Is It Legal? Turntable.fm is a little miracle that does something simple and essential: It lets you play your favorite songs for your friends and strangers on the Web, in real time, for free.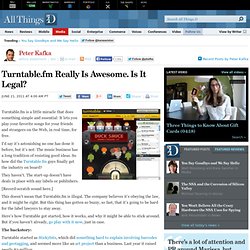 I'd say it's astonishing no one has done it before, but it's not: The music business has a long tradition of resisting good ideas. So how did the Turntable.fm guys finally get the industry on board? They haven't. Turntable.fm closes $7.5 million financing at a $37.5 million valuation. Turntable.fm and the Siren Song of the Start-up Pivot. By Ben Popper 7/07/11 9:25am Share this: Pivot Prof.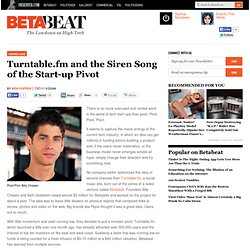 Billy Chasen There is no more overused and reviled word in the world of tech start-ups than pivot.
---