Take Action
How to fight against SOPA : call your MP, send mails, spread the word Nov 17
Stop SOPA Twibbon
myFood has the most shopping list features, all for free and without Ads! myFood is an easy to use and intuitive food management solution allowing you to easily create and manage your shopping lists, recipes and meal plans. myFood has many different themes and we are working on providing more themes and for you to create your own custom themes!
Boycott SOPA - Google Apps sur l'Android Market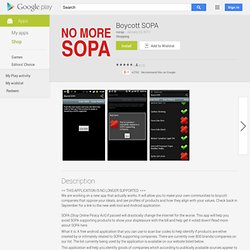 Put down those torches and pick up the phone. Updated: Okay, so the Internet won, and Go Daddy has decided to stop supporting SOPA, but that doesn't mean you should stop yourself from actually taking any one of these steps to speak directly to Congress. Many in the tech community are against the Stop Online Piracy Act, but it's time for a bit of a reality check on working with Washington D.C.
Hate SOPA? 6 things you can do to stop it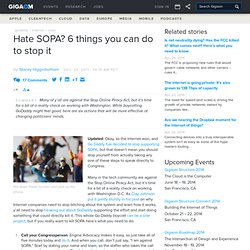 Progress against SOPA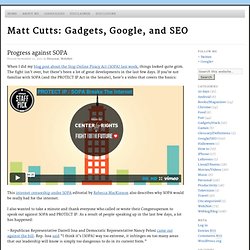 When I did my blog post about the Stop Online Piracy Act (SOPA) last week, things looked quite grim.
Take Action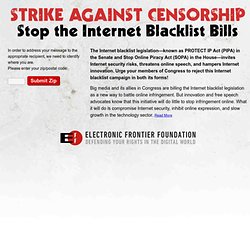 The Internet blacklist legislation—known as PROTECT IP Act (PIPA) in the Senate and Stop Online Piracy Act (SOPA) in the House—invites Internet security risks, threatens online speech, and hampers Internet innovation. Urge your members of Congress to reject this Internet blacklist campaign in both its forms!
SOPA - Keep calling
Whoismyrepresentative.com
American Censorship Day is this Wednesday — And You Can Join In!
Thank you We've received over 3000 thoughtful and personal letters telling congress to stop SOPA. We've also received thousands of dollars in donations. We are suprised by the response and support you've shown.
Stop SOPA
The web community is currently in an apprehensive uproar over the Stop Online Piracy Act (SOPA), which threatens to create an Internet blacklist that operates at the DNS level in a misguided attempt to curb piracy. It's bad news — many of Silicon Valley's largest tech companies are speaking out against it, and Google Executive Chairman Eric Schmidt just went on the record calling it draconian and censorship. Now the folks over at SendWrite, a startup that makes it easy to quickly send people physical letters (no stamp-licking required), is offering to extend its services to anyone who would like to send their Congressperson a real, physical letter denouncing SOPA.
Send Congress A Physical Letter In Just A Few Clicks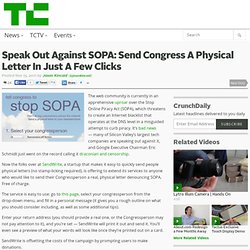 At this point quite a few internet companies have protested H.R. 3261, the Stop Online Piracy Act (SOPA) in creative ways.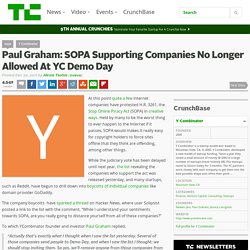 Paul Graham: SOPA Supporting Companies No Longer Allowed At YC Demo Day
Follow these step-by-step directions to transfer all of your domains from GoDaddy to NameCheap. I'm Boycotting GoDaddy because they are pro-SOPA.
A Step-by-Step Guide to Transfer Domains Out Of GoDaddy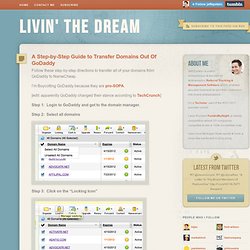 Well-Armed Lambs: The Real Way To Get Congress To Understand SOPA
By Andy Meek On January 16, 2012