SoundCloud
SoundCloud may finally be gearing up to make some serious money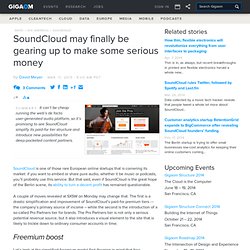 SoundCloud is one of those rare European online startups that is cornering its market: if you want to embed or share pure audio, whether it be music or podcasts, you'll probably use this service.
Forget Twitter, SoundCloud Is Social Music's Rising Star
2012 was a very good year for SoundCloud. The social music and audio-hosting platform saw a massive uptick in user activity, according to data released by music analytics firm Next Big Sound.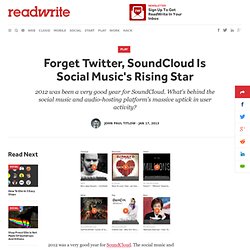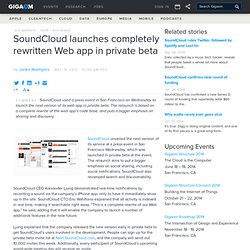 SoundCloud launches completely rewritten Web app in private beta
SoundCloud unveiled the next version of its service at a press event in San Francisco Wednesday, which was launched in private beta at the event.
SoundCloud, the up-and-coming social audio publishing platform, is endorsing HTML5's role in the future of the Web. Today, the Berlin-based startup is officially rolling out its HTML5 audio player as the service's default, knocking the original, Flash-based player from that esteemed position. The new player first went into beta in November, giving those curious enough an opportunity to experiment with it.
SoundCloud Goes HTML5, Makes Non-Flash Audio Player Its Default
SoundCloud Reaches 10 Million Registered Users
Music-sharing platform SoundCloud has reached 10 million registered users, the company announced. SoundCloud also boasts 5 million downloaded mobile apps and 10,000 apps developed on SoundCloud's open platform.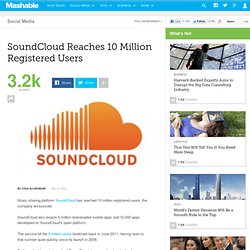 On Monday Soundcloud released Storywheel.cc, which allows users to create narrated, retro-looking slide shows with their Instagram pictures. Alexander Ljung, the co-founder and CEO of the Berlin-based startup, said the company is releasing the mashup of the two services to celebrate an important milestone: Soundcloud now has ten million registered users.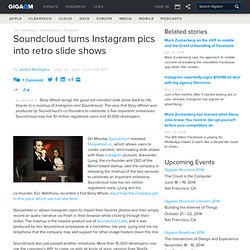 Soundcloud turns Instagram pics into retro slide shows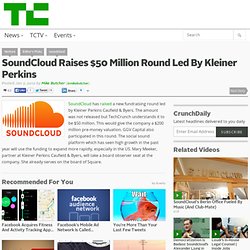 SoundCloud raises $50 million round led by Kleiner Perkins
SoundCloud has raised a new fundraising round led by Kleiner Perkins Caufield & Byers. The amount was not released but TechCrunch understands it to be $50 million. This would give the company a $200 million pre-money valuation.
SoundCloud Launches a Sleek, Super-Functional iPad App
The social audio sharing site SoundCloud upgraded its iOS app today, adding a tablet-friendly UI for iPad users.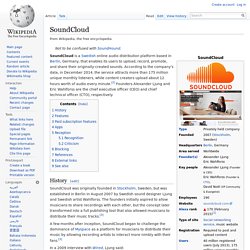 SoundCloud
SoundCloud is an online audio distribution platform based in Berlin, Germany that enables its users to upload, record, promote and share their originally-created sounds. In May 2010, it announced that it had reached a million users. History[edit] SoundCloud was originally started in Stockholm, Sweden, but it was established in Berlin, Germany in August 2007 by Swedish sound designer Alex Ljung and Swedish artist Eric Wahlforss. It had the intention of allowing musicians to share recordings with each other, but it later transformed into a full publishing tool which also allowed musicians to distribute their music tracks.[3] A few months after it began operating, SoundCloud began to challenge the dominance of Myspace as a platform for musicians to distribute their music by allowing recording artists to interact more nimbly with their fans.[3]
SExpand SoundCloud is a great tool for sharing your music with others if you're in the music business, and thanks to that it's also an excellent community for finding new, free tracks for your listening pleasure. Once you sign up you'll be encouraged to upload your own tracks and send them around.
SoundCloud Helps you Share & Discover New, Free Music
[Berlin] In a savvy move, SoundCloud are to partner with music portal The Hype Machine to let labels and artists service music bloggers – a key component of the music scene now – with new and pre-release tracks. The Hype Machine is going to be able to aggregate the output of blogs, but more importantly the bloggers get official releases without having to be forced to release an MP3 into the wild.
Soundcloud teams up with Hype Machine
SoundCloud has just announced they have hit a million users. It followers their deal earlier this year with The Hype Machine, but it's clear this is a startup that is scaling globally now from its base in Berlin. The audio sharing site that's geared towards those who work in the music industry is an online audio platform which lets musicians collaborate, promote and distribute their music via widgets and apps.
Now a million on SoundCloud
Just the other day we declared 2011 "The year of social audio", and new figures from SoundCloud today seem to bear that out. The audio sharing platform has announced that it has reached 3 million registered users. On its own, that sounds like a large number, but when you factor in that user numbers have grown by 1 million in under 100 days, that's some growth spike for the startup that was founded in August 2007. The news follows a "Global Meetup Day" yesterday, where the startup's users staged gatherings in 517 cities around the world.
SoundCloud hits 3 Million users
Soundcloud Hits 5 Million Registered Users
Music-sharing platform Soundcloud has become mighty noisy over the past year by adding 4 million registered users in one year, which now brings it to the 5 million user mark. This comes just a few months after the company announced 3 million users. Soundcloud, which reports that it is currently adding 20,000 registered users per day, has innovated a lot during the past year after launching in 2008. It released both iPhone and Android applications, as well as a Mac App, and added the ability to record directly from all of its platforms. Its API has also been integrated across an array of social tools, including popular blogging platform Tumblr.
There are no shortage of consumption apps on the Web, especially since the iPad (in many ways the ultimate Web consumption device) arrived on the scene.
Is SoundCloud the YouTube of Audio?