Places to see
Best Neighbourhood EVER. Gracia antiguamente era un pueblo independiente de Barcelona hasta que se agregó a la ciudad en 1897.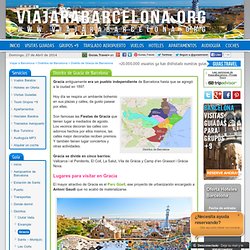 Distritos de Barcelona Hoy día se respira un ambiente bohemio en sus plazas y calles, da gusto pasear por ellas. Son famosas las Fiestas de Gracia que tienen lugar a mediados de agosto. Plaça del sol. Home Renting a tourist aparment by days in Barcelona is the best accommodation choice: independence, space, central locations...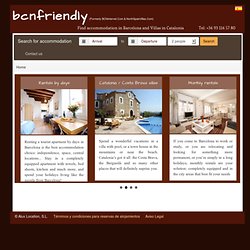 Stay in a completely equipped apartment with towels, bed sheets, kitchen and much more, and spend your holidays living like the people from Barcelona! Catalonia / Costa Brava villas. Placa-del-sol-barri-de-gracia-barcelona.jpg (Image JPEG, 600x400 pixels) La Sagrada Família. Park Güell. Park Güell (Catalan: Parc Güell [ˈparɡ ˈɡweʎ]) is a garden complex with architectural elements situated on the hill of El Carmel in the Gràcia district of Barcelona, Catalonia, Spain.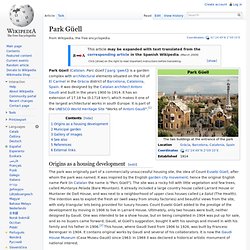 It was designed by the Catalan architect Antoni Gaudí and built in the years 1900 to 1914. It has an extension of 17.18 ha (0.1718 km²), which makes it one of the largest architectural works in south Europe. Parc Guell. Park Guell by Antonio Gaudi. Park Güell was commissioned by Eusebi Güell who wanted to create a stylish park for Barcelona aristocracy.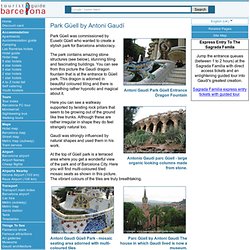 The park contains amazing stone structures (see below), stunning tiling and fascinating buildings. You can see from this picture the Gaudí dragon fountain that is at the entrance to Güell park. This dragon is adorned in beautiful coloured tiling and there is something rather hypnotic and magical about it. Parc de la Ciutadella. The main attraction has, from its establishment hitherto been the zoo.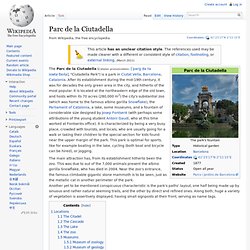 This was due to out of the 7,000 animals present the albino gorilla Snowflake, who has died in 2004. Near the zoo's entrance, the famous climbable gigantic stone mammoth is to be seen, just as the metallic cat in another perimeter of the park. Parc de la Ciutadella, Barcelona. The Parc de la Ciutadella is Barcelona's most central park.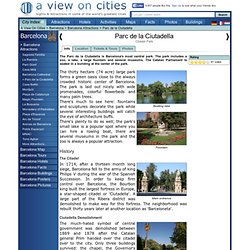 The park includes a zoo, a lake, a large fountain and several museums. The Catalan Parliament is seated in a building at the center of the park. Boating lake. Parc de la Ciutadella, Barcelona - Things to Do. 4.5 Stars - 81 Reviews Avingudade del Marquès de l'Argentera Helpfulness3 more images Parc de la Ciutadella is a huge (280,000 square meters) park in the center of Barcelona, and it is a nice place for strolling around.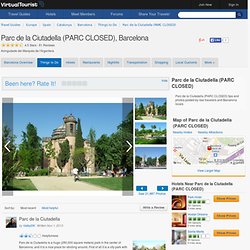 First of all it is a city park with green areas, flowerbeds, trees, refreshment stalls, statues, a lake, and a very impressive Baroque fountain. It was built for the Exposición Universal de Barcelona in 1888, and was designed by Josep Fontsère (and his assistant Antoni Gaudí).The area used to be a military citadel, but was turned into a city park in the second half of the 19th century.
Around the park you'll still find a few buildings from the old citadel (and also some remains from the 1888 Exhibition)... Parc de la Ciutadella. Montjuïc. Coordinates: Montjuïc (Catalan pronunciation: [muɲʒuˈik]; Spanish spelling Montjuich) is a hill in Barcelona, Catalonia, Spain.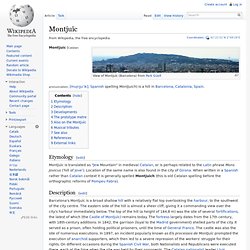 Etymology[edit] Description[edit] Barcelona's Montjuïc is a broad shallow hill with a relatively flat top overlooking the harbour, to the southwest of the city centre.
Around Barcelona.
---