Places to see
Best Neighbourhood EVER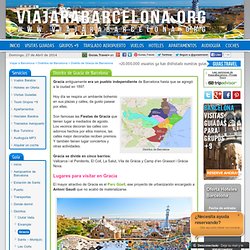 Gracia antiguamente era un pueblo independiente de Barcelona hasta que se agregó a la ciudad en 1897.
Plaça del sol
placa-del-sol-barri-de-gracia-barcelona.jpg (Image JPEG, 600x400 pixels)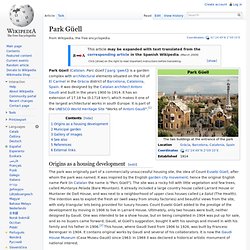 Coordinates: The two buildings at the entrance of the park. Park Güell (Catalan: Parc Güell [ˈparɡ ˈɡweʎ]) is a garden complex with architectural elements situated on the hill of El Carmel in the Gràcia district of Barcelona, Catalonia, Spain.
Park Güell
Park Guell by Antonio Gaudi
Park Güell was commissioned by Eusebi Güell who wanted to create a stylish park for Barcelona aristocracy. The park contains amazing stone structures (see below), stunning tiling and fascinating buildings. You can see from this picture the Gaudí dragon fountain that is at the entrance to Güell park. This dragon is adorned in beautiful coloured tiling and there is something rather hypnotic and magical about it.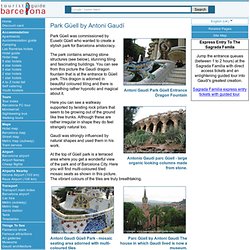 Parc de la Ciutadella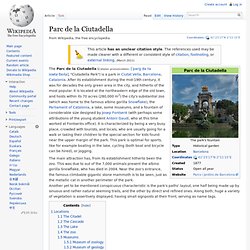 The Parc de la Ciutadella (Catalan pronunciation: [ˈparɡ də ɫə siwtəˈðeʎə], "Ciutadella Park") is a park in Ciutat Vella, Barcelona, Catalonia. After its establishment during the mid-19th century, it was for decades the only green area in the city, and hitherto of the most popular. It is located at the northeastern edge of the old town, and hosts within its 70 acres (280,000 m2) the city's substantial zoo (which was home to the famous albino gorilla Snowflake), the Parliament of Catalonia, a lake, some museums, and a fountain of considerable size designed by Josep Fontserè (with perhaps some attributions of the young student Antoni Gaudí, who at this time worked at Fontserès office).
Parc de la Ciutadella, Barcelona
The Parc de la Ciutadella is Barcelona's most central park. The park includes a zoo, a lake, a large fountain and several museums. The Catalan Parliament is seated in a building at the center of the park. Boating lake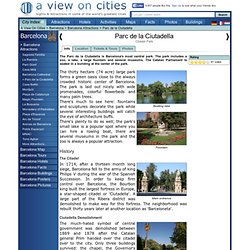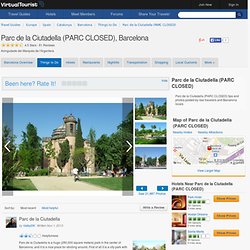 4.5 Stars - 87 Reviews Avingudade del Marquès de l'Argentera When we walked from the Arc de Triomf all th way to the Barcelona Zoo we saw a lot of beautiful buildings. Because of the fact that the Zoo was our main destinations for the day we did not have too much time to look at all those buildings, but learned that all those building did have a meaning and destination. For example they house the Museum of Zoology and the Museum of geology.We did have a look at the beautiful lake, a very nice scenery enjoyable for romantics I guess. They told us that turtles good be found, but we didn't see them, but we did see some fishes dashing through the water.
Parc de la Ciutadella, Barcelona - Things to Do
Parc de la Ciutadella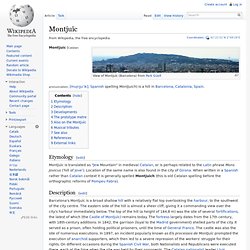 Coordinates:
Montjuïc