Patent Troll
Patent troll stalks travel site Hipmunk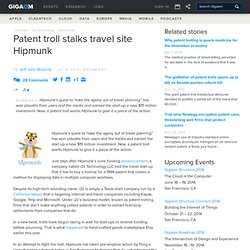 Hipmunk's quest to "take the agony out of travel planning" has won plaudits from users and the media and earned the start-up a new $15 million investment. Now, a patent troll wants Hipmunk to give it a piece of the action. Just days after Hipmunk's June funding announcement, a company called i2z Technology LLC told the travel start-up that it has to buy a license for a 1994 patent that covers a method for displaying data in multiple computer windows.
You may have seen the stories a week or so ago about how it was the 20th anniversary of Tim Berners-Lee putting up the first web page. While many, many people still confuse "the web" with "the internet," Berners-Lee's creation really did help take what was mostly a system used by a few nerds (myself include) and add the elements that made it possible to go mainstream in a big, big, big way. And while many folks are talking about just how amazingly far we've come in just 20 years, Marco Arment (the InstaPaper guy) reminds us that if Berners-Lee had sought and received a patent for the web, it would just now be coming out of patent coverage.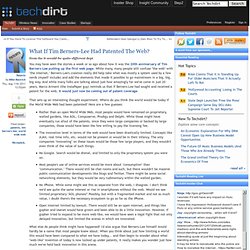 What If Tim Berners-Lee Had Patented The Web?
It's been a very interesting week for mobile industry lawsuits — and it's still only Thursday.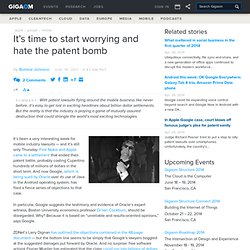 It's time to start worrying and hate the patent bomb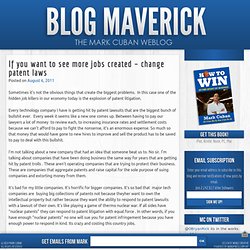 If you want to see more jobs created – change patent laws
Sometimes it's not the obvious things that create the biggest problems.
It is easy to complain. Much harder to come up with solutions.
My Suggestion on Patent Law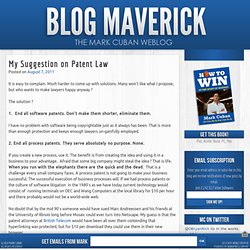 Patents against prosperity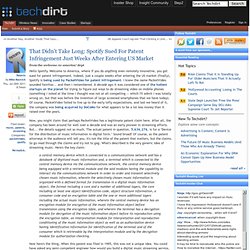 Hello Spotify.
That Didn't Take Long: Spotify Sued For Patent Infringement Just Weeks After Entering US Market