Patent issues
Welcome to the patent valuation bubble. If the bidding for Nortel's 6,000 patents---$4.5 billion in cold hard cash---and Google's patent-happy $12.5 billion purchase of Motorola Mobility stretched intellectual property valuations just wait for what's in store.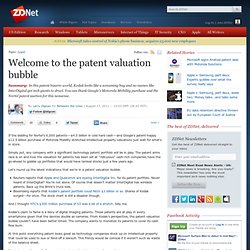 Simply put, any company with a significant technology patent portfolio will be in play. The patent arms race is on and now the valuation for patents has been set at "ridiculous" cash-rich companies have the go-ahead to gobble up portfolios that would have tanked stocks just a few years ago. Let's round up the latest indications that we're in a patent valuation bubble. Reuters reports that Apple and Qualcomm are eyeing InterDigital Inc. for its patent portfolio.
Never heard of InterDigital? Software patents should be abolished. The alleged societal benefit of patent law is that it creates a financial incentive to innovate.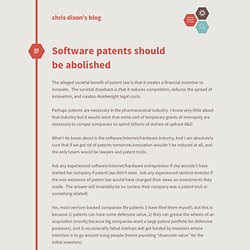 The societal drawback is that it reduces competition, reduces the spread of innovation, and creates deadweight legal costs. Perhaps patents are necessary in the pharmaceutical industry. I know very little about that industry but it would seem that some sort of temporary grants of monopoly are necessary to compel companies to spend billions of dollars of upfront R&D.
Yahoo Vs Facebook. The Samsung tablet ban: what it means and what happens next (in plain English) — Apple News, Tips and Reviews. Oh, That "Pull To Refresh" Thing In iOS? Yeah, Twitter Has A Patent App On That. Like that "pull-to-refresh" feature found in many popular iOS apps, including Twitter, Facebook, Tweetbot, Sparrow and others?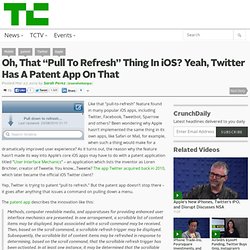 Been wondering why Apple hasn't implemented the same thing in its own apps, like Safari or Mail, for example, when such a thing would make for a dramatically improved user experience? As it turns out, the reason why the feature hasn't made its way into Apple's core iOS apps may have to do with a patent application titled "User Interface Mechanics" – an application which lists the inventor as Loren Brichter, creator of Tweetie.
Kickstarter Hit With Patent Claim Over Crowd-Funding. Kickstarter, which just recently celebrated the 10,000th successfully funded project in its 2.5-year history, is under siege by that most ubiquitous of foes, presently at least: patent litigation.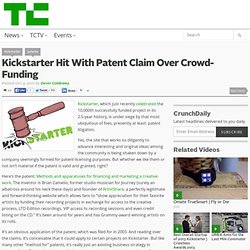 Yes, the site that works so diligently to advance interesting and original ideas among the community is being shaken down by a company seemingly formed for patent-licensing purposes. But whether we like them or not isn't material if the patent is valid and granted, right? Here's the patent: Methods and apparatuses for financing and marketing a creative work. The inventor is Brian Camelio, former studio musician for Journey (surely an albatross around his neck these days) and founder of ArtistShare, a perfectly legitimate and forward-thinking website which allows fans to "show appreciation for their favorite artists by funding their recording projects in exchange for access to the creative process, LTD Edition recordings, VIP access to recording sessions and even credit listing on the CD."
When Patents Attack: Could Facebook Be Next? Paul Maritz has witnessed a number of patent skirmishes.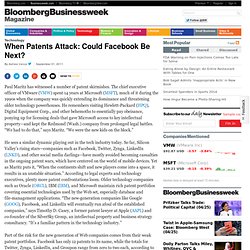 The chief executive officer of VMware (VMW) spent 14 years at Microsoft (MSFT), much of it during the 1990s when the company was quickly extending its dominance and threatening older technology powerhouses. He remembers visiting Hewlett-Packard (HPQ), Digital Equipment Corp., and other behemoths to essentially pay obeisance, ponying up for licensing deals that gave Microsoft access to key intellectual property—and kept the Redmond (Wash.) company from prolonged legal battles. "We had to do that," says Maritz.
Google Chairman Eric Schmidt Weighs In On Patent Issues: They're 'Terrible' Eric Schmidt, Google's Executive Chairman and former CEO, took the stage at the Dreamforce conference in San Francisco today to talk about a host of topics, including the success of Google Apps, his feelings about Steve Jobs, Google's recent acquisition of Motorola, with the conversation with Salesforce CEO Marc Benioff even ranging into Schmidt's thoughts on the current landscape facing the U.S. patent market.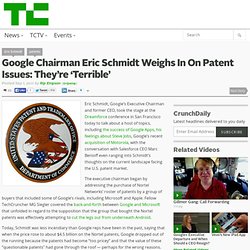 The executive chairman began by addressing the purchase of Nortel Networks' roster of patents by a group of buyers that included some of Google's rivals, including Microsoft and Apple. Fellow TechCruncher MG Siegler covered the back-and-forth between Google and Microsoft that unfolded in regard to the supposition that the group that bought the Nortel patents was effectively attempting to cut the legs out from underneath Android.
Google Patents 'Google Doodles' Google has acquired a U.S. patent for its popular cycling logo system, also known as "Google Doodles.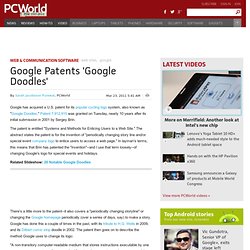 " Patent 7,912,915 was granted on Tuesday, nearly 10 years after its initial submission in 2001 by Sergey Brin. The patent is entitled "Systems and Methods for Enticing Users to a Web Site. " The abstract states the patent is for the invention of "periodically changing story line and/or special event company logo to entice users to access a web page. "
---