Netflix
Once Film-Focused, Netflix Shifts to TV Shows
TV series now account for more than half of all Netflix viewing.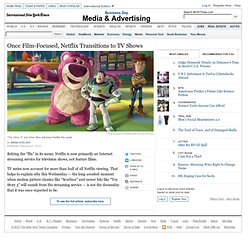 Amazon Just Made A Deal That Could Crush Netflix
Streaming video service Netflix recently appealed to a panel of U.S. senators to update an old law that forbids the company from launching a Facebook application within the country.
Senate Democrats don't like the idea of a Netflix Facebook app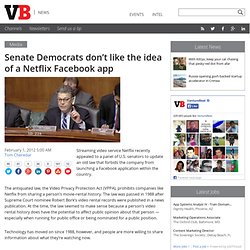 Netflix Launches in the UK, Ireland today
Netflix lost 800,000 U.S. subscribers in third quarter — Online Video News
Reed Hastings: "Qwikster Became The Symbol Of Netflix Not Listening"
Netflix announced disappointing earnings today, and its expectations to go slide into unprofitability next year. The stock is trading at around $87 in after-hours, down from a close of $120. Following the blowback from his price change, CEO Reed Hastings says, "The focus for us is in rebuilding our reputation."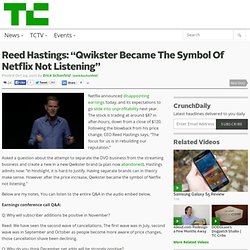 I messed up.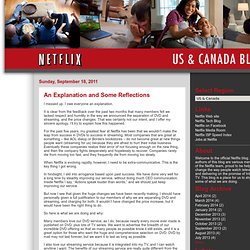 An Explanation and Some Reflections
Netflix is dead; long live Netflix.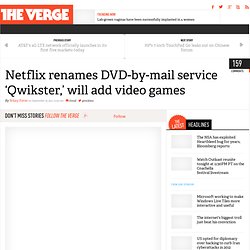 Netflix renames DVD-by-mail service 'Qwikster,' will add video games
Does Qwikster have a future?
Here's Why We Let Starz Walk Away...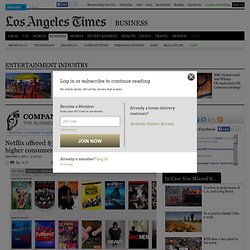 Starz wanted higher consumer prices
Starz didn't just want Netflix to pay more money for its content.
Netflix looks to kids to make its UI more fun
Netflix Users Are Slashing Their Cable Bills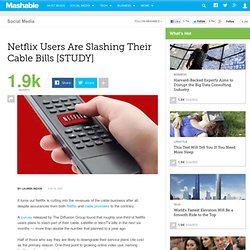 It turns out Netflix is cutting into the revenues of the cable business after all, despite assurances from both Netflix and cable providers to the contrary.
Netflix Is On A Hiring Spree For Big Europe Push
Netflix to launch service in Latin America — Online Video News
Netflix To Enter Original Programming With Mega Deal For David Fincher-Kevin Spacey Series 'House Of Cards'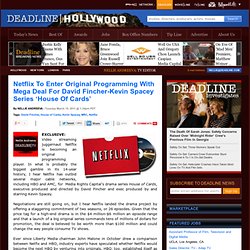 EXCLUSIVE: Video streaming juggernaut Netflix is becoming an original programming player. In what is probably the biggest gamble in its 14-year history, I hear Netflix has outbid several major cable networks, including HBO and AMC, for Media Rights Capital's drama series House of Cards , executive produced and directed by David Fincher and exec produced by and starring Kevin Spacey. Negotiations are still going on, but I hear Netflix landed the drama project by offering a staggering commitment of two seasons, or 26 episodes.
Netflix Now Officially Bigger Than Comcast
Netflix Won't Announce Its 3 Billionth DVD Shipment: "Focus Is Really On Streaming"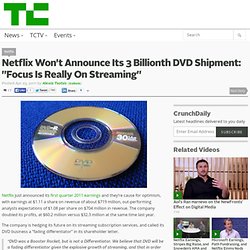 Netflix just announced its first quarter 2011 earnings and they're cause for optimism, with earnings at $1.11 a share on revenue of about $719 million, out-performing analysts expectations of $1.08 per share on $704 million in revenue. The company doubled its profits, at $60.2 million versus $32.3 million at the same time last year.
Netflix revealed Monday that its earnings are up 88% compared to this time last year.
Netflix Earnings Up 88% as Competitor Instant Movie Streaming Services Launch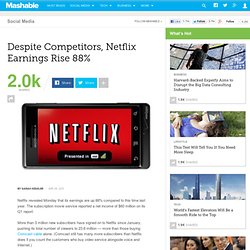 Posted at 12:35 PM ET, 07/08/2011
Netflix criticizes new Internet billing by bits
9:00 am, April 26th | by Hillary Reinsberg In a letter to shareholders yesterday , Netflix CEO Reed Hastings ( one of Time 's 100 Most Influential People of 2011 ) wrote, "The CEO of a [traditional TV network] characterized Netflix as "rerun TV.' While we don't plan to use that line in our next marketing campaign, he is fundamentally correct."
We can grow the audience of Glee & Mad Men