Netflix
Content producer. Qwikster. New Pricing Plan. Senate Democrats don't like the idea of a Netflix Facebook app. Streaming video service Netflix recently appealed to a panel of U.S. senators to update an old law that forbids the company from launching a Facebook application within the country.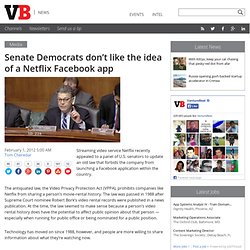 The antiquated law, the Video Privacy Protection Act (VPPA), prohibits companies like Netflix from sharing a person's movie-rental history. The law was passed in 1988 after Supreme Court nominee Robert Bork's video rental records were published in a news publication. At the time, the law seemed to make sense because a person's video rental history does have the potential to affect public opinion about that person — especially when running for public office or being nominated for a public position. Here's Why We Let Starz Walk Away... Starz wanted higher consumer prices. Starz didn't just want Netflix to pay more money for its content.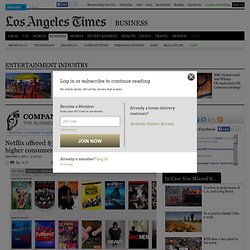 It wanted Netflix consumers to pay more too. Netflix offered Starz more than $300 million per year to renew their agreement, but the pay cable channel was insistent on so-called tiered pricing, according to people close to the negotiations but not authorized to speak on the record. Tiered pricing would require Netflix subscribers who want movies and television shows from Starz and other premium providers to pay more than the standard $8 per month. That demand was apparently a key sticking point in talks that fell apart Thursday, meaning the two companies' deal, which began in 2008, will expire at the end of February.
Netflix looks to kids to make its UI more fun. Netflix Leads Apple, Amazon For Paid Web Video. If you're watching video on the Internet, the odds are very, very good that you're doing it on YouTube.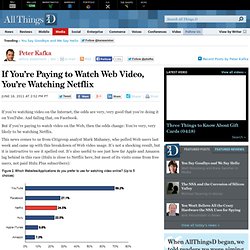 And failing that, on Facebook. But if you're paying to watch video on the Web, then the odds change: You're very, very likely to be watching Netflix. This news comes to us from Citigroup analyst Mark Mahaney, who polled Web users last week and came up with this breakdown of Web video usage. It's not a shocking result, but it is instructive to see it spelled out. It's also useful to see just how far Apple and Amazon lag behind in this race (Hulu is close to Netflix here, but most of its visits come from free users, not paid Hulu Plus subscribers):
Netflix Users Are Slashing Their Cable Bills. It turns out Netflix is cutting into the revenues of the cable business after all, despite assurances from both Netflix and cable providers to the contrary.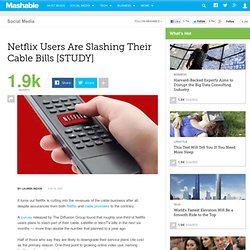 A survey released by The Diffusion Group found that roughly one-third of Netflix users plans to slash part of their cable, satellite or telcoTV bills in the next six months — more than double the number that planned to a year ago. Half of those who say they are likely to downgrade their service plans cite cost as the primary reason. One-third point to growing online video use, naming Netflix as the main provider. "Despite its rhetorical positioning, both Netflix and PayTV operators have long been aware that there will come a point at which its services are not only dilutive to regular TV viewing, but antithetical to PayTV subscription levels," says Michael Greeson, TDG founding partner and director of research.
Netflix Now Officially Bigger Than Comcast. Netflix Won't Announce Its 3 Billionth DVD Shipment: "Focus Is Really On Streaming" Netflix just announced its first quarter 2011 earnings and they're cause for optimism, with earnings at $1.11 a share on revenue of about $719 million, out-performing analysts expectations of $1.08 per share on $704 million in revenue.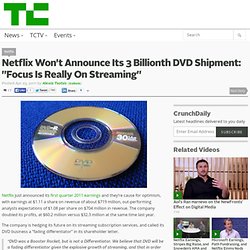 The company doubled its profits, at $60.2 million versus $32.3 million at the same time last year. The company is hedging its future on its streaming subscription services, and called its DVD business a "fading differentiator" in its shareholder letter. "DVD was a Booster Rocket, but is not a Differentiator. We believe that DVD will be a fading differentiator given the explosive growth of streaming, and that in order to prosper in streaming we must concentrate on having the best possible streaming service.
As a result, we are beginning to treat them separately in many ways. Netflix Earnings Up 88% as Competitor Instant Movie Streaming Services Launch. Netflix revealed Monday that its earnings are up 88% compared to this time last year.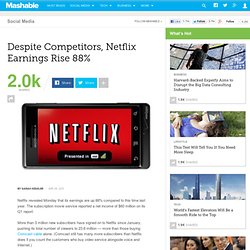 The subscription movie service reported a net income of $60 million on its Q1 report. More than 3 million new subscribers have signed on to Netflix since January, pushing its total number of viewers to 23.6 million — more than those buying Comcast cable alone. (Comcast still has many more subscribers than Netflix does if you count the customers who buy video service alongside voice and Internet.) Netflix's earnings have benefited from a price increase on its hybrid service that took effect with its pure streaming plan in November. Netflix criticizes new Internet billing by bits.
Posted at 12:35 PM ET, 07/08/2011 Jul 08, 2011 04:35 PM EDT TheWashingtonPost Netflix said Friday that moves by Internet service providers to charge users by the amount of data they use could end up costing consumers more.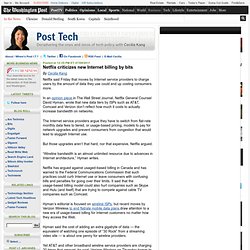 In an opinion piece in The Wall Street Journal, Netflix General Counsel David Hyman, wrote that new data tiers by ISPs such as AT&T, Comcast and Verizon don't reflect how much it costs to actually increase bandwidth on networks. We can grow the audience of Glee & Mad Men.
International Expansion
---