Mobile
On The Future of Apple and Google. When Tim Cook was interviewed by Charlie Rose after Apple's mega launch event a few weeks ago, he scoffed at any mention of competitors, highlighting only Google as Apple's arch-rival.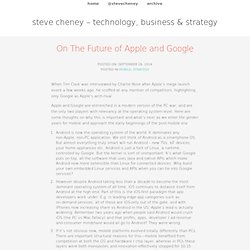 Apple and Google are entrenched in a modern version of the PC war, and are the only two players with relevancy at the operating system level. Here are some thoughts on why this is important and what's next as we enter the golden years for mobile and approach the early beginnings of the post-mobile era: Five-Year Report: It's an App World. The Web Just Lives in It. Flurry Five-Year Report: It's an App World.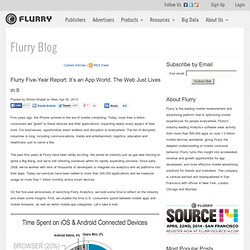 The Web Just Lives in It Posted by Simon Khalaf on Wed, Apr 03, 2013 Five years ago, the iPhone ushered in the era of mobile computing. Today, more than a billion consumers are "glued" to these devices and their applications, impacting nearly every aspect of their lives. TED releases official app for Android and Kindle Fire — Online Video News. The Obama Campaign Is Now Using Mobile Payments Device Square For Fundraising.
The latest technology to be adopted by the Obama campaign—Square.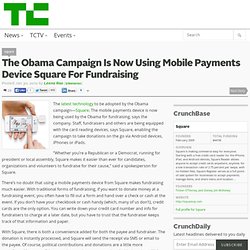 The mobile payments device is now being used by the Obama for fundraising, says the company. Staff, fundraisers and others are being equipped with the card reading devices, says Square, enabling the campaign to take donations on the go via Android devices, iPhones or iPads. "Whether you're a Republican or a Democrat, running for president or local assembly, Square makes it easier than ever for candidates, organizations and volunteers to fundraise for their cause," said a spokesperson for Square. There's no doubt that using a mobile payments device from Square makes fundraising much easier. With traditional forms of fundraising, if you want to donate money at a fundraising event, you often have to fill out a form and hand over a check or cash at the event. Boot to Gecko: Mozilla Plans a ChromeOS Rival for Mobile Devices. Mozilla today announced Boot to Gecko, a very ambitious project that aims to create a "complete, standalone operating system for the open web."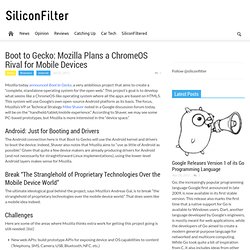 This project's goal is to develop what seems like a ChromeOS-like operating system where all the apps are based on HTML5. This system will use Google's own open-source Android platform as its basis. The focus, Mozilla's VP or Technical Strategy Mike Shaver noted in a Google discussion forum today, will be on the "handheld/tablet/mobile experience." According to Shaver, we may see some PC-based prototypes, but Mozilla is more interested in the "device space." Android: Just for Booting and Drivers.
Square's Disruptive New iPad Payments Service Will Replace Cash Registers. Mobile payments startup Square is announcing big numbers today—500,000 Square card readers shipped, 1 million Square transactions in May, and the startup is now processing $3 million in mobile payments per day.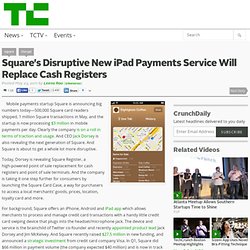 Clearly the company is on a roll in terms of traction and usage. And CEO Jack Dorsey is also revealing the next generation of Square. And Square is about to get a whole lot more disruptive. Today, Dorsey is revealing Square Register, a high-powered point of sale replacement for cash registers and point of sale terminals. And the company is taking it one step further for consumers by launching the Square Card Case, a way for purchasers to access a local merchants' goods, prices, location, loyalty card and more. iPad & iPhone apps.
Can Virtual Rewards Keep Mobile App Users Engaged?: Tech News and Analysis « A recent study found that 26 percent of mobile apps downloaded last year were used only once, a warning to developers that app downloads don't equal long term engagement.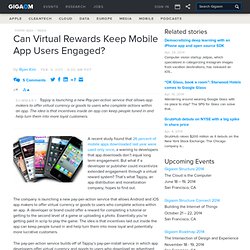 But what if a developer or publisher could incentivize extended engagement through a virtual reward system? That's what Tapjoy, an app distribution and monetization company, hopes to find out. The company is launching a new pay-per-action service that allows Android and iOS app makers to offer virtual currency or goods to users who complete actions within an app. A developer or brand could offer a reward for completing a tutorial or getting to the second level of a game or uploading a photo.
---
dfitzpatrick Dec 10 2011

very cool, hope it kicks some ass.
---