Mobile Stories
The iPhone Effect: how Apple's phone changed everything. Apple's iPhone debuted four years ago, and we sometimes take for granted how much has changed since then.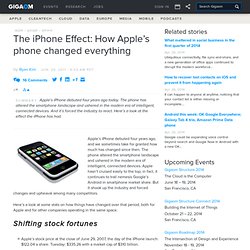 The phone altered the smartphone landscape and ushered in the modern era of intelligent, connected devices. Apple hasn't cruised easily to the top; in fact, it continues to trail nemesis Google's Android in smartphone market share. But it shook up the industry and forced changes and upheaval among many competitors. The bottom line: iPhone 4 vs. Android's best (does Nokia, Micros. So, since I haven't carried an iPhone around with me for more than a week and I got an up and close look at the iPhone 4 today here's my list of the pros and cons of iPhone 4 vs. the Sprint EVO or Verizon's Incredible (the two best Android-based phones out there). 1.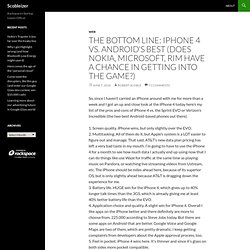 Screen quality. iPhone wins, but only slightly over the EVO. 2. Multitasking. All of them do it, but Apple's system is a LOT easier to figure out and manage. That said, AT&T's new data plan pricing has left a very bad taste in my mouth.
Android. Are people more willing to pay for digital goods on mobile devic. Mary Meeker's presentation this year on internet trends was all about mobile.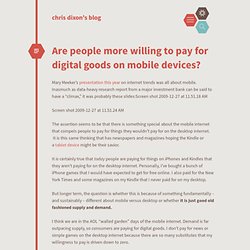 Inasmuch as data-heavy research report from a major investment bank can be said to have a "climax," it was probably these slides: The assertion seems to be that there is something special about the mobile internet that compels people to pay for things they wouldn't pay for on the desktop internet.
---