Mobile Apps
App Constellations. I touched on the concept of App Constellations in my post on Friday about Swarm.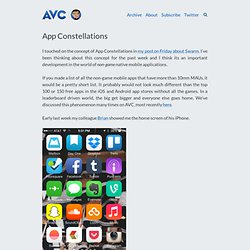 I've been thinking about this concept for the past week and I think its an important development in the world of non-game native mobile applications. If you made a list of all the non-game mobile apps that have more than 10mm MAUs, it would be a pretty short list.
Mobile app startups are failing like it's 1999. Stop the madness The long cycle times for developing mobile apps have led to startup failures that look more like 1999 – it's like we've forgotten all the agile and rapid iteration stuff that we learned over the last 10 years.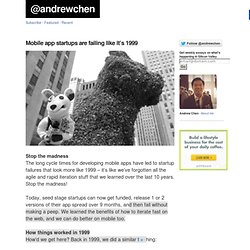 Stop the madness! Today, seed stage startups can now get funded, release 1 or 2 versions of their app spread over 9 months, and then fail without making a peep. We learned the benefits of how to iterate fast on the web, and we can do better on mobile too. How things worked in 1999 How'd we get here? Back in 1999, we did a similar thing:
Instagram. People Discovery Apps. Eventster Brings Crowdsourced Event Discovery To iPhone & iPad. No plans yet for the weekend?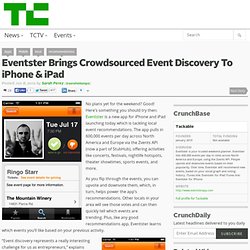 Good! Here's something you should try then: Eventster is a new app for iPhone and iPad launching today which is tackling local event recommendations. The app pulls in 600,000 events per day across North America and Europe via the Zvents API (now a part of StubHub), offering activities like concerts, festivals, nightlife hotspots, theater showtimes, sports events, and more. As you flip through the events, you can upvote and downvote them, which, in turn, helps power the app's recommendations. Other locals in your area will see those votes and can then quickly tell which events are trending. With Help From Facebook Timeline, Viddy Becomes Top Free iPhone App.
With the skyrocketing popularity and billion-dollar sale of Instagram, there's an ongoing race to apply Instagram's wildly successful photo sharing model to mobile video.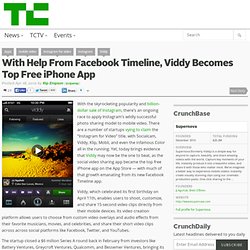 There are a number of startups vying to claim the "Instagram for Video" title, with Socialcam, Viddy, Klip, Mobli, and even the infamous Color all in the running. Yet, today brings evidence that Viddy may now be the one to beat, as the social video sharing app became the top free iPhone app on the App Store — with much of that growth emanating from its new Facebook Timeline app. Viddy, which celebrated its first birthday on April 11th, enables users to shoot, customize, and share 15-second video clips directly from their mobile devices. Its video creation platform allows users to choose from custom video overlays and audio effects from their favorite musicians, movies, and celebrities, and share their short video clips across across social platforms like Facebook, Twitter, and YouTubes.
Bambuser
Pair. Yoke. Draw Something hits mobile game record as it passes 50M downloads. Draw Something, the Pictionary-style app that Zynga acquired with its $180 million purchase of OMGPOP, has surpassed 50 million downloads.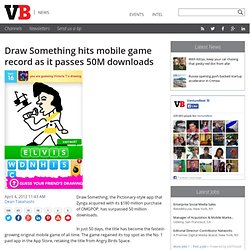 In just 50 days, the title has become the fastest-growing original mobile game of all time. The game regained its top spot as the No. 1 paid app in the App Store, retaking the title from Angry Birds Space. More than 6 billion drawings have been created. About three draws per second were created on the day the game launched, and now that number is 3,000 drawings per second. The most popular words in the game are starfish, pregnant, hangman, six pack, and boom box. "I'm Getting Arrested" App for Immigrants. Arizona's passage of SB 1070, a law that made it a crime to be an undocumented immigrant, has heightened the state's culture of fear, especially among immigrants.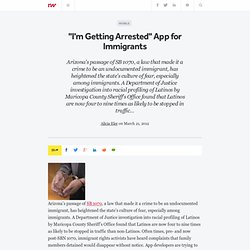 A Department of Justice investigation into racial profiling of Latinos by Maricopa County Sheriff's Office found that Latinos are now four to nine times as likely to be stopped in traffic than non-Latinos. Often times, pre- and now post-SBN 1070, immigrant rights activists have heard complaints that family members detained would disappear without notice. App developers are trying to fix that with "eAPP," the Emergency Alert and Personal Protection App. The New American Media's Valeria Fernandez writes that this app will "allow users to notify family, friends, attorneys and even their consulate when they get pulled over by law enforcement or when they are facing an emergency situation that puts their safety or civil rights at risk.
" Do@ reinvents the mobile search experience. As a company, Do@ launched in March 2010 in San Francisco, but today at Tech Crunch Disrupt, the company has officially launched its product: the ultimate mobile search experience.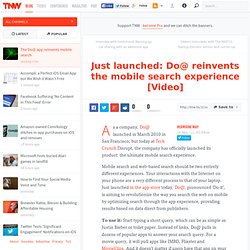 Mobile search and web-based search should be two entirely different experiences. Your interactions with the Internet on your phone are a very different process to that of your laptop. Just launched in the app store today, Do@, pronounced 'Do-it', is aiming to revolutionize the way you search the web on mobile by optimizing search through the app experience, providing results based on data direct from publishers. To use it: Start typing a short query, which can be as simple as Justin Bieber or toilet paper. Instead of links, Do@ pulls in dozens of popular apps to answer your search query. Color. Google Tried To Buy Color For $200 Million. Color Said No. If that headline looks familiar to you, you're probably remembering our story about Google offering to buy Path for $100+ million from earlier this year.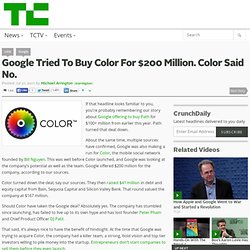 Path turned that deal down. About the same time, multiple sources have confirmed, Google was also making a run for Color, the mobile social network founded by Bill Nguyen. This was well before Color launched, and Google was looking at the company's potential as well as the team. Google offered $200 million for the company, according to our sources. Color turned down the deal, say our sources. Instagram + Color = Instacolor. If photo sharing apps Instagram and Color would mate and have a baby, it would likely look something like the Instacolor app made by tinkerer Rakshith Krishnappa.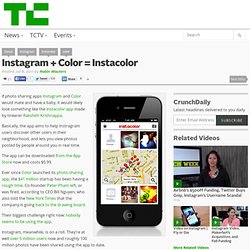 Basically, the app aims to help Instragram users discover other users in their neighborhood, and lets you view photos posted by people around you in real time. The app can be downloaded from the App Store now and costs $0.99. Ever since Color launched its photo sharing app, the $41 million startup has been having a rough time.
Co-founder Peter Pham left, or was fired, according to CEO Bill Nguyen, who also told the New York Times that the company is going back to the drawing board. No Check-Ins Needed. Shopkick Sends You Deals From Your Couch: Tech News and Analysis « Shopkick is taking its audio check-in technology to television in a new deal with the CW that will allow Shopkick users to unlock exclusive deals when they use their app during certain commercials.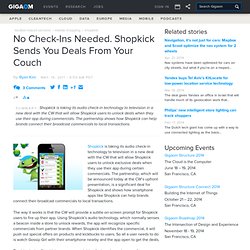 The partnership, which will be announced today at the CW's upfront presentation, is a significant deal for Shopkick and shows how smartphone apps like Shopkick can help brands connect their broadcast commercials to local transactions. The way it works is that the CW will provide a subtle on-screen prompt for Shopkick users to fire up their app. Using Shopkick's audio technology, which normally senses a beacon inside a store to unlock rewards, the app will recognize specific commercials from partner brands. When Shopkick identifies the commercial, it will push out special offers on products and kickbucks to users. So all a user needs to do is watch Gossip Girl with their smartphone nearby and the app open to get the deals.
---