Misc
Facebook Announces Searchable Hashtags, Promises More Features For Following Public Conversations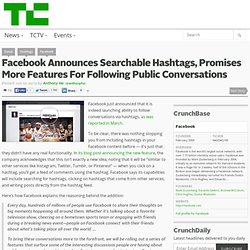 Facebook just announced that it is indeed launching ability to follow conversations via hashtags, as was reported in March. To be clear, there was nothing stopping you from including hashtags in your Facebook content before — it's just that they didn't have any real functionality. In its blog post announcing the new feature, the company acknowledges that this isn't exactly a new idea, noting that it will be "similar to other services like Instagram, Twitter, Tumblr, or Pinterest" — when you click on a hashtag, you'll get a feed of comments using the hashtag. Facebook says its capabilities will include searching for hashtags, clicking on hashtags that come from other services, and writing posts directly from the hashtag feed.
By Greg Lindley Every day, hundreds of millions of people use Facebook to share their thoughts on big moments happening all around them. Whether it's talking about a favorite television show, cheering on a hometown sports team or engaging with friends during a breaking news event—people on Facebook connect with their friends about what's taking place all over the world.
Public Conversations on Facebook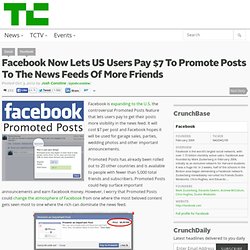 Facebook is expanding to the U.S. the controversial Promoted Posts feature that lets users pay to get their posts more visibility in the news feed. It will cost $7 per post and Facebook hopes it will be used for garage sales, parties, wedding photos and other important announcements. Promoted Posts has already been rolled out to 20 other countries and is available to people with fewer than 5,000 total friends and subscribers. Promoted Posts could help surface important announcements and earn Facebook money. However, I worry that Promoted Posts could change the atmosphere of Facebook from one where the most beloved content gets seen most to one where the rich can dominate the news feed. Facebook first began testing the product, then called Highlight, in May in New Zealand.
Facebook Now Lets US Users Pay $7 To Promote Posts To The News Feeds Of More Friends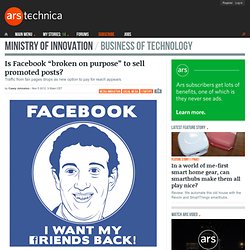 Is Facebook "broken on purpose" to sell promoted posts?
In recent months, some Facebook page owners have noticed that their accounts are driving much less traffic to their websites than they used to. In some cases, Facebook clickthroughs are down by as much as half, despite a huge growth in likes. Even worse, some brands noticed that this drop in traffic coincided with a new Facebook feature called "promoted posts" through which brands can pay cold hard cash to push their content out to more news feeds than they would normally reach—and the brands are not happy about it. This juxtaposition of events makes it look like Facebook is artificially driving down traffic, then holding the old level of traffic hostage in order to generate some new revenue. But Facebook insists it's doing nothing of the sort; instead, the company says that it's just trying to keep its users' Facebook feeds from getting too crufty with promotional posts they don't want to see.
The question on everyone's minds after Facebook's May IPO — How long till the brain drain starts? Apparently, not that long. Ethan Beard, director of platform partnerships at Facebook, announced on Wednesday via Facebook that he will soon leave the company.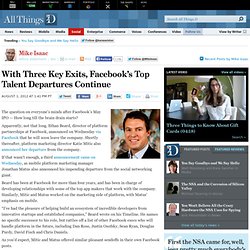 Facebook Platform Exec Ethan Beard Departs - Mike Isaac - Social
Washington state to register voters through Facebook | The Verge
Washington state residents will soon be able to register to vote through Facebook, thanks to a new app announced Tuesday. The app, developed by Microsoft, allows users to file voter registration forms directly from the secretary of state's Facebook page. Users will have to authorize the app to access their basic personal information (name and date of birth), which will be used to pre-fill each registration form.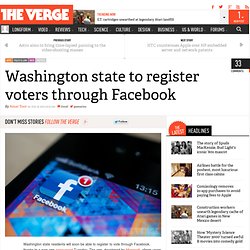 Facebook has finally redesigned Events so you don't miss another party, birthday, or cool get-together your friends are going to. Today the site launches the Events Calendar so you can see what coming up weeks in advance, and a List view that highlights each day's birthdays, RSVPs, and suggested events (though these links won't work until you get the rollout. The redesign started as a Hackathon project a year ago and will replace the old Events for all users over the next few hours.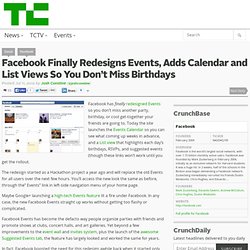 Facebook Finally Redesigns Events, Adds Calendar and List Views So You Don't Miss Birthdays
Facebook and organ donors
Congress members tout Facebook's new organ-donation tool - The Hill's Twitter Room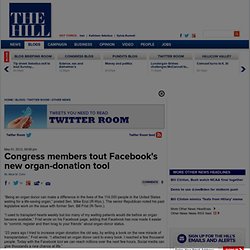 "Being an organ donor can make a difference in the lives of the 114,000 people in the United States waiting for a life-saving organ," posted Sen. Mike Enzi (R-Wyo.). The senior Republican noted his past legislative work on the issue with former Sen. Bill Frist (R-Tenn.).
No, Facebook news reader apps aren't declining because users suddenly got fed up with auto-sharing. The user loss is likely due to the transition to "trending articles", a new way of surfacing recently read articles in the news feed that Facebook is testing. Update: The Washington Post confirms my hypothesis: "Social reader "collapse" is b/c of evolving FB modules. Before: "double-double," 4-5 stories down in a list, w/ friend icon – drove growth." Previously, Facebook had been driving huge numbers of installs and re-engagements to news reader apps with a "recently read articles" box that would often appear at the top of the news feed.
Decline Of Reader Apps Likely Due To News Feed Changes, Shows Facebook Controls The Traffic Faucet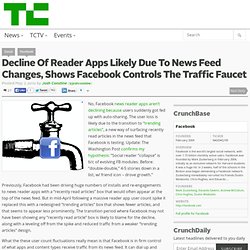 Facebook Introduces Open Graph Action Links
With Interest Lists, Facebook Wants to Be a Personalized Newspaper - Lauren Goode - Social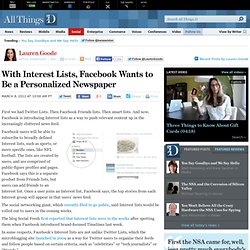 First we had Twitter Lists. Then Facebook Friends lists. Then smart lists. And now, Facebook is introducing Interest lists as a way to push relevant content up in the increasingly cluttered news feed. Facebook users will be able to subscribe to broadly defined Interest lists, such as sports, or more specific ones, like NFL football.
Others' curation about FB
Just how important are Facebook profile photos? Very, it seems. Social photo app startup Pixable has pulled together this infographic showing (among other things) that every year we're changing our profile photos more often.
The importance of Facebook profile photos [Infographic] - TNW Facebook
Former MySpace Exec: Facebook Must Avoid These 3 Mistakes
Facebook goes back to college, releases Groups for Schools
Connect with leaders from the companies in this story, in real life: Come to the fourth annual VentureBeat Mobile Summit April 14-15 in Sausalito, Calif. Request an invitation. It's back to school time for the world's largest social network. Partially returning to its roots as a locked-down site just for college kids, Facebook has launched Groups for Schools, or university-centric Facebook communities restricted to active faculty and students with .edu email accounts. "You can join a group for your major to discuss classes, for your sorority to plan upcoming events, or for your dorm to share photos," Facebook engineer Michael Novati said of the new product.
Mark Zuckerberg is a CIA Agent [Satire]
I've yet to delve into the Scribd file, but one of the first things that occurred to me is that since a lot of the content is automatic deletions and doesn't need to be passed up the chain, there's nothing to stop an underpaid contract employee from archiving banned images and putting them on fetish and niche sites. Maybe that's where some of that "scoured from Facebook" porn comes from that is often advertised, plus there used to be a Usenet group and bulletin board services that hosted bloody, gory photos, so there may be a market for them. Though, I suspect the traffic to those types of sites would be from a very narrow audience and not as vast as those seeking nude self-portraits and other types of porn.
Inside Facebook's Outsourced Anti-Porn and Gore Brigade, Where 'Camel Toes' are More Offensive Than 'Crushed Heads'
As Facebook grows up, it courts Madison Avenue
Facebook Kills Off Deals, Its Groupon Competitor
Foursquare wins major victory with death of Facebook Places
Facebook to use Microsoft's PhotoDNA technology to combat child pornography
Facebook Opens Viral Growth Channel for Pages, Delivering Invites to Like as Notifications
Ticketmaster Teams With Facebook So You Can Sit Next To Your Friends
Facebook's billionaires