MegaUpload / Universal
A pearltree about the Megaupload / Universal issue.
The Mega Song. Megaupload Drops Lawsuit Against Universal Music Over Viral Video (Exclusive) Getty Kanye West In the aftermath of the Justice Department's crackdown on Megaupload, the company has dropped its lawsuit against Universal Music Group over an allegedly unlawful takedown of a video showing many superstars endorsing the troubled file-sharing service.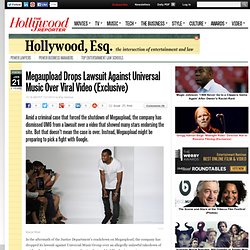 However, the lawsuit is not quite over just yet. On Friday, Megaupload's lawyers filed a notice in California federal court to dismiss the claims against UMG without prejudice, but also told the judge that that the claims against anonymous John Does who participated in the takedown of the viral video continues. Megaupload also wants to pursue further discovery in the case and is attempting to get Google to cooperate on this front by preserving records. MegaUpload soutenu par Puff Daddy, Alicia Keys, Snoop Dogg et d'autres artistes.
Confrontés au piratage, les ayants droit ont désigné un certain nombre de sites web à abattre en priorité.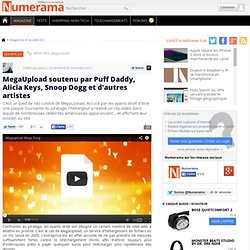 C'est le cas de MegaUpload, un service d'hébergement de fichiers en un clic lancé en 2005. L'entreprise est en effet accusée de ne pas prendre de mesures suffisamment fortes contre le téléchargement illicite, afin d'attirer toujours plus d'internautes prêts à payer quelques euros pour télécharger plus rapidement des œuvres. Universal music files fraudulent copyright complaints with YouTube, censors pro-Megaupload song. Yesterday, I blogged about the tribute raised to Megaupload by several famous recording artists, who objected to their labels' campaign against the service.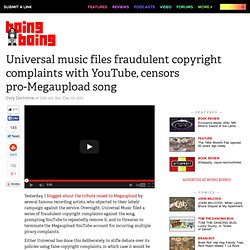 Overnight, Universal Music filed a series of fraudulent copyright complaints against the song, prompting YouTube to repeatedly remove it, and to threaten to terminate the Megaupload YouTube account for incurring multiple piracy complaints. Either Universal has done this deliberately, to stifle debate over its policies using false copyright complaints, in which case it would be social suicide for America to pass SOPA and give Universal the power to shut down any website with a fake copyright complaint.
Or perhaps Universal did this through blundering, inexcusable incompetence, a total inability to distinguish between the music it owns and the music everyone else owns. In which case it would be social suicide for America to pass SOPA and give Universal the power to shut down any website with a sloppy, erroneous copyright complaint. Universal fait censurer la chanson de MegaUpload. Universal Music se croit-il tout permis ?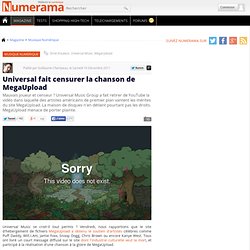 Vendredi, nous rapportions que le site d'hébergement de fichiers MegaUpload a obtenu le soutien d'artistes célèbres comme Puff Daddy, Will.I.Am, Jamie Foxx, Snoop Dogg, Chris Brown ou encore Kanye West. Tous ont livré un court message diffusé sur le site dont l'industrie culturelle veut la mort, et participé à la réalisation d'une chanson à la gloire de MegaUpload. Hier soir, la chanson a été retirée de YouTube à la demande expresse d'Universal Music Group (UMG).
"Cette vidéo contient du contenu de UMG, qui l'a bloquée sur des fondements de droits d'auteur", indique la filiale de Google lorsque l'utilisateur cherche à lire la vidéo. Sur sa page, YouTube dit que la vidéo "viole les conditions d'utilisation" du site. Megaupload Says It Will Sue Universal Music Over Removal of Controversial Video. Getty Images Megaupload is threatening to sue Universal Music Group for allegedly sending a takedown notice that resulted in the removal from YouTube of a music video where various superstars endorse the file-sharing platform.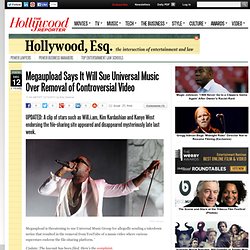 UMG claims "right to block or remove" YouTube videos it doesn't own. Universal Music Group has responded to Megaupload's request for a temporary restraining order barring the music giant from further interference with the distribution of its "Mega Song.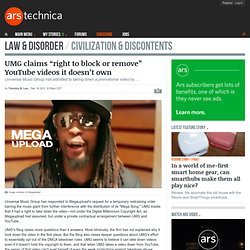 " UMG insists that it had a right to take down the video—not under the Digital Millennium Copyright Act, as Megaupload had assumed, but under a private contractual arrangement between UMG and YouTube. UMG's filing raises more questions than it answers. Most obviously, the firm has not explained why it took down the video in the first place.
But the filing also raises deeper questions about UMG's effort to essentially opt out of the DMCA takedown rules. UMG seems to believe it can take down videos even if it doesn't hold the copyright to them, and that when UMG takes a video down from YouTube, the owner of that video can't avail herself of even the weak protections against takedown abuse provided by the DMCA. Universal Says It Can't Be Sued for Bogus Megaupload Video Takedown. (This story was updated at 2:15 p.m.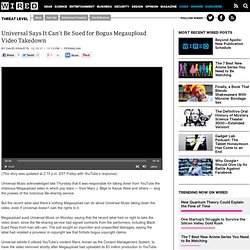 EST Friday with YouTube's response) Universal Music acknowledged late Thursday that it was responsible for taking down from YouTube the infamous Megaupload video in which pop stars — from Mary J. Blige to Kanye West and others — sing the praises of the notorious file-sharing service. MegaUpload : Universal n'a pas suivi la loi mais un contrat avec YouTube.
L'affaire MegaUpload contre Universal Music devient révélatrice du danger démocratique que représentent les accords contractuels passés entre des ayants droit et des plateformes privées qui servent de réceptacle à la liberté d'expression des internautes.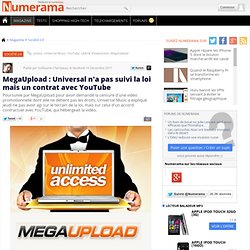 Jeudi, la plus grande maison de disques du monde a en effet expliqué au tribunal qu'il avait le droit de faire retirer la chanson promotionnelle de MegaUpload, non pas sur la base du Digital Millennium Copyright Act (DMCA, l'équivalent américain de notre LCEN), mais sur la base d'un accord contractuel passé avec YouTube. Universal Music explique en effet (.pdf) qu'elle a signé le 31 mars 2009 un "accord de licence vidéo" avec YouTube, qui prévoit que la maison de disques peut utiliser le "Système de Gestion des Contenus" de la plateforme pour retirer des vidéos dès lors qu'elles portent atteinte à ses droits. Megaupload, Universal and the DMCA-less Mega Song Takedown. Last week, Megaupload's Mega Song was on its way to becoming a viral hit, only to be removed from YouTube by a Universal Music takedown demand.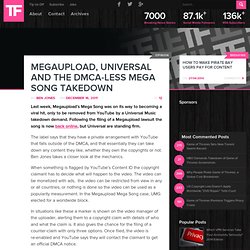 Following the filing of a Megaupload lawsuit the song is now back online, but Universal are standing firm. The label says that they have a private arrangement with YouTube that falls outside of the DMCA, and that essentially they can take down any content they like, whether they own the copyrights or not. Ben Jones takes a closer look at the mechanics. When something is flagged by YouTube's Content ID the copyright claimant has to decide what will happen to the video. The video can be monetized with ads, the video can be restricted from view in any or all countries, or nothing is done so the video can be used as a popularity measurement. YouTube Says Universal Had No 'Right' to Take Down Megaupload Video. YouTube said Friday that Universal Music abused the video-sharing site's piracy filters when it employed them to take down a controversial video of celebrities and pop superstars singing and praising the notorious file-sharing service Megaupload.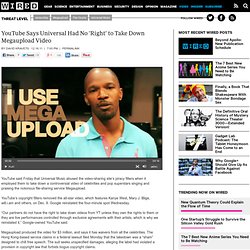 YouTube's copyright filters removed the all-star video, which features Kanye West, Mary J. Blige, will.i.am and others, on Dec. 9. Megaupload to Universal: You've Got Some Explaining To Do. In their 18-page response filing at the US District Court for Northern Californian earlier this month, not once did Universal Music say why they forced YouTube to remove Megaupload's Mega Song. Since that's what the dispute between the two companies is all about, that was a pretty strange event.
In a new filing, Megaupload makes it clear that it isn't going to be brushed aside. The cyberlocker wants answers, and it will dig deep to get them. Early December, Megaupload's 'Mega Song' was on its way to becoming a viral hit, only to be cut down from YouTube by a Universal Music takedown demand.
---