Instagram
Instagram, the Facebook-owned platform for sharing and editing photos and videos, today announced you can send private messages to your friends. Previously, the only way to communicate with followers was through public comments and Likes on images. With Instagram Direct, you can send private photos and videos to up to 15 people. To send a private photo, go to the camera screen in the Instagram application and select "Direct" instead of "Followers." You can then select the recipients, add a text caption, and send private messages.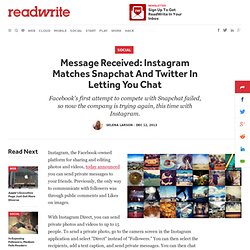 Message Received: Instagram Matches Snapchat And Twitter In Letting You Chat
Introducing Instagram Direct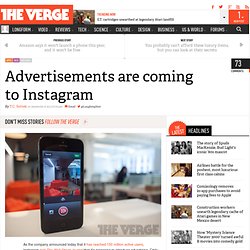 Advertisements are coming to Instagram
As the company announced today that it has reached 150 million active users, Instagram told The Wall Street Journal that it's preparing to introduce advertising. Emily White, Instagram's director of business operations, said that the service should be ready to begin selling ads within the next year. While Facebook has already confirmed plans to "monetize" Instagram, White's comments are the first explicit recognition that Instagram will eventually contain ads.
100 000 000 users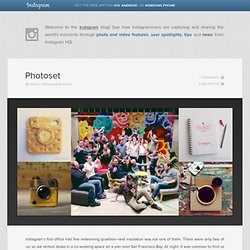 Instagram's first office had few redeeming qualities—and insulation was not one of them. There were only two of us, so we rented desks in a co-working space on a pier over San Francisco Bay.
Today we're excited to announce that Instagram has grown to a community of more than 150 million people capturing and sharing moments every month.
150 millons of MAU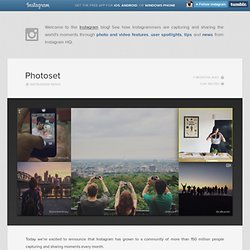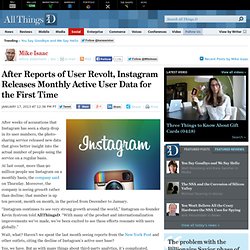 For the First Time, Instagram Releases Monthly Active User Data - Mike Isaac - Social
After weeks of accusations that Instagram has seen a sharp drop in its user numbers, the photo-sharing service released new data that gives better insight into the actual number of people using the service on a regular basis.
They Screwed Us. Right Before They Screwed Us Again. #poohead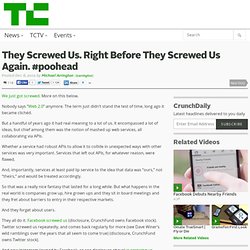 We just got screwed. More on this below. Nobody says "Web 2.0" anymore.
Instagram saw a new record set during Thanksgiving 2012 in the US: 10 million photos shared at a rate of 226 per second during the peak at 12:40PM PST.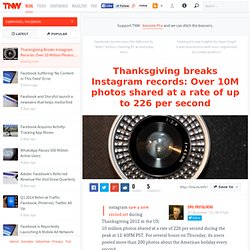 Thanksgiving breaks Instagram records: Over 10M photos shared at a rate of up to 226 per second
How NBC is using Instagram to report the 2012 election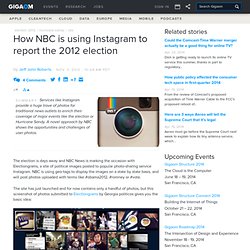 The election is days away and NBC News is marking the occasion with Electiongrams, a site of political images posted to popular photo-sharing service Instagram.
Instagram CEO Kevin Systrom tells us via a spokeswoman: "There are now 10 pictures per second being posted with the hashtag #sandy — most are images of people prepping for the storm and images of scenes outdoors."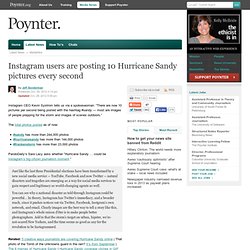 Instagram users are posting 10 Hurricane Sandy pictures every second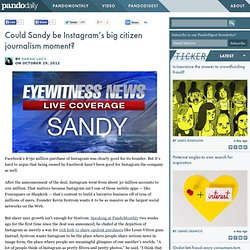 By Sarah Lacy On October 29, 2012 Facebook's $750 million purchase of Instagram was clearly good for its founder. But it's hard to argue that being owned by Facebook hasn't been good for Instagram the company as well. After the announcement of the deal, Instagram went from about 30 million accounts to 100 million.
Could Sandy be Instagram's big citizen journalism moment?
We've been working hard on a major update for both Apple and Android devices.
Launching instagram 3.0
Instagram Hits 80 Million Users, Showing No Signs of Slowing
Continuing its breakneck pace of user growth and scaling, Instagram announced on Thursday that the site had reached the 80 million user mark, a 60 percent increase in its community over the past 13 weeks.
Instagram's User Count Now At 40 Million, Saw 10 Million New Users In Last 10 Days
Instagram received a fair amount of press over the last week.
Instagram Growth Hack: Using the Web to Drive Mobile Downloads
Have you seen Instagram's personalized landing pages? I'm not talking about their homepage. I'm talking about every single picture that is shared on the web.