Instagram
Message Received: Instagram Matches Snapchat And Twitter In Letting You Chat. Instagram, the Facebook-owned platform for sharing and editing photos and videos, today announced you can send private messages to your friends.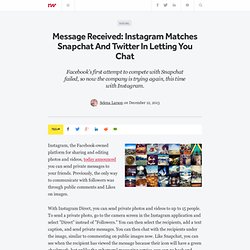 Previously, the only way to communicate with followers was through public comments and Likes on images. With Instagram Direct, you can send private photos and videos to up to 15 people. Introducing Instagram Direct. Advertisements are coming to Instagram. As the company announced today that it has reached 150 million active users, Instagram told The Wall Street Journal that it's preparing to introduce advertising.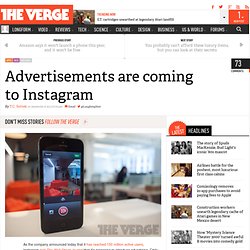 Emily White, Instagram's director of business operations, said that the service should be ready to begin selling ads within the next year. While Facebook has already confirmed plans to "monetize" Instagram, White's comments are the first explicit recognition that Instagram will eventually contain ads.
100 000 000 users. Instagram's first office had few redeeming qualities—and insulation was not one of them.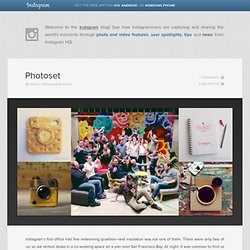 There were only two of us, so we rented desks in a co-working space on a pier over San Francisco Bay. At night, it was common to find us working in winter jackets huddled over our laptops where the air was so cold we could see our breath. It was October 2010 when we launched Instagram, and San Francisco had dealt us a particularly unforgiving and chilly fall. One night soon after launch, about a half-mile away, the Giants' stadium was full of fans cheering on their team in a race for the NLCS against the Philadelphia Phillies. You see, having so little insulation in the office had an unintended consequence of being able to hear the crowd roar every time someone hit a long ball out towards McCovey Cove. 150 millons of MAU. Today we're excited to announce that Instagram has grown to a community of more than 150 million people capturing and sharing moments every month.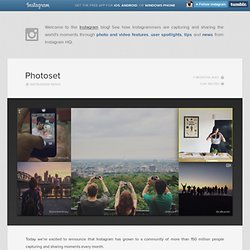 Whether it's documenting protests in Egypt, sharing the trip of a lifetime across the United States or snapping #petselfiez, this community continues to surprise us every day with your creativity, sense of adventure and unique perspectives on the world. As the community continues to grow, it's becoming more global too — now more than 60% of you are from outside the United States. Whether you're in Moscow or Hong Kong, Berlin or Reykjavik, we're more committed than ever to bringing you the best Instagram experience possible. To the 50 million of you who've joined in the last six months, welcome. For the First Time, Instagram Releases Monthly Active User Data - Mike Isaac - Social. After weeks of accusations that Instagram has seen a sharp drop in its user numbers, the photo-sharing service released new data that gives better insight into the actual number of people using the service on a regular basis.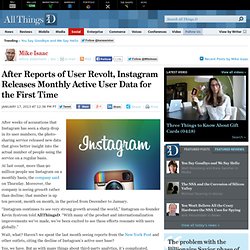 At last count, more than 90 million people use Instagram on a monthly basis, the company said on Thursday. Moreover, the company is seeing growth rather than decline; that number is up ten percent, month on month, in the period from December to January. "Instagram continues to see very strong growth around the world," Instagram co-founder Kevin Systrom told AllThingsD. "With many of the product and internationalization improvements we've made, we've been excited to see these efforts resonate with users globally."
They Screwed Us. Right Before They Screwed Us Again. #poohead. We just got screwed.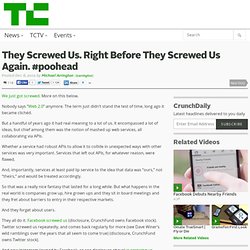 More on this below. Nobody says "Web 2.0" anymore. Thanksgiving breaks Instagram records: Over 10M photos shared at a rate of up to 226 per second. 23 November '12, 06:07pm Follow Instagram saw a new record set during Thanksgiving 2012 in the US: 10 million photos shared at a rate of 226 per second during the peak at 12:40PM PST.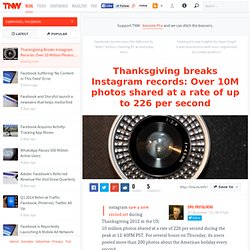 For several hours on Thursday, its users posted more than 200 photos about the American holiday every second. How NBC is using Instagram to report the 2012 election. The election is days away and NBC News is marking the occasion with Electiongrams, a site of political images posted to popular photo-sharing service Instagram.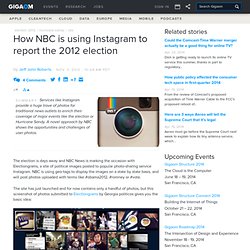 NBC is using geo-tags to display the images on a state by state basis, and will post photos uploaded with terms like #obama2012, #romney or #vote. The site has just launched and for now contains only a handful of photos, but this screenshot of photos submitted to Electiongrams by Georgia politicos gives you the basic idea: The significance of Electionsgrams for NBC is that it gives the network another news tool for election night. Instagram users are posting 10 Hurricane Sandy pictures every second.
Instagram CEO Kevin Systrom tells us via a spokeswoman: "There are now 10 pictures per second being posted with the hashtag #sandy — most are images of people prepping for the storm and images of scenes outdoors."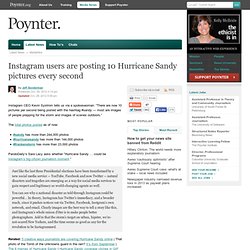 The total photos posted as of now: #sandy has more than 244,000 photos#hurricanesandy has more than 144,000 photos#frankenstorm has more than 23,000 photos PandoDaily's Sara Lacy asks whether "Hurricane Sandy … could be Instagram's big citizen journalism moment." Could Sandy be Instagram's big citizen journalism moment? By Sarah Lacy On October 29, 2012 Facebook's $750 million purchase of Instagram was clearly good for its founder.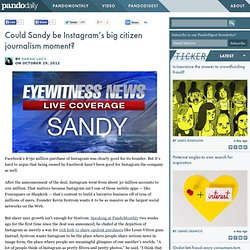 But it's hard to argue that being owned by Facebook hasn't been good for Instagram the company as well. After the announcement of the deal, Instagram went from about 30 million accounts to 100 million. Launching instagram 3.0. We've been working hard on a major update for both Apple and Android devices. We're excited to announce that today Instagram 3.0 is available to everyone.
Download Instagram 3.0 for Apple here or for Android here. With every major release, we pick a theme – and for this one we've focused on the browsing experience. Facebook buys Instagram. Instagram Hits 80 Million Users, Showing No Signs of Slowing. Continuing its breakneck pace of user growth and scaling, Instagram announced on Thursday that the site had reached the 80 million user mark, a 60 percent increase in its community over the past 13 weeks. "We now have >5.7m users per employee," Instagram infrastructure engineer Rick Branson wrote in a tweet. If you do the math, that's 14 employees. And there's more to come: "We're hiring :)," Branson added. It's a significant milestone for the company, which has only continued to gain traction over the past year. Instagram's User Count Now At 40 Million, Saw 10 Million New Users In Last 10 Days. Instagram received a fair amount of press over the last week.
First, 10 days ago, the app launched on Android. Then news of Facebook buying the tiny startup for $1 billion was everywhere from the Drudge Report to The Daily Show. The attention resulted in explosive growth. Instagram Growth Hack: Using the Web to Drive Mobile Downloads. Have you seen Instagram's personalized landing pages? I'm not talking about their homepage. I'm talking about every single picture that is shared on the web.
---