Humor
ANIMAL GIFS
Amie blonde, tu sais qu'il existe d'autres pays que celui où tu résides. Si tu le sais, quand même, n'exagères pas. Notamment certains qui sont situés entre l'occident et l'orient. C'est pour ça qu'on appelle la région le Moyen-Orient.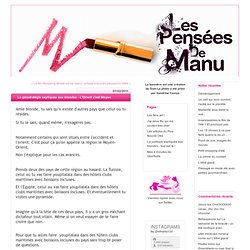 La géostratégie expliquée aux blondes - L'Orient c'est Moyen
ANDES TELETRANSPORTER
Jerry Seinfeld has launched a website, which serves as a warehouse for pretty much everything he's ever performed. JerrySeinfeld.com went live Friday morning with three short comedy clips — "The Fattest Man in the World" from The Tonight Show in 1981, "Do the Horses Know They're Racing?" from a 1988 HBO special and "No Room in the Newspaper" from The Tonight Show in 1990. The site is taking an unusual approach to offering the content by running just three new clips per day. The clips, which range from 30 seconds to two minutes, will be available for only 24 hours and then will be replaced with three new ones. On the site, Seinfeld explains he's offering the site to young would-be comedians.
Jerry Seinfeld Puts His 30 Years of Comedy Online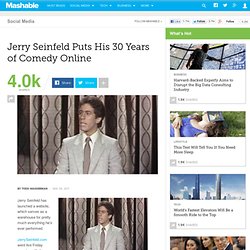 Home When I was ten years old, I started watching stand up comedians on TV. I fell in love with them and I'm just as fascinated with stand up comedy today. When I started doing TV, I saved every appearance on every show I did. I thought it might be fun to go through all of it and pick out three bits each day that still amuse me for some reason or another. I've also included stuff I'm doing now, and I'll be adding new stuff as I go.
Jerry Seinfeld - Personal Archives