How we got here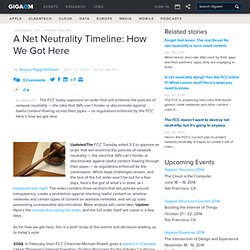 Updated:The FCC Tuesday voted 3:2 to approve an order that will enshrine the policies of network neutrality — the idea that ISPs can't hinder or discriminate against lawful content flowing through their pipes — as regulations enforced by the commission. While legal challenges remain, and the text of the full order won't be out for a few days, here's the gist of what's in store, as I explained last night: The order contains three sections that set policies around transparency, create a prohibition against blocking lawful content on wireline networks and certain types of content on wireless networks, and set up rules preventing unreasonable discrimination.
The fight over Net Neutrality -- that fundamental principle that keeps the Internet open and free from discrimination -- can get pretty wonky.
A Scary Picture for the Future of the Wireless Web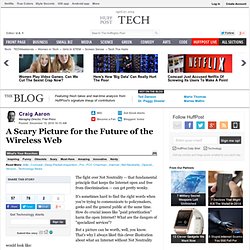 Economic growth requires innovation. Trouble is, Washington is practically designed to resist it. Built into the DNA of the most important agencies created to protect innovation, is an almost irresistible urge to protect the most powerful instead.
Reboot the FCC