Groupon
How Groupon Was Founded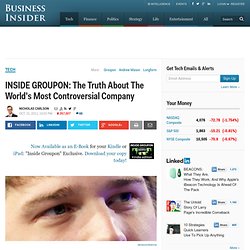 It's August 2011, and Andrew Mason is agitated.
Groupon sues ex-employees who left for Google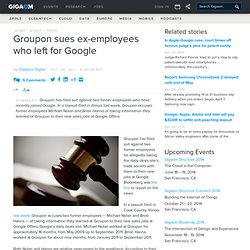 Groupon has filed suit against two former employees for allegedly taking the daily deals site's trade secrets with them to their new jobs at Google. Bloomberg was the first to report on the news. In a lawsuit filed in Cook County, Illinois last week, Groupon accuses two former employees — Michael Nolan and Brian Hanna — of taking information they learned at Groupon to their new sales jobs at Google Offers, Google's daily deals site.
Groupon Stores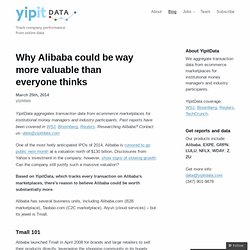 Update: this post was picked up by Mashable, Business Insider, Screenwerk and was the top story on Techmeme on October 24, 2010.
Groupon non acquisition by Google
Groupon Raises $950 Million — Now Comes the Hard Part: Tech News and Analysis «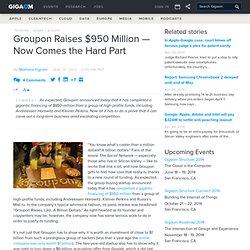 "You know what's cooler than a million dollars? A billion dollars." Fans of the movie The Social Network — especially those who live in Silicon Valley — like to recite that line a lot, and now Groupon gets to feel how cool that really is, thanks to a new round of funding.
Jose More/Chicago News CooperativeA huge public stock offering would be a significant milestone for Andrew Mason, Groupon's founder and chief executive. 9:40 p.m. | Updated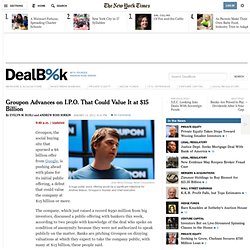 Groupon I.P.O. Said to Value Company at $15 Billion
How did Groupon scale their sales team so quickly?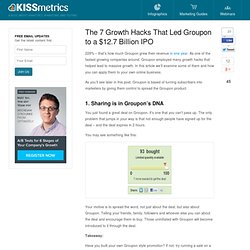 The 7 Growth Hacks That Led Groupon to a $12.7 Billion IPO
228% – that's how much Groupon grew their revenue in one year.