Groupon
How Groupon Was Founded. It's August 2011, and Andrew Mason is agitated.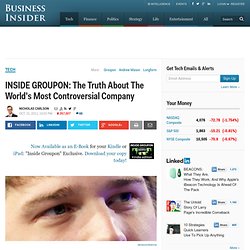 He's at his desk in the middle of Groupon's wide open, call center-style office in Chicago. His headphones are on. His brow is furrowed. Groupon sues ex-employees who left for Google. Groupon has filed suit against two former employees for allegedly taking the daily deals site's trade secrets with them to their new jobs at Google.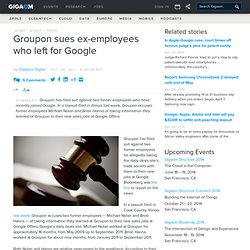 Bloomberg was the first to report on the news. In a lawsuit filed in Cook County, Illinois last week, Groupon accuses two former employees — Michael Nolan and Brian Hanna — of taking information they learned at Groupon to their new sales jobs at Google Offers, Google's daily deals site. Groupon Stores. YipitData aggregates transaction data from ecommerce marketplaces for institutional money managers and industry participants.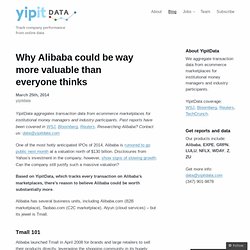 Past reports have been covered in WSJ, Bloomberg, Reuters. Researching Alibaba? Contact us: data@yipitdata.com One of the most hotly anticipated IPOs of 2014, Alibaba is rumored to go public next month at a valuation north of $130 billion.
Groupon non acquisition by Google. Groupon Raises $950 Million — Now Comes the Hard Part: Tech News and Analysis « "You know what's cooler than a million dollars?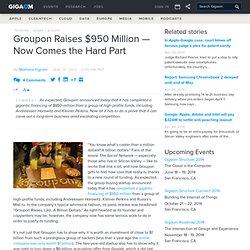 A billion dollars." Fans of the movie The Social Network — especially those who live in Silicon Valley — like to recite that line a lot, and now Groupon gets to feel how cool that really is, thanks to a new round of funding. Groupon I.P.O. Said to Value Company at $15 Billion. Jose More/Chicago News CooperativeA huge public stock offering would be a significant milestone for Andrew Mason, Groupon's founder and chief executive. 9:40 p.m. | Updated Groupon, the social buying site that spurned a $6 billion offer from Google, is pushing ahead with plans for its initial public offering, a debut that could value the company at $15 billion or more.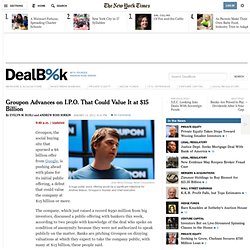 The company, which just raised a record $950 million from big investors, discussed a public offering with bankers this week, according to two people with knowledge of the deal who spoke on condition of anonymity because they were not authorized to speak publicly on the matter. Banks are pitching Groupon on dizzying valuations at which they expect to take the company public, with many at $15 billion, these people said. Groupon, which is expected to make its debut in the spring, is prepared to meet with bankers again on Friday, according to the two people.
Groupon IPO
How did Groupon scale their sales team so quickly? The 7 Growth Hacks That Led Groupon to a $12.7 Billion IPO. 228% – that's how much Groupon grew their revenue in one year.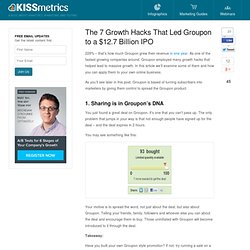 As one of the fastest growing companies around, Groupon employed many growth hacks that helped lead to massive growth. In this article we'll examine some of them and how you can apply them to your own online business. As you'll see later in this post, Groupon is based of turning subscribers into marketers by giving them control to spread the Groupon product. 1.
---