Groupon & Mobile
Introducing Groupon Now!
Groupon has just launched Groupon Now , the company's much-anticipated time-based deals app that wants to redefine how society eats and shops. Groupon Now , which was first revealed in March, is a simple application within Groupon's mobile apps that gives a user the ability to find local deals in realtime.
Groupon Now
Mobile, along with social and local, will be one of the largest drivers for Groupon's deals business over the next few years. Groupon VP Mobile Partnerships Michael Shim said: "Mobile is huge for Groupon…I believe we could see us doing 50 percent of deals sold/purchased in the next couple of years." Shim made the statements this morning at Mobile Northwest , an all-day event in Seattle sponsored by Miller Nash, where a good portion of the day's discussions are focused on the intersection of mobile and commerce and payments.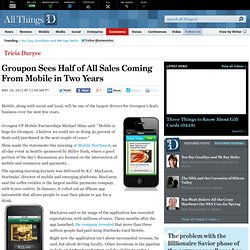 Groupon Sees Half of All Sales Coming From Mobile in Two Years
Foursquare and Groupon Planning Distribution Deal – AllThingsD
Daily deals leader Groupon and social location innovator Foursquare are in partnership talks, according to multiple sources familiar with the matter.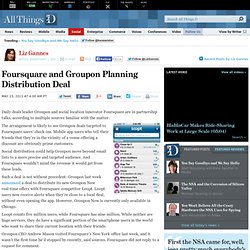 Social juggernauts Groupon and Foursquare are reportedly in talks to integrate Groupon's wildly popular daily deals service with Foursquare checkins.
Should Groupon Acquire Foursquare?