Google
Google's services & products. Google's Legal Issues. Google Vs China. Google's Brand Is Not What It Once Was - Alexis C. Madrigal. The company was once the top brand in the country, but it has fallen in recent years Alexis Madrigal Maybe it is the Snowden revelations.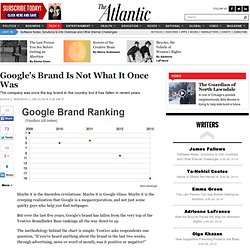 Is Google replacing our memory? A Columbia University study has found that Google and other search engines are literally changing the way our brains process and retain information.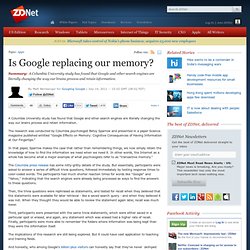 The research was conducted by Columbia psychologist Betsy Sparrow and presented in a paper Science magazine published entitled "Google Effects on Memory: Cognitive Consequences of Having Information at Our Fingertips." In that paper, Sparrow makes the case that rather than remembering things, we now simply retain the knowledge of how to find the information we need when we need it. In other words, the Internet as a whole has become what a major example of what psychologists refer to as "transactive memory.
" The Columbia press release has some nitty-gritty details of the study. Google Starts Showing Users Alerts For Accounts Hacked By "State-Sponsored Attackers" As Deal With Twitter Expires, Google Realtime Search Goes Offline. Yesterday, we reported that Google Realtime Search had mysteriously disappeared.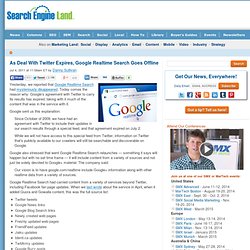 Today comes the reason why: Google's agreement with Twitter to carry its results has expired, taking with it much of the content that was in the service with it. Google sent us this explanation: Since October of 2009, we have had an agreement with Twitter to include their updates in our search results through a special feed, and that agreement expired on July 2. Google Buys Giant New York Building for $1.9B. Google is down with New York City.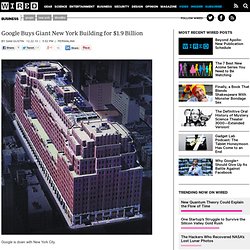 So down, in fact, that the web search titan just dropped $1.9 billion to acquire one of the largest and most historic buildings in all of the Big Apple. At nearly 3 million square feet, 111 Eighth Avenue, the former Port Authority building, sits like a beached, red-brick cruise ship overlooking New York's Chelsea neighborhood. Google Said To Have High Level Mole At Twitter, Makes Massive Counteroffers To Retain Employees. Google may have paid as much as $150 million in stock grants to retain key product employees Sundar Pichai and Neal Mohan, say multiple sources.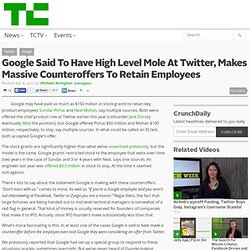 Both were offered the chief product role at Twitter earlier this year (cofounder Jack Dorsey eventually filled the position), but Google offered Pichai $50 million and Mohan $100 million, respectively, to stay, say multiple sources. In what could be called an IQ test, both accepted Google's offer. The stock grants are significantly higher than what we've unearthed previously, but the model is the same. Google Boss: We'll Fight Anti-Piracy Blocking Laws. During a speech on Wednesday, Google executive chairman Eric Schmidt said that proposals from both the U.S. and British governments to block access to file-sharing websites would threaten freedom of speech.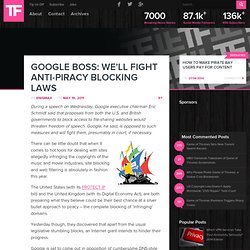 Google, he said, is opposed to such measures and will fight them, presumably in court, if necessary. There can be little doubt that when it comes to hot tools for dealing with sites allegedly infringing the copyrights of the music and movie industries, site blocking and web filtering is absolutely in fashion this year. The United States (with its PROTECT IP bill) and the United Kingdom (with its Digital Economy Act), are both preparing what they believe could be their best chance at a silver bullet approach to piracy – the complete blocking of 'infringing' domains. Yesterday though, they discovered that apart from the usual legislative stumbling blocks, an Internet giant intends to hinder their progress.
Why Facebook Terrifies Google. Google is still the biggest, baddest online advertising company on the planet.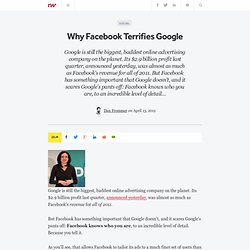 Its $2.9 billion profit last quarter, announced yesterday, was almost as much as Facebook's revenue for all of 2011. But Facebook has something important that Google doesn't, and it scares Google's pants off: Facebook knows who you are, to an incredible level of detail. Because you tell it. As you'll see, that allows Facebook to tailor its ads to a much finer set of users than Google's search ads currently allow.
---