Google+ vs Facebook
The One Google Plus Feature Facebook Should Fear
Facebook engineers copy Google+ with 'Circle Hack' app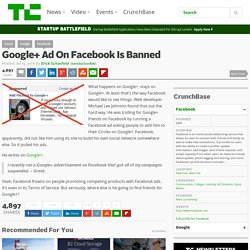 Google+ Ad On Facebook Is Banned
What happens on Google+, stays on Google+. At least that's the way Facebook would like to see things. Web developer Michael Lee Johnson found that out the hard way. He was trolling for Google+ friends on Facebook by running a Facebook ad asking people to add him to their Circles on Google+.
Mark Zuckerberg Explains Why Google+ Won't Beat Facebook (Yet)
Facebook CEO Mark Zuckerberg joining Google+ was at a major media event, with everyone from Forbes to The Daily Mail covering the fact that the founder established a Google+ profile, building Circles that include former Facebooker Dustin Moskovitz and current Facebook CTO Bret Taylor. While many were doubtful that the real Zuckerberg would join a competing social service, tech blogger Robert Scoble texted Zuckerberg himself to confirm, tweeting out "Name drop moment. Zuckerberg just texted me back.
Zuckerberg Surprised That People Are Surprised He's On Google+