Google Drive
Introducing Google Drive... yes, really. Just like the Loch Ness Monster, you may have heard the rumors about Google Drive.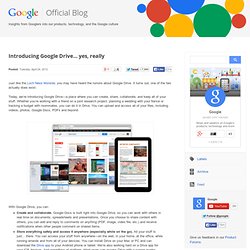 It turns out, one of the two actually does exist. Today, we're introducing Google Drive—a place where you can create, share, collaborate, and keep all of your stuff. Whether you're working with a friend on a joint research project, planning a wedding with your fiancé or tracking a budget with roommates, you can do it in Drive. Sundar Pichai: Google Drive Is About Context, Competitors About Files - Liz Gannes. Sundar Pichai In advance of the release of Google Drive, I sat down yesterday with Google SVP of Chrome and Apps Sundar Pichai and Google Drive product head Scott Johnston.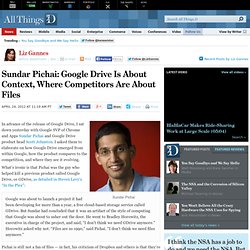 I asked them to elaborate on how Google Drive emerged from within Google, how the product compares to the competition, and where they see it evolving. How far do Google Drive's terms go in 'owning' your files? Within hours of Google launching its new online storage service, the terms and service have come under heavy fire by the wider community for how it handles users' copyright and intellectual property rights.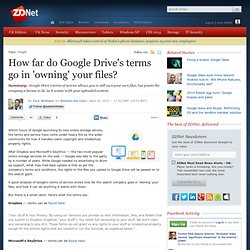 After Dropbox and Microsoft's SkyDrive --- the two most popular online storage services on the web --- Google was late to the party by a number of years. While Google needed no advertising to drum up support, what may hold back uptake is that as per the company's terms and conditions, the rights to the files you upload to Google Drive will be passed on to the search giant. A quick analysis of Google's terms of service shows how far the search company goes in 'owning' your files, and how it can do anything it wants with them.
But there is a small catch.
---