Foursquare
Foursquare new version (june 2012)
Foursquare CEO Reveals Plans for Personalized Coupons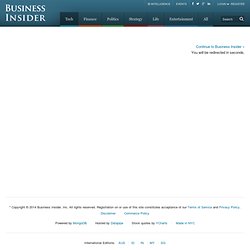 Foursquare is one of the biggest, buzziest startups in New York. Scratch that -- anywhere. The local check-in startup raised $50 million this past summer from Andreessen Horowitz and Spark Capital .
Original Foursquare Investor Pitch Deck 2009
Aug 02nd Back in January of 2010, Intel became the first organization with a Page on foursquare. We hacked together a new template for them (look at our spec , with our crazy old logo!) and built it out by hand.
Pages are now self-serve! A new home for brands and organizations on foursquare.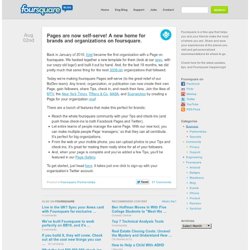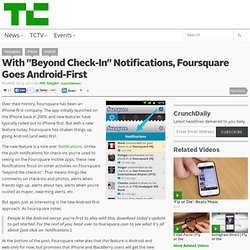 Over their history, Foursquare has been an iPhone-first company. The app initially launched on the iPhone back in 2009, and new features have typically rolled out to iPhone first. But with a new feature today, Foursquare has shaken things up, going Android (and web) first. The new feature is a nice one: Notifications .
With "Beyond Check-In" Notifications, Foursquare Goes Android-First
Clever Foursquare Hack Turns New York City Into a Giant Game of Risk
The board game Risk, in which players maneuver plastic armies on a map in order to achieve "world domination," has firmly occupied one corner of nerdom for about 50 years. Foursquare stationed itself in another more tech-oriented corner of that same kingdom about two years ago. Now, at last, the two categories of nerdom meet. " World of Fourcraft " uses Foursquare and Google Maps APIs to turn New York City into a giant game of Risk.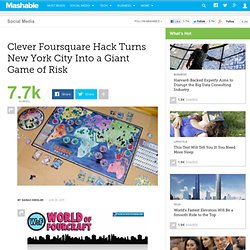 Location based social network Foursquare celebrated 10 million registered users yesterday but how are businesses and organizations using the platform? I wrote a year ago next month about the incredible potential offered by Foursquare accounts for organizations : following a Foursquare page as a user is like opting-in to view the world through the lens of that organization's geo-annotations. It can be awesome. (My favorites?
Foursquare: How New Businesses Are Using It [Stats]
On 4sq Launch at SXSW 2009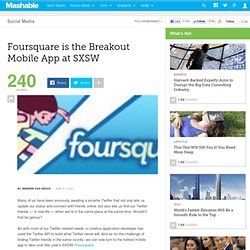 Foursquare is the Breakout Mobile App at SXSW
Many of us have been anxiously awaiting a smarter Twitter that not only lets us update our status and connect with friends online, but also lets us find our Twitter friends — in real-life — when we're in the same place at the same time. Wouldn't that be genius? As with most of our Twitter-related needs, a creative application developer has used the Twitter API to build what Twitter never will.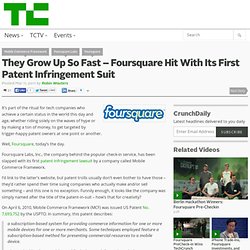 1st Patent Infringement suit
It's part of the ritual for tech companies who achieve a certain status in the world this day and age, whether riding solely on the waves of hype or by making a ton of money, to get targeted by trigger-happy patent owners at one point or another. Well, Foursquare , today's the day.
BonApp, a delicious new Foursquare hack suggests dishes at restaurants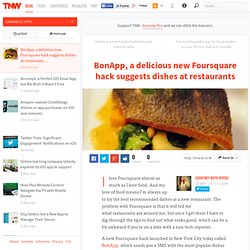 I love Foursquare almost as much as I love food.
This Email Got One Stanford Student A Huge Job At Foursquare