Foursquare
Meet Swarm: Foursquare's ambitious plan to split its app in two. Jump To up down Close By Ben Popper and Ellis Hamburger Foursquare CEO Dennis Crowley has spent the last year trying to convince the world that Foursquare isn't what it used to be.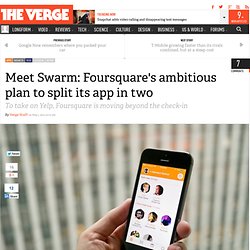 Original Foursquare Investor Pitch Deck 2009. Foursquare is one of the biggest, buzziest startups in New York.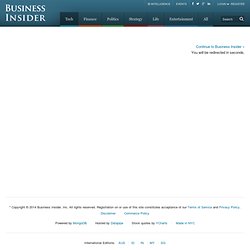 Scratch that -- anywhere. The local check-in startup raised $50 million this past summer from Andreessen Horowitz and Spark Capital. With "Beyond Check-In" Notifications, Foursquare Goes Android-First. Over their history, Foursquare has been an iPhone-first company.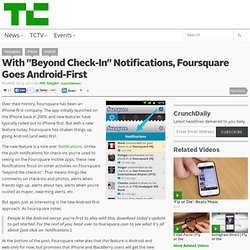 The app initially launched on the iPhone back in 2009, and new features have typically rolled out to iPhone first. But with a new feature today, Foursquare has shaken things up, going Android (and web) first. The new feature is a nice one: Notifications. Clever Foursquare Hack Turns New York City Into a Giant Game of Risk. The board game Risk, in which players maneuver plastic armies on a map in order to achieve "world domination," has firmly occupied one corner of nerdom for about 50 years.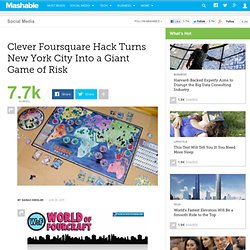 Foursquare stationed itself in another more tech-oriented corner of that same kingdom about two years ago. Now, at last, the two categories of nerdom meet. "World of Fourcraft" uses Foursquare and Google Maps APIs to turn New York City into a giant game of Risk. Foursquare: How New Businesses Are Using It [Stats] Location based social network Foursquare celebrated 10 million registered users yesterday but how are businesses and organizations using the platform?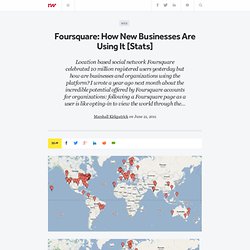 I wrote a year ago next month about the incredible potential offered by Foursquare accounts for organizations: following a Foursquare page as a user is like opting-in to view the world through the lens of that organization's geo-annotations. It can be awesome. On 4sq Launch at SXSW 2009. Foursquare is the Breakout Mobile App at SXSW.
Many of us have been anxiously awaiting a smarter Twitter that not only lets us update our status and connect with friends online, but also lets us find our Twitter friends — in real-life — when we're in the same place at the same time.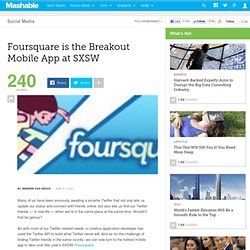 Wouldn't that be genius? As with most of our Twitter-related needs, a creative application developer has used the Twitter API to build what Twitter never will. 1st Patent Infringement suit. It's part of the ritual for tech companies who achieve a certain status in the world this day and age, whether riding solely on the waves of hype or by making a ton of money, to get targeted by trigger-happy patent owners at one point or another.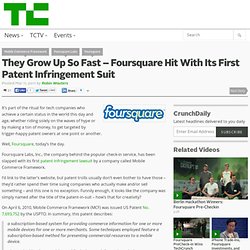 Well, Foursquare, today's the day. Foursquare Labs, Inc., the company behind the popular check-in service, has been slapped with its first patent infringement lawsuit by a company called Mobile Commerce Framework. I'd link to the latter's website, but patent trolls usually don't even bother to have those – they'd rather spend their time suing companies who actually make and/or sell something – and this one is no exception. Funnily enough, it looks like the company was simply named after the title of the patent-in-suit – how's that for creativity? On April 6, 2010, Mobile Commerce Framework (MCF) was issued US Patent No. 7,693,752 by the USPTO. BonApp, a delicious new Foursquare hack suggests dishes at restaurants. I love Foursquare almost as much as I love food.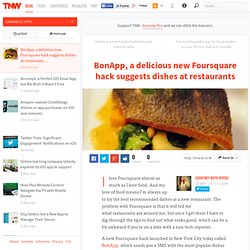 And my love of food means I'm always up to try the best recommended dishes at a new restaurant. The problem with Foursquare is that it will tell me what restaurants are around me, but once I get there I have to dig through the tips to find out what looks good, which can be a bit awkward if you're on a date with a non tech-reporter. A new Foursquare hack launched in New York City today called BonApp, which sends you a SMS with the most popular dishes every time you check-in to a restaurant on Foursquare.
They built their information extraction engine entirely on Foursquare, which determines which dishes are being mentioned most in tips. This Email Got One Stanford Student A Huge Job At Foursquare.
---