Foursquare Growth
Today, the third annual 4sqDay (April 16, four-squared, get it?)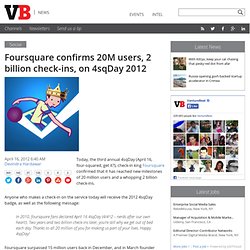 Foursquare confirms 20M users, 2 billion check-ins, on 4sqDay 2012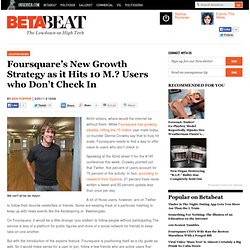 Foursquare's New Growth Strategy? Users who Don't Check In
We can't all be da mayor. Ahhh lurkers, where would the internet be without them. While Foursquare has growing steadily, hitting the 10 million user mark today, co-founder Dennis Crowley say that to truly hit scale, Foursquare needs to find a way to offer value to users who don't check in. Speaking at the 92nd street Y for the #140 conference this week, Crowley pointed out that Twitter, five percent of users account for 75 percent of the activity.
3M Check-Ins / Day, Signed Up 500,000 Merchants
Foursquare growing at 1 million users per month - TNW Apps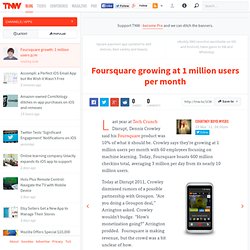 Last year at Tech Crunch Disrupt, Dennis Crowley said his Foursquare product was 10% of what it should be.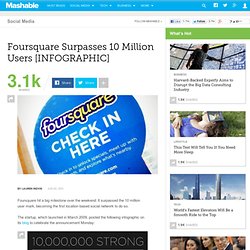 Foursquare hit a big milestone over the weekend: It surpassed the 10 million user mark, becoming the first location-based social network to do so.
Foursquare Surpasses 10 Million Users [INFOGRAPHIC]