Foursquare BizDev
Despite Expanded AmEx Deal, Foursquare Is Still A Revenue-Free Zone. Foursquare is expanding its relationship with American Express to provide local deals to people who sync their cards to their Foursquare accounts.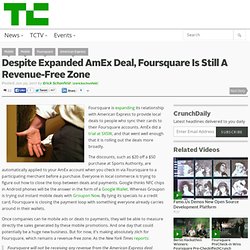 AmEx did a trial at SXSW, and that went well enough that it is rolling out the deals more broadly. The discounts, such as $20 off a $50 purchase at Sports Authority, are automatically applied to your AmEx account when you check in via Foursquare to a participating merchant before a purchase. Foursquare and Groupon Planning Distribution Deal – AllThingsD. Daily deals leader Groupon and social location innovator Foursquare are in partnership talks, according to multiple sources familiar with the matter.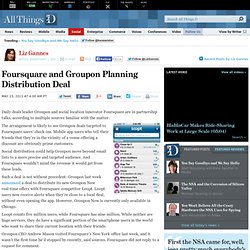 The arrangement is likely to see Groupon deals targeted to Foursquare users' check-ins. Mobile app users who tell their friends that they're in the vicinity of a venue offering a discount are obviously prime customers. Social distribution could help Groupon move beyond email lists to a more precise and targeted audience. And Foursquare wouldn't mind the revenue it would get from these leads.
Such a deal is not without precedent.
---