FB & Skype
Facebook Will Launch In-Browser Video Chat Next Week In Partnership With Skype. Earlier this week while visiting Seattle, Facebook CEO Mark Zuckerberg tipped off Seattle press that the company would be launching an "awesome" new product next week that has been built by Facebook's Seattle team.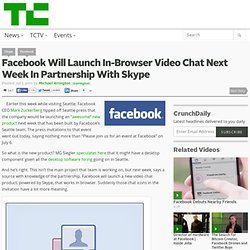 The press invitations to that event went out today, saying nothing more than "Please join us for an event at Facebook" on July 6. So what is the new product? Facebook Launches Skype-Powered Video Calling. Confirming our report last week, Facebook has just announced a major new feature that it's launching in tandem with Skype: video calling.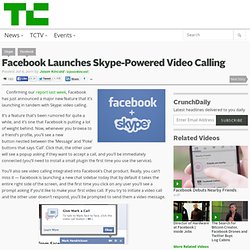 It's a feature that's been rumored for quite a while, and it's one that Facebook is putting a lot of weight behind. Now, whenever you browse to a friend's profile, you'll see a new button nestled between the 'Message' and 'Poke' buttons that says 'Call'. Click that, the other user will see a popup asking if they want to accept a call, and you'll be immediately connected (you'll need to install a small plugin the first time you use the service). You'll also see video calling integrated into Facebook's Chat product. Really, you can't miss it — Facebook is launching a new chat sidebar today that by default it takes the entire right side of the screen, and the first time you click on any user you'll see a prompt asking if you'd like to make your first video call. Facebook Video Chat v. Google Hangouts: It's No Contest. One of the questions I had when I broke the news last week about the Facebook/Skype partnership: Would group video chat be part of the product, and if so would it be free?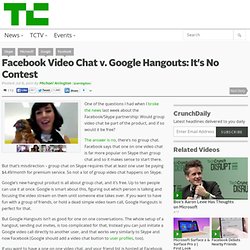 The answer is no, there's no group chat. Facebook says that one on one video chat is far more popular on Skype than group chat and so it makes sense to start there. Why the Skype-Facebook deal is awesome for Facebook. Skype, the Internet telephony company that is in the process of being acquired by Microsoft, has one ambition: to get to a billion users, even if it risks the company losing control over its customers.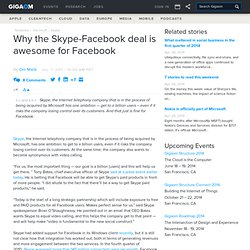 At the same time, the company also wants to become synonymous with video calling. "For us, the most important thing — our goal is a billion [users] and this will help us get there, " Tony Bates, chief executive officer of Skype said at a press event earlier today. He is betting that Facebook will be able to get Skype's paid products in front of more people. "I did allude to the fact that there'll be a way to get Skype paid products," he said.
---