Facebook
Facebook spent nearly $4 million trying to influence Washington policymakers in 2012, the most the social networking company has spent on lobbying in its short history. The company, which has come under increased scrutiny from regulators and Congress on its handling of users' personal information, spent $1.4 million on lobbying in the fourth quarter of 2012. That's more than three times the amount Facebook spent during the same period a year ago, when the company's lobbying spending totaled just $440,000. In total, Facebook nearly tripled the amount it spent on lobbying in all of 2012, up from $1.3 million in 2011. Facebook's aggressive lobbying push is a sign of the company's expanding footprint in Washington as it responds to questioning from lawmakers and regulators on how it protects its users' personal information.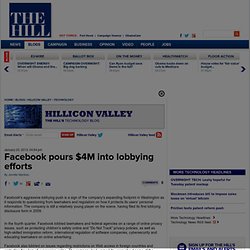 Facebook pours $4M into lobbying efforts - The Hill's Hillicon Valley
Facebook spent a record amount on lobbying expenses — dropping close to $1 million — during the second quarter of 2012 in yet another sign of the social network's growing focus on Beltway politics. Meanwhile, Google maintained its lobbying march in Washington, having spent $9 million in the first half of the year — almost as much as the $9.7 million the company spent on lobbying in all of 2011. Continue Reading
Facebook lobbying sets record in Q2 - David Saleh Rauf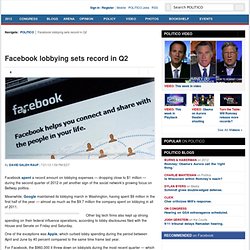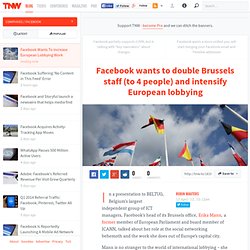 Facebook Wants To Increase European Lobbying Work
In a presentation to BELTUG, Belgium's largest independent group of ICT managers, Facebook's head of its Brussels office, Erika Mann , a former member of European Parliament and board member of ICANN, talked about her role at the social networking behemoth and the work she does out of Europe's capital city. Mann is no stranger to the world of international lobbying – she was formerly an executive vice president at Computer & Communications Industry Association . As transcribed by Data News (article in Dutch), Mann said she and one other team member make up the entire staff at Facebook's Belgian office today, but that the company is looking to fill 2 more positions (3 according to Facebook's Careers page ), including a Public Policy Manager EU and Administrative Assistant. The main activity of the Brussels office is, unsurprisingly, building and maintaining relationships with a variety of European institutions.
Hollywood Pressures D.C. Lobbyists To Cut Ties With Facebook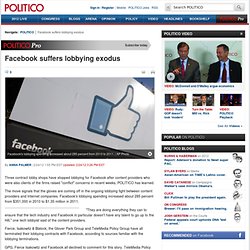 Three contract lobby shops have stopped lobbying for Facebook after content providers who were also clients of the firms raised "conflict" concerns in recent weeks, POLITICO has learned. The move signals that the gloves are coming off in the ongoing lobbying fight between content providers and Internet companies. Facebook's lobbying spending increased about 285 percent from $351,000 in 2010 to $1.35 million in 2011. Continue Reading "They are doing everything they can to ensure that the tech industry and Facebook in particular doesn't have any talent to go up to the Hill," one tech lobbyist said of the content providers. Fierce, Isakowitz & Blalock, the Glover Park Group and TeleMedia Policy Group have all terminated their lobbying contracts with Facebook, according to sources familiar with the lobbying terminations.
Facebook suffers lobbying exodus - Anna Palmer
A swarm of actors and actresses — including Sharon Stone , Tracy Morgan , Tiffani Thiessen , and Alfre Woodard — is trading Hollywood for the Hill, as they head to Washington to lobby lawmakers for arts funding. The group of artists — which will also include Patricia Arquette , "Private Practice's" Tim Daly , Kevin McHale of "Glee" fame, Sam Trammell from "True Blood," Giancarlo Esposito , "The Office" actor Leslie David Baker , and Josh Radnor — all hail from The Creative Coalition. The nonprofit organization is sending the delegation to D.C. for Capitol Hill Arts Day on April 26. While in town, the group says it will "urge Members of Congress and the White House to invest in our nation's dollars in the arts" and encourage funding for the National Endowment for the Arts. Read more...
Facebook hires former Clinton press secretary Joe Lockhart
Facebook May Hire Robert Gibbs, Former Obama Aide
Facebook is in talks to hire Robert Gibbs , President Obama's former White House press secretary , for a senior role in helping to manage the company's communications, people briefed on the negotiations said. Facebook is seeking out Mr. Gibbs ahead of an initial public offering planned for early 2012, these people said.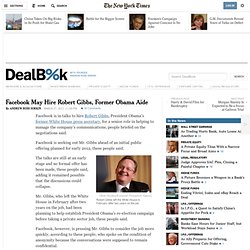 Facebook hires former Boehner aide
Facebook hires new public policy director from ACLU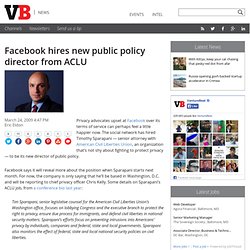 Privacy advocates upset at Facebook over its terms of service can perhaps feel a little happier now. The social network has hired Timothy Sparapani — senior attorney with American Civil Liberties Union , an organization that's not shy about fighting to protect privacy — to be its new director of public policy. Facebook says it will reveal more about the position when Sparapani starts next month. For now, the company is only saying that he'll be based in Washington, D.C. and will be reporting to chief privacy officer Chris Kelly.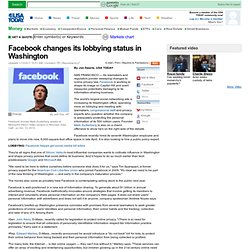 By Jon Swartz, USA TODAY SAN FRANCISCO — As lawmakers and regulators ponder sweeping changes to online privacy law, Facebook is working to shape its image on Capitol Hill and avert measures potentially damaging to its information-sharing business. The world's largest social-networking site is increasing its Washington office, spending more on lobbying and meeting with lawmakers, congressional staff and privacy experts who question whether the company is adequately protecting the personal information of its 500 million users. Founder Mark Zuckerberg is also on a charm offensive to show he's on the right side of the debate.
Facebook changes its lobbying status in Washington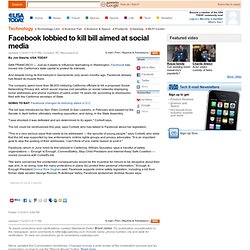 Facebook lobbied to kill bill aimed at social media
By Jon Swartz, USA TODAY SAN FRANCISCO — Just as it seeks to influence lawmaking in Washington, Facebook has moved into California's state capital to protect its interests. And despite hiring its first lobbyist in Sacramento only seven months ago, Facebook already has flexed its muscle there.
Facebook Ramps Up Lobbying Spend In Q1 2011, Up 400 Percent To A Record $230K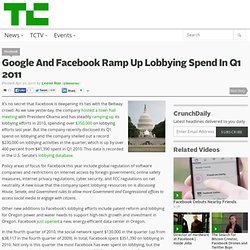 It's no secret that Facebook is deepening its ties with the Beltway crowd. As we saw yesterday, the company hosted a town hall meeting with President Obama and has steadily ramping up its lobbying efforts in 2010, spending over $350,000 on lobbying efforts last year. But the company recently disclosed its Q1 spend on lobbying and the company shelled out a record $230,000 on lobbying activities in the quarter, which is up by over 400 percent from $41,390 spent in Q1 2010. This data is recorded in the U.S. Senate's lobbying database.
A New Facebook Lobbying Team Emerges
To date, Facebook has taken a slower pace with building up its presence in Washington, D.C. But now it looks like that's about to change. Privacy issues in particular have given politicians new reason to assert their role in protecting users and controlling industry. With the hires earlier this week of experienced political staffers Joel Kaplan and Myriah Jordan, the company has connections deep into both parties, in position to dampen new efforts to regulate it. Here's a quick sketch of the people and the structure of the growing organization.
Delphine Reyre, Carnet