Facebook Timeline for brands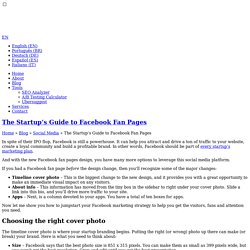 Customize default landing tab – Since the old landing page is gone, your only option now is to link to the tab you want your visitors to land on. Here's how to do that: Click on the appropriate tab. Copy the URL. Paste this URL anywhere you want to drive traffic. Using the new admin panel The admin panel will give you an at-a-glance look at your most important pieces of information. Let's look at some of these features so I can show you how to use them.
The Startup's Guide to Facebook Fan Pages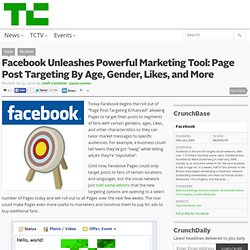 Facebook Unleashes Powerful Marketing Tool: Page Post Targeting By Age, Gender, and More
Today Facebook begins the roll out of "Page Post Targeting Enhanced" allowing Pages to target their posts to segments of fans with certain genders, ages, Likes, and other characteristics so they can tailor market messages to specific audiences. For example, a business could tell teens they've got "swag" while telling adults they're "reputable". Until now, Facebook Pages could only target posts to fans of certain locations and languages, but the social network just told some admins that the new targeting options are opening to a select number of Pages today and will roll out to all Pages over the next few weeks. The tool could make Pages even more useful to marketers and convince them to pay for ads to buy additional fans. The news comes from a member of a closed Facebook group for social marketers, who wrote that he received the following info from Facebook: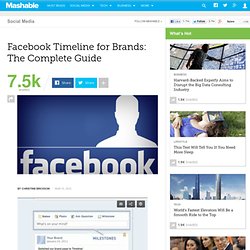 The Complete Guide
Now that Facebook Timeline has finally rolled out for brands, companies have endless opportunities to refresh their social media strategy. Sounds overwhelming, doesn't it? Let's break it down. As of Wednesday , brands can opt in on the new features. If you're not familiar with them, be sure to review them here before you dive into this project.
the Way We See Brand Pages
Victoria Ransom is founder and CEO of Wildfire Interactive , the global leader in social media marketing software. Victoria and Wildfire will host a free webinar on March 2 at 10 a.m. PT, entitled "Timeline for Brands: How to Make the Switch," further outlining best practices for brands in transitioning to Facebook's new Timeline format. Today Facebook announced to brand marketers the world over that, within the month, everything they knew about fan Pages on Facebook would be overturned.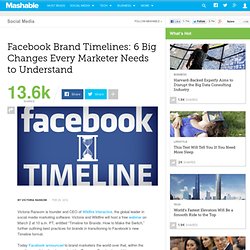 Here are five simple, but oh-so-useful social media metrics you should be measuring right now. Volume The first — and easiest — social media metric to measure is volume. What is the size of the conversation about your brand or your campaign? Volume is a great initial indicator of interest . People tend to talk about things they either love or hate, but they rarely talk about things they simply don't care about at all.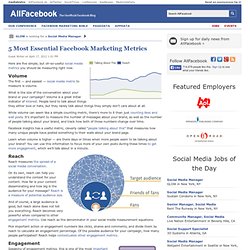 5 Most Essential Facebook Marketing Metrics
How to Use the New Facebook Page Admin Panel
Dave Kerpen is the CEO of Likeable , a social media agency that has worked with more than 200 leading brands including 1-800Flowers.com, Verizon and Neutrogena. He is author of the New York Times best seller Likeable Social Media. When Facebook introduced Timeline for Pages , it gave brands a greater opportunity to connect with their audiences. One of Facebook's most helpful new features, the Admin Panel, is a one-stop shop for the tools and tips brands need to manage this connection. 1. Notifications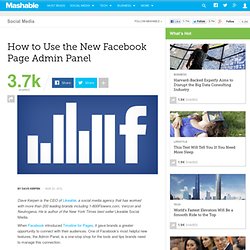 Seven Startups Leveraging Facebook's Open Graph
A Guide to Facebook Timeline for Small Business Brands
This week, Facebook announced a major change to how brands – including small businesses – can use Facebook to share their stories on the site. Facebook Timeline has been rolled out to individual user profiles, but now, businesses will also have the new look on their pages. As of this week, businesses can turn on Timeline; otherwise the changes will be automatically rolled out to all pages on March 30. But before you turn on Timeline, it's important to understand all the changes that are coming. So, what does Facebook Timeline for brand pages mean? We tuned into Facebook's recent live marketing event on what's new with Facebook for brands, so here's a rundown of some of the major changes you'll see.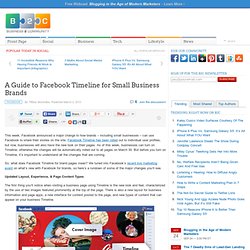 Are you looking for easy ways to engage new Facebook fans using Timeline ? Keep reading to learn how free apps can provide enormous opportunities for your business . Why Facebook Timeline Apps? Now that the new Timeline layout is mandatory for all page owners, we're all beginning to find our way around the new layout.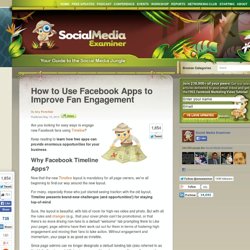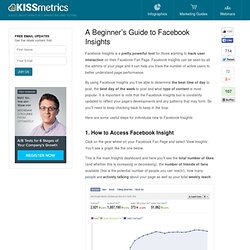 Facebook Insights is a pretty powerful tool for those wanting to track user interaction on their Facebook Fan Page. Facebook Insights can be seen by all the admins of your page and it can help you track the number of active users to better understand page performance. By using Facebook Insights you'll be able to determine the best time of day to post, the best day of the week to post and what type of content is most popular.
A Beginner's Guide to Facebook Insights
According to a survey conducted by The Creative Group , more than 50% of advertising and marketing executives said they expect companies to increase their investment in Facebook this year. Facebook is simple, you update your wall and people will flock to your page and respond, right? That is the dream that every business owner believes before they get started; or that is what they've learned from people who claimed to be 'experts' in this field. Most of them tend to give up or stop updating their page when they aren't seeing the results that they want despite their constant updates. Here is the hard truth; people don't want to hear about your products all the time .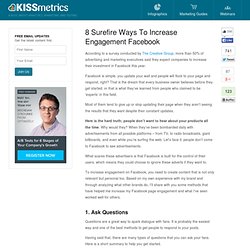 8 Surefire Ways To Increase Engagement Facebook
Some new geeky Facebook lists and advice for startups launching
Yesterday I went through hundreds of startups' Facebook pages. Why? I built a new list of hundreds of startups .