Facebook and Marketing
Facebook's "Premium" - A User's Nightmare? "People worry that technology will disconnect us, but study after study…has shown that it strengthens us," said Facebook's COO Sheryl Sandberg today in New York City.
What Facebook's technology is doing, is connecting brands with human beings. Facebook has enabled marketers to take advantage of the same technology that all of us have. "It enables brands to find their voices… and to have genuine, personal relationships with their customers," says Sandberg. Pay To "Highlight" Your Facebook Status Updates To More Friends – A Reckless New Ads Test. Only 12% of your friends see your average status update, but Facebook is testing an option called "Highlight" that lets you pay a few dollars to have one of your posts appear to more friends.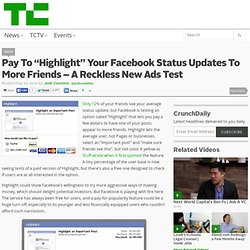 Highlight lets the average user, not Pages or businesses, select an "important post" and "make sure friends see this", but not color it yellow as Stuff wrote when it first spotted the feature. A tiny percentage of the user base is now seeing tests of a paid version of Highlight, but there's also a free one designed to check if users are at all interested in the option. Highlight could show Facebook's willingness to try more aggressive ways of making money, which should delight potential investors. Facebook launches 'marketing classroom' for businesses. Facebook To Court Minority Biz Groups With New Head Of Community Engagement. To work with Congress and encourage minority-owned small businesses to use its marketing products, I've learned Facebook has just created a new Head of Community Engagement role to be filled by Susan Gonzales.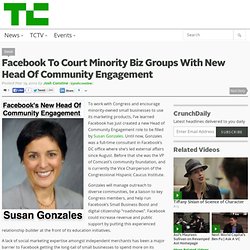 Until now, Gonzales was a full-time consultant in Facebook's DC office where she's led external affairs since August. Before that she was the VP of Comcast's community foundation, and is currently the Vice Chairperson of the Congressional Hispanic Caucus Institute. Gonzales will manage outreach to diverse communities, be a liaison to key Congress members, and help run Facebook's Small Business Boost and digital citizenship "roadshows".
---