Facebook : the anti-Google PR case
Facebook Busted in Clumsy Smear Attempt on Google
For the past few days, a mystery has been unfolding in Silicon Valley. Somebody, it seems, hired Burson-Marsteller, a top public-relations firm, to pitch anti-Google stories to newspapers, urging them to investigate claims that Google was invading people's privacy. Burson even offered to help an influential blogger write a Google-bashing op-ed, which it promised it could place in outlets like The Washington Post, Politico, and The Huffington Post. The plot backfired when the blogger turned down Burson's offer and posted the emails that Burson had sent him. It got worse when USA Today broke a story accusing Burson of spreading a "whisper campaign" about Google "on behalf of an unnamed client."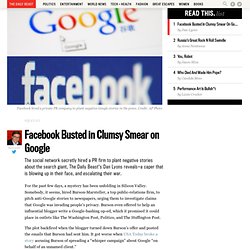 By Byron Acohido and Jon Swartz, USA TODAY Updated 5/10/2011 2:14 PM | It's not as if Google lacks privacy controversies to quell.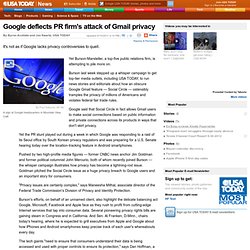 Google deflects PR firm's attack of Gmail privacy
The e-mails
Facebook secretly hired a PR firm to plant negative stories about Google, says Dan Lyons in a jaw dropping story at the Daily Beast. For the past few days, a mystery has been unfolding in Silicon Valley. Somebody, it seems, hired Burson-Marsteller, a top public-relations firm, to pitch anti-Google stories to newspapers, urging them to investigate claims that Google was invading people's privacy. Burson even offered to help an influential blogger write a Google-bashing op-ed, which it promised it could place in outlets like The Washington Post, Politico, and The Huffington Post. The plot backfired when the blogger turned down Burson's offer and posted the emails that Burson had sent him. It got worse when USA Today broke a story accusing Burson of spreading a "whisper campaign" about Google "on behalf of an unnamed client."
Facebook Loses Much Face In Secret Smear On Google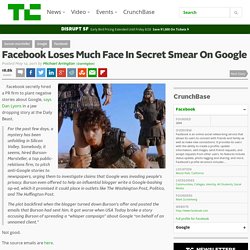 Facebook hired a PR agency to dish the dirt on Google. But it backfired. - TNW Facebook
Smear Story Source Speaks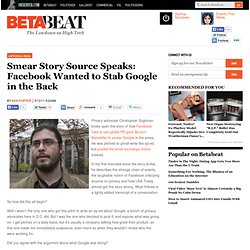 By Ben Popper 5/12/11 9:24am Share this: Privacy advocate Christopher Soghoian broke open the story of how Facebook tried to use global PR giant Burson-Marsteller to smear Google in the press. He was pitched to ghost-write the op-ed, but posted the email exchange online instead. In his first interview since the story broke, he describes the strange chain of events, the laughable notion of Facebook criticizing anyone on privacy and how USA Today almost got the story wrong. What follows is a lightly edited transcript of a conversation.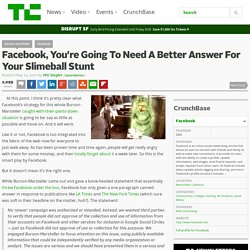 At this point, I think it's pretty clear what Facebook's strategy for this whole Burson-Marsteller caught-with-their-pants-down situation is going to be: say as little as possible and move on. And it will work. Like it or not, Facebook is too integrated into the fabric of the web now for everyone to just walk away. As has been proven time and time again, people will get really angry with them for some misstep, and then totally forget about it a week later.
Facebook, You're Going To Need A Better Answer For Your Slimeball Stunt
Despite major blowback from a Facebook-funded smear campaign against Google meant to raise questions about Google's privacy settings , the perception of neither company has been significantly damaged. According to data from social media analytics firm NetBase , which processed data from more than 70,000 news stories, blogs and forum posts, tweets and comments on social networks, the sentiment about both companies changed very little in the aftermath of the news. Negative sentiment about Facebook — particularly mentions that also included Google — rose May 11, the evening the news broke, and peaked the next day. But by May 13, sentiment was largely positive again, and by May 17 sentiment about Facebook had returned to its pre-smear levels even when mentioned with Google.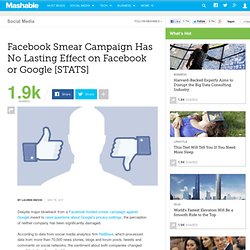 Facebook Smear Campaign Has No Lasting Impact on Facebook or Google [STATS]