Examples of Consequences
Why SOPA + PIPA spell trouble. Skip to Yahoo!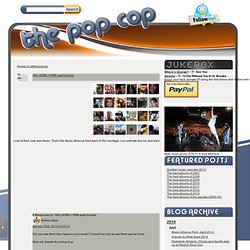 WebPlayer Where's George? - See You Akasha - I'd Die Without You ft JC Brooks. Revised 'Net censorship bill requires search engines to block sites, too. Surprise!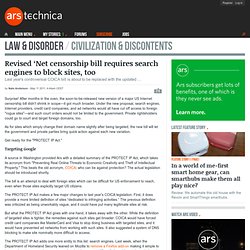 After months in the oven, the soon-to-be-released new version of a major US Internet censorship bill didn't shrink in scope—it got much broader. Under the new proposal, search engines, Internet providers, credit card companies, and ad networks would all have cut off access to foreign "rogue sites"—and such court orders would not be limited to the government. Private rightsholders could go to court and target foreign domains, too. SOPA Will Have Serious Implications For Sports Fans And Blogs. This is a guest post from Brian Frederick, Executive Director of the Sports Fans Coalition and an assistant professor at Georgetown University.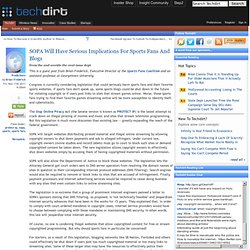 Congress is currently considering legislation that could seriously harm sports fans and their favorite sports websites. If sports fans don't speak up, some sports blogs could be shut down in the future for violating copyright or if users post links to sites that stream games online. UK Report Shows Futility Of US Anti-Piracy Law. Last week UK business secretary Vince Cable confirmed that the website blocking provisions put in place under the country's controversial Digital Economy Act would be abandoned.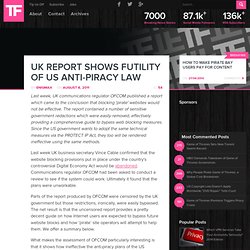 Communications regulator OFCOM had been asked to conduct a review to see if the system could work. Ultimately it found that the plans were unworkable. Parts of the report produced by OFCOM were censored by the UK government but those restrictions, ironically, were easily bypassed. Free Bieber: Vote no on S. 978. SOPA Cabana (by Dan Bull) The Day The LOLcats Died. Coders Are Already Finding Ways Around SOPA Censorship.
A developer who calls himself T Rizk doesn't have much faith in Congress making the right decision on anti-piracy legislation, so he's built a work around for the impending censorship measures being considered: DeSOPA.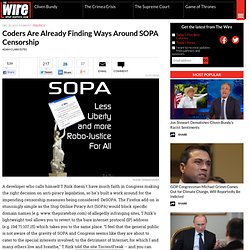 The Firefox add-on is stunningly simple as the Stop Online Piracy Act (SOPA) would block specific domain names (e.g. www.thepiratebay.com) of allegedly infringing sites, T Rizk's lightweight tool allows you to revert to the bare internet protocol (IP) address (e.g. 194.71.107.15) which takes you to the same place. "I feel that the general public is not aware of the gravity of SOPA and Congress seems like they are about to cater to the special interests involved, to the detriment of Internet, for which I and many others live and breathe," T Rizk told the site TorrentFreak -- and you can pretty easily guess whose side they're on.
If that doesn't work, TorrentFreak points to another developer-made anti-SOPA solution that's also in the works. Meanwhile, Rep.
Misc
---