Economy
How long does it take to afford a beer? ON SEPTEMBER 22nd, the beer started flowing at Oktoberfest in Munich, an annual Bavarian beer festival which confusingly begins at the end of September. Last year, over the course of the 16-day event, visitors glugged 7.5m litres of beer, sold at an average princely price of €9 ($12.50) a litre, which is what a typical large stein holds.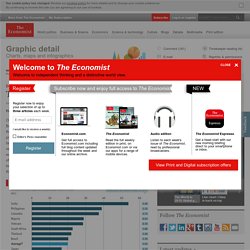 Daily chart: Thirsty work
Tax Cuts Don't Lead to Economic Growth, a New 65-Year Study Finds - Derek Thompson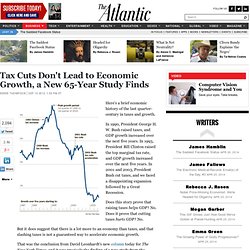 Here's a brief economic history of the last quarter-century in taxes and growth. In 1990, President George H. W.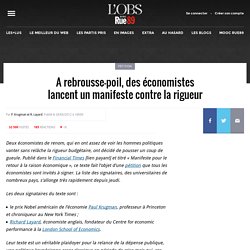 Des économistes lancent un manifeste contre la rigueur
Deux économistes de renom, qui en ont assez de voir les hommes politiques vanter sans relâche la rigueur budgétaire, ont décidé de pousser un coup de gueule. Publié dans le Financial Times [lien payant] et titré « Manifeste pour le retour à la raison économique », ce texte fait l'objet d'une pétition que tous les économistes sont invités à signer. La liste des signataires, des universitaires de nombreux pays, s'allonge très rapidement depuis jeudi.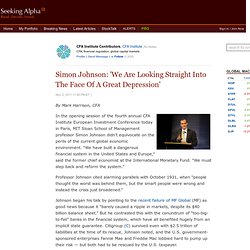 By Mark Harrison, CFA In the opening session of the fourth annual CFA Institute European Investment Conference today in Paris, MIT Sloan School of Management professor Simon Johnson didn't equivocate on the perils of the current global economic environment. "We have built a dangerous financial system in the United States and Europe," said the former chief economist at the International Monetary Fund. "We must step back and reform the system."
Simon Johnson: 'We Are Looking Straight Into The Face Of A Great Depression'
It's not just that the threat of a double-dip recession has become very real. It's now impossible to deny the obvious, which is that we are not now and have never been on the road to recovery. For two years, officials at the Federal Reserve, international organizations and, sad to say, within the Obama administration have insisted that the economy was on the mend. Every setback was attributed to temporary factors — It's the Greeks! It's the tsunami! — that would soon fade away.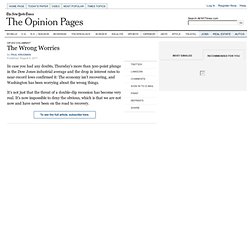 The Wrong Worries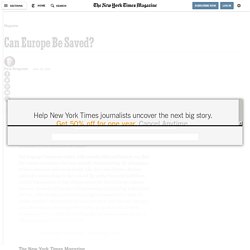 The Road to Economic Crisis Is Paved With Euros
Angelos Tzortzinis/Agence France-Presse — Getty Images ATHENS Protests against austerity measures brought international travel and public services to a standstill on Dec. 15. Alfredo Falvo/Contrasto/Redux ROME Students protested planned changes in the university system on Dec. 22 in Italy, where youth unemployment is about 25 percent. Not long ago Europeans could, with considerable justification, say that the current economic crisis was actually demonstrating the advantages of their economic and social model.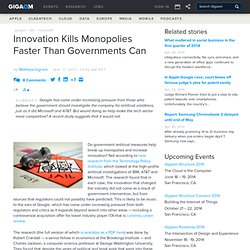 Do government antitrust measures help break up monopolies and increase innovation? Not according to new research from the Technology Policy Institute , which looked at the high-profile antitrust investigations of IBM, AT&T and Microsoft. The research found that in each case, the innovation that changed the industry did not come as a result of government intervention, but from sources that regulators could not possibly have predicted. This is likely to be music to the ears of Google, which has come under increasing pressure from both regulators and critics as it expands beyond search into other areas — including a controversial acquisition offer for travel industry player ITA that is currently under review . The research (the full version of which is available as a PDF here ) was done by Robert Crandall — a senior fellow in economics at the Brookings Institute — and Charles Jackson, a computer science professor at George Washington University.
Innovation Kills Monopolies Faster Than Governments Can: Tech News and Analysis
La polémique Goldman Sachs
the economics of Open Source
For three decades we have conducted a massive economic experiment, testing a theory known as supply-side economics. The theory goes like this: Lower tax rates will encourage more investment, which in turn will mean more jobs and greater prosperity—so much so that tax revenues will go up, despite lower rates. The late Milton Friedman, the libertarian economist who wanted to shut down public parks because he considered them socialism, promoted this strategy. Ronald Reagan embraced Friedman's ideas and made them into policy when he was elected president in 1980.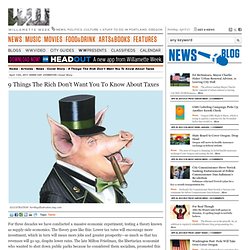 9 Things The Rich Don't Want You To Know About Taxes