Companies pro SOPA
Rupert Murdoch squares off with Obama over online piracy legislation | Technology. The gathering storm over online piracy legislation being debated in the US Congress has sucked two more heavy hitters into the fray, with the Obama administration and Rupert Murdoch lining up on opposite sides of the argument.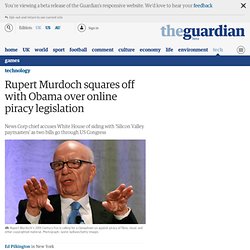 The controversy over the Stop Online Piracy Act (Sopa) going through the House of Representatives and its Senate equivalent, the Protect Intellectual Property Act (Pipa), has intensified. Websites including Reddit and possibly Wikipedia are planning to "go dark" on Wednesday in protest at the proposals, which they say will lead to government censorship of the internet and be disastrous for innovation. On Saturday, the Obama administration made clear that it would not tolerate several of the more controversial aspects of the two bills, particularly the power to interfere with the architecture of the web by tampering with its Domain Name System (DNS).
Video game industry still supports anti-piracy bill. By Stephen C.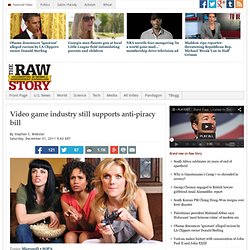 WebsterSaturday, December 31, 2011 9:43 EDT Despite a flurry of reports suggesting that the world's largest video game companies have dropped their support for the controversial Stop Online Piracy Act (SOPA) — a bill which critics say could break the fundamental structure of the Internet in the U.S. — that assumption appears premature. The Internet was set aflutter the day before New Year's Eve after Business Insider noticed that Nintendo, Electronic Arts (EA) and Sony Electronics had removed themselves from a list of official SOPA supporters (PDF) curated by the House Judiciary Committee.
Paul Graham: SOPA Supporting Companies No Longer Allowed At YC Demo Day. At this point quite a few internet companies have protested H.R. 3261, the Stop Online Piracy Act (SOPA) in creative ways.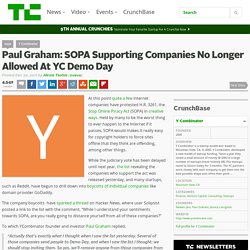 Held by many to be the worst thing to ever happen to the Internet if it passes, SOPA would makes it really easy for copyright holders to force sites offline that they think are offending, among other things. While the judiciary vote has been delayed until next year, the list revealing the companies who support the act was released yesterday, and many startups, such as Reddit, have begun to drill down into boycotts of individual companies like domain provider GoDaddy. Go Daddy Publishes SOPA Position, Turns Off Comments. 23 December '11, 01:28am Follow The Internet is collectively raging at domain seller Go Daddy for supporting the "Stop Online Piracy Act", with people like Ben Huh threatening to pull away 1,000 domains owned by his company Cheezburger.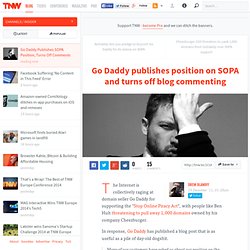 In response, Go Daddy has published a blog post that is as useful as a pile of day-old dogshit. Many of our customers have asked us about our position on the Stop Online Piracy Act (SOPA). A Step-by-Step Guide to Transfer Domains Out Of GoDaddy. Follow these step-by-step directions to transfer all of your domains from GoDaddy to NameCheap.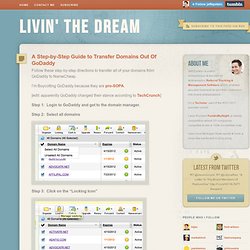 I'm Boycotting GoDaddy because they are pro-SOPA. [edit: apparently GoDaddy changed their stance according to TechCrunch] Step 1: Login to GoDaddy and get to the domain manager. GoDaddy no longer supports SOPA. 3M takes SOPA REALLY seriously. All the Companies Supporting SOPA, the Awful Internet Censorship Law and How to Contact Them.
29 Tech Companies Back SOPA. Update: The Business Software Alliance has 'reconsidered' its backing of SOPA in its current form and now says that it "needs work".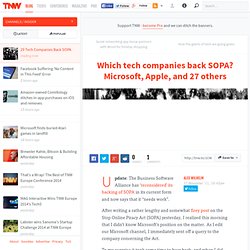 After writing a rather lengthy and somewhat firey post on the Stop Online Piracy Act (SOPA) yesterday, I realized this morning that I didn't know Microsoft's position on the matter. As I edit our Microsoft channel, I immediately sent off a query to the company concerning the Act. To my surprise it took some time to hear back, and when I did get word the response was 'no comment.' Nintendo, EA, Sony sponsor Internet censorship bill. SOPA (Stop Online Piracy Act) is a bill currently in the US Congress, with the stated goal of curtailing copyright infringement, but with the actual effects of setting up a government firewall to block out unwanted sites, and giving the US jurisdiction over foreign sites that have anything to do with infringement of US copyright.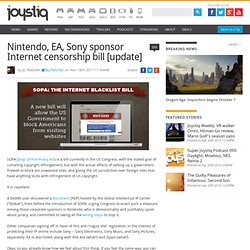 It is repellent. A Reddit user discovered a document [PDF] hosted by the Global Intellectual IP Center ("Global"), from before the introduction of SOPA, urging Congress to enact such a measure. Among those corporate sponsors is Nintendo, who is demonstrably and justifiably upset about piracy, and committed to taking all the wrong steps to stop it. Other companies signing off in favor of this anti-"rogue site" legislation, in the interest of protecting their IP online include Sony -- Sony Electronics, Sony Music, and Sony Pictures, separately. EA is also listed, along with Rite Aid (what?)
---