Companies pro SOPA
Get flash to fully experience Pearltrees
Rupert Murdoch's 20th Century Fox is calling for a clampdown against piracy of films, music and other copyrighted material. Photograph: Justin Sullivan/Getty Images
By Stephen C.
At this point quite a few internet companies have protested H.R. 3261, the Stop Online Piracy Act (SOPA) in creative ways . Held by many to be the worst thing to ever happen to the Internet if it passes, SOPA would makes it really easy for copyright holders to force sites offline that they think are offending, among other things. While the judiciary vote has been delayed until next year, the list revealing the companies who support the act was released yesterday, and many startups, such as Reddit, have begun to drill down into boycotts of individual companies like domain provider GoDaddy.
The Internet is collectively raging at domain seller Go Daddy for supporting the " Stop Online Piracy Act ", with people like Ben Huh threatening to pull away 1,000 domains owned by his company Cheezburger.
Follow these step-by-step directions to transfer all of your domains from GoDaddy to NameCheap.
Update : The Business Software Alliance has ' reconsidered' its backing of SOPA in its current form and now says that it "needs work".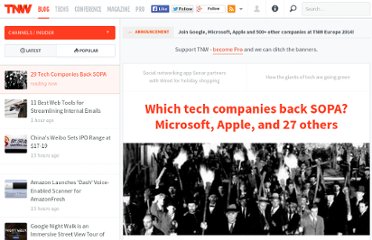 by JC Fletcher on Nov 18th 2011 11:49AM