ASIC and their actions
Sélection d'articles concernant les actions et prises de positions de l'ASIC.
Association des Services Internet Communautaires (ASIC) Google, eBay Join Fight Against French Data Demands: Tech News and Analysis « Europe's approach to privacy is notoriously scattershot, with the media and users often reacting — or overreacting — to a constant stream of new rules, regulations and proposals.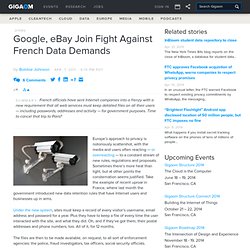 Sometimes there's more heat than light, but at other points the consternation seems justified. Take the example of recent uproar in France, where last month the government introduced new data retention rules that have Internet users and businesses up in arms. Under the new system, sites must keep a record of every visitor's username, email address and password for a year.
Plus they have to keep a file of every time the user interacted with the site, and what they did. Internet Giants Take France to Court Over Personal Data Policy. More than 20 Internet companies, including Google, Facebook and eBay, will file a complaint with France's State Council against a decree that obliges them to keep their users' personal data for a year.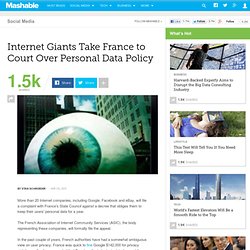 The French Association of Internet Community Services (ASIC), the body representing these companies, will formally file the appeal. In the past couple of years, French authorities have had a somewhat ambiguous view on user privacy. France was quick to fine Google $142,000 for privacy violations, after it was revealed that Google collected private data from public Wi-Fi networks.
« L'internet n'a pas besoin d'un CSA du Net » exortent les acteurs du Web - PC INpact. L'ASIC, association des acteurs du Web 2.0, a accueilli froidement les propositions du rapport Lescure visant à étendre les compétences du Conseil supérieur de l'audiovisuel (CSA) à Internet.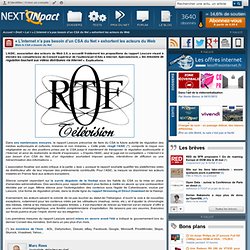 Spécialement, « les missions de régulation touchant aux vidéos distribuées via Internet ». Explications.
---