Apple
Google porn-bans Reddit Android app for linking to… Reddit. Within the past 24 hours Google Play removed and banned indie developer Andrew Shu's Reddit Is Fun app from its market.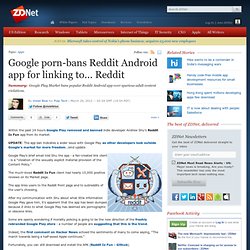 UPDATE: The app ban indicates a wider issue with Google Play as other developers look outside Google's market for more freedom. /end update Google Play's brief email told Shu the app - a fan-created link client - is a "Violation of the sexually explicit material provision of the Content Policy. " The much-loved Reddit Is Fun client had nearly 10,000 positive reviews on its Market page. The app links users to the Reddit front page and to subreddits of the user's choosing. Jailbreaking May Soon Become Illegal Again, Act Now To Help Keep It Legal. Advertisements It was in July 2010, the United States government ruled that the jailbreaking and unlocking of Apple iPhones, as well as the rooting of Android devices was to be deemed a legal act, as long as the process wasn't being carried out with the intention of circumventing copyright.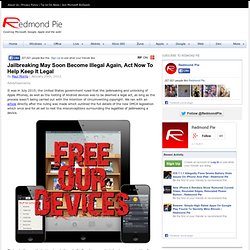 We ran with an article directly after the ruling was made which outlined the full details of the new DMCA legislation which once and for all set to rest the misconceptions surrounding the legalities of jailbreaking a device. Obviously, the court's decision to rule the act of jailbreaking as entirely legal was a major blow for Apple, considering they have invested so much time and money into making their devices and operating systems as secure as possible, and have always been public advocates for making jailbreaking an unlawful act.
Apple Now Has More Cash than U.S. Government. It must feel good to be a part of Apple today: The company was proclaimed the world's top smartphone vendor by Strategy Analytics, and its cash reserves are now bigger than the U.S. government's balance.
Apple is now the world's largest smartphone vendor by volume with 18 percent market share, according to Strategy Analytics' report. Nokia is now number three with 15%, behind Samsung, which grew an amazing 520% annually to grab a 17% share of the global smartphone market. Working at the Apple Store: Tales from the Inside. While I think Apple's approach is a little over the top, welcome to working retail and dealing with the public.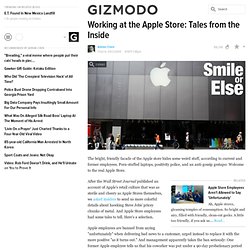 I may sound a little out of line because I'm an Engineer, but I've worked at many places throughout HS/college and my parents have both worked in retail and never held back telling stories. Anywhere you work where you have to speak to a customer, you're going to be given a set of lines and rules on how you speak to them, because the customer IS going to be a complete idiot while at the same time, thinking you're the idiot, but you can't make THEM feel like an idiot or they'll get mad at you and everything you represent.
Your company is going to give you incentives and goals in order to push customers into buying something they don't need. Steve Jobs Blinks! Apple Backs Down On App Subscription Rules – AllThingsD. Apple appears to have backed down on a major component of its new in-app subscription rules, which should provide a big boost to content companies: It has scrapped a rule requiring apps that play content like music, movies, and books to also sell the same content within the app itself, and share the revenue with Apple.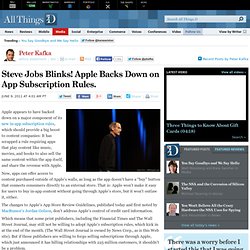 Now, apps can offer access to content purchased outside of Apple's walls, as long as the app doesn't have a "buy" button that connects consumers directly to an external store. That is: Apple won't make it easy for users to buy in-app content without going through Apple's store, but it won't outlaw it, either. The changes to Apple's App Store Review Guidelines, published today and first noted by MacRumor's Jordan Golson, don't address Apple's control of credit card information. Apple planning major product launch for 10th retail anniversary? We have just received some information from a solid Apple source, and if they're right, Apple may be planning something big for its 10th retail anniversary this Thursday the 19th.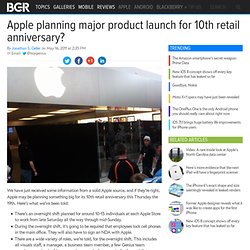 Here's what we've been told: There's an overnight shift planned for around 10-15 individuals at each Apple Store to work from late Saturday all the way through mid-Sunday.During the overnight shift, it's going to be required that employees lock cell phones in the main office. They will also have to sign an NDA with Apple.There are a wide variety of roles, we're told, for the overnight shift. Apple Store 2.0 revealed: Startup Sessions, interactive iPad signage, new sound/display systems, new app? | 9 to 5 Mac Apple Store 2.0 revealed: Startup Sessions, interactive iPad signage, new sound/display systems, new app. A source has just dropped a load of unconfirmed information on us for what is being internally referred to as "Apple Store 2.0."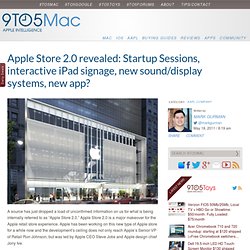 Apple Store 2.0 is a major makeover for the Apple retail store experience. Apple has been working on this new type of Apple store for a while now and the development's ceiling does not only reach Apple's Senior VP of Retail Ron Johnson, but was led by Apple CEO Steve Jobs and Apple design chief Jony Ive. Like we reported before, Apple is taking their personal setup service very seriously. Exclusive: Apple near cloud-music deals. Apple has signed a cloud-music licensing agreement with EMI Music and is very near to completing deals with Universal Music Group and Sony Music Entertainment, multiple music industry sources told CNET.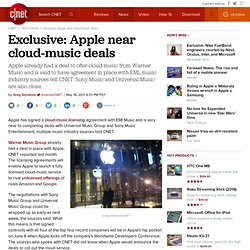 Warner Music Group already had a deal in place with Apple, CNET reported last month. The licensing agreements will enable Apple to launch a fully licensed cloud-music service to rival unlicensed offerings of rivals Amazon and Google. Apple Sounds the PC Death Knell. Justin Sullivan/Getty ImagesSteven P.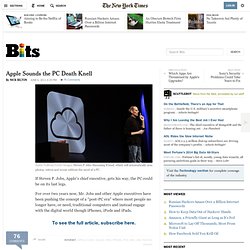 Jobs discussing iCloud, which will automatically sync photos, videos and music without the need of a PC. If Steven P. iCloud's real purpose: kill Windows. Apple's announcements yesterday about OS X 10.7 pricing (cheap), upgrading (easy), iOS 5, and iCloud storage, syncing, and media service can all be viewed as increasing ease of use, but from the perspective of Apple CEO Steve Jobs they perform an even more vital function — killing Microsoft.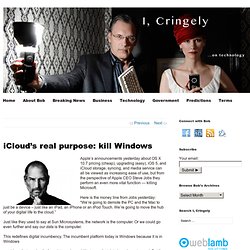 Here is the money line from Jobs yesterday: "We're going to demote the PC and the Mac to just be a device – just like an iPad, an iPhone or an iPod Touch. We're going to move the hub of your digital life to the cloud." Just like they used to say at Sun Microsystems, the network is the computer.
---