Anonymity on the Web
In this pearltree I will organize the most interesting arguments of the debate about anonimity of the web.
A Case for Pseudonyms. Pseu·do·nym [sood-n-im] –noun a fictitious name used by an author to conceal his or her identity; pen name.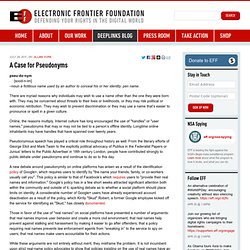 There are myriad reasons why individuals may wish to use a name other than the one they were born with. They may be concerned about threats to their lives or livelihoods, or they may risk political or economic retribution. They may wish to prevent discrimination or they may use a name that's easier to pronounce or spell in a given culture. Online, the reasons multiply.
Internet culture has long encouraged the use of "handles" or "user names," pseudonyms that may or may not be tied to a person's offline identity. The freedom to be who you want to be… Posted by Alma Whitten, Director of Privacy, Product and Engineering Peter Steiner's iconic "on the Internet, nobody knows you're a dog" cartoon may have been drawn in jest--but his point was deadly serious, as recent events in the Middle East and North Africa have shown.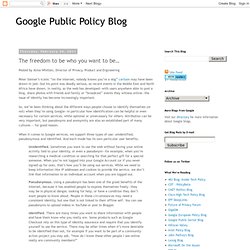 In reality, as the web has developed--with users anywhere able to post a blog, share photos with friends and family or "broadcast" events they witness online--the issue of identity has become increasingly important. So, we've been thinking about the different ways people choose to identify themselves (or not) when they're using Google--in particular how identification can be helpful or even necessary for certain services, while optional or unnecessary for others.
Who is harmed by a "Real Names" policy? This page lists groups of people who are disadvantaged by any policy which bans Pseudonymity and requires so-called "Real names" (more properly, legal names).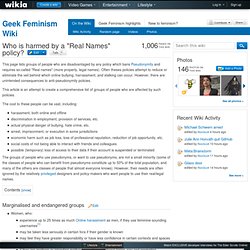 Often theses policies attempt to reduce or eliminate the veil behind which online bullying, harrassment, and stalking can occur. However, there are unintended consequences to anti-pseudonymity policies. This article is an attempt to create a comprehensive list of groups of people who are affected by such policies. "Real Names" Policies Are an Abuse of Power. Everyone's abuzz with the "nymwars," mostly in response to Google Plus' decision to enforce its "real names" policy.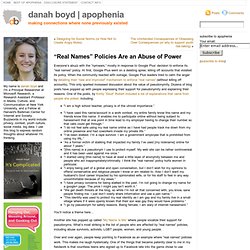 At first, Google Plus went on a deleting spree, killing off accounts that violated its policy. When the community reacted with outrage, Google Plus leaders tried to calm the anger by detailing their "new and improved" mechanism to enforce "real names" (without killing off accounts). Anonymity has value, in comments and elsewhere. The old joke about being online is that "no one knows you're a dog."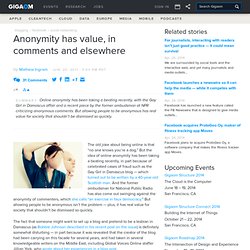 But the idea of online anonymity has been taking a beating recently, in part because of celebrated cases of fraud such as the Gay Girl in Damascus blog — which turned out to be written by a 40-year-old Scottish man. And the former ombudsman for National Public Radio has also come out swinging against the anonymity of commenters, which she calls "an exercise in faux democracy." Christopher "moot" Poole: The case for anonymity online.
Randi Zuckerberg Runs in the Wrong Direction on Pseudonymity Online. The Nymwars rage on.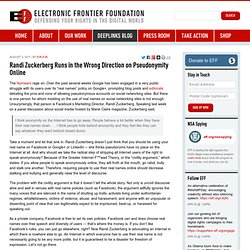 Over the past several weeks Google has been engaged in a very public struggle with its users over its "real names" policy on Google+, prompting blog posts and editorials debating the pros and cons of allowing pseudonymous accounts on social networking sites. But there is one person for whom insisting on the use of real names on social networking sites is not enough. Internet Evolution: The War on Web Anonymity. The Avenue de l'Opéra in Paris is a respectable address, surrounded by banks, boutiques and cafés.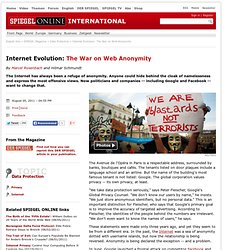 The tenants listed on door plaques include a language school and an airline. But the name of the building's most famous tenant is not listed: Google. The global corporation values privacy -- its own privacy, at least. "We take data protection seriously," says Peter Fleischer, Google's Global Privacy Counsel. Why Facebook and Google's Concept of 'Real Names' Is Revolutionary - Alexis Madrigal. The primary version of identity online is a radical departure from what we expect in real life Should you have to use your real name online?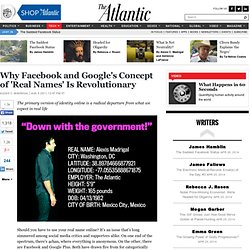 It's an issue that's long simmered among social media critics and supporters alike. On one end of the spectrum, there's 4chan, where everything is anonymous. On the other, there are Facebook and Google Plus. "For Those Who Don't Want To Believe" I feel uncomfortably like a prophet.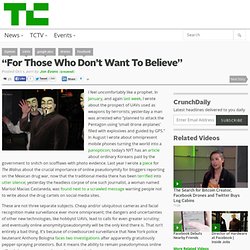 In January, and again last week, I wrote about the prospect of UAVs used as weapons by terrorists; yesterday a man was arrested who "planned to attack the Pentagon using 'small drone airplanes' filled with explosives and guided by GPS." In August I wrote about omnipresent mobile phones turning the world into a panopticon; today's NYT has an article about ordinary Koreans paid by the government to snitch on scofflaws with photo evidence. Surprisingly Good Evidence That Real Name Policies Fail To Improve Comments.
YouTube has joined a growing list of social media companies who think that forcing users to use their real names will make comment sections less of a trolling wasteland, but there's surprisingly good evidence from South Korea that real name policies fail at cleaning up comments.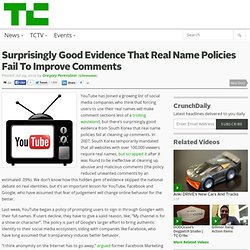 In 2007, South Korea temporarily mandated that all websites with over 100,000 viewers require real names, but scrapped it after it was found to be ineffective at cleaning up abusive and malicious comments (the policy reduced unwanted comments by an estimated .09%). We don't know how this hidden gem of evidence skipped the national debate on real identities, but it's an important lesson for YouTube, Facebook and Google, who have assumed that fear of judgement will change online behavior for the better.
---