30 Rock
"30 Rock" (2006) Edit Storyline Elizabeth "Liz" Lemon is the executive show runner for a late night sketch comedy show called "The Girlie Show", that stars her close friend and major drama queen Jenna Maroney.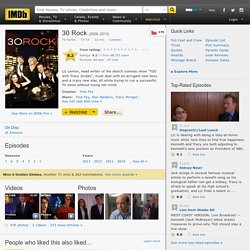 When GE hires a new executive vice president for NBC named Jack Donaghy, he decides to take Liz Lemon under his wing and turn around TGS, which for years has been unable to find the proper audience it deserves. So to do so, he brings on unhinged, wildly unpredictable star Tracy Jordan to turn the series into a ratings hit. 30 Rock. 30 Rock was a runaway critical success, winning several major awards (including Primetime Emmy Awards for Outstanding Comedy Series in 2007, 2008, and 2009 and nominations for every other year it ran), and achieving the esteemed top ranking on a myriad critics' year-end best of 2006-2013 lists.[2] On July 14, 2009, the series was nominated for 22 Primetime Emmy Awards, the most in a single year for a comedy series.[7] Over the course of the series, it was nominated for 112 Emmy awards and won 16, in addition to numerous other nominations and wins from other awards shows.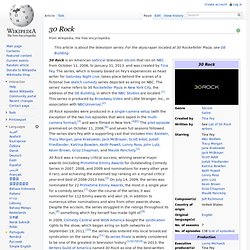 Despite the acclaim, the series struggled in the ratings throughout its run,[8] something which Fey herself has made light of.[9] 30 Rock Comedy TV Show - Videos, Photos, Episode Recaps, Bios &. 2m5gfu0.
30 Rock Criticizes Tea Party
---