Knives, tools
The Gerber Store - outdoor hunting and fishing knives and tools
The Gerber Store - outdoor hunting and fishing knives and tools
The Gerber Store - outdoor hunting and fishing knives and tools
GerberGear > Product Details > Suspension™
GerberGear > Tools > Butterfly Opening
Gerber Tools - Gerber Multitools
Keychain Multi-Tools
Gerber New Crucial Green Multi-Tool Hunting 30-000140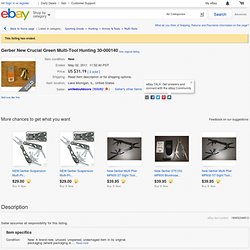 Brand New in original packaging In Stock and ready to ship! Limited Lifetime Warranty Save money buying from us – suggested retail is $58.99
Gerber 01471 Suspension Butterfly Opening Multi-Plier, with Sheath: Sports & Outdoors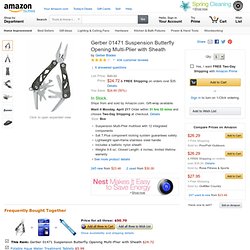 Tough, reliable, and easy to handle, the Gerber Suspension Multi-Plier is engineered to tackle jobs in just about every situation you can imagine. Featuring a sleek butterfly design, durable stainless steel construction, and Gerber's patented Saf.T.Plus component locking system, this affordable multitool packs 11 convenient tools that will quickly prove indispensable.Strong, Innovative Open-Frame DesignStrong yet lightweight, the Suspension Multi-Plier offers the durability of stainless steel construction along with an aluminum butterfly-opening handle that's inspired by the precision engineering of Portland, Oregon's famous suspension bridges. Like those time-tested iron bridges, this tool is designed to deliver the down-and-dirty performance that you demand from your tools.
Gerber 30-000140 Crucial Tool, Green: Home Improvement
Gerber Crucial Green - #30-000140 : Gerber Multi-Tools - at Rocky National
CRKT Knives - Colombia River Knife and Tool for sale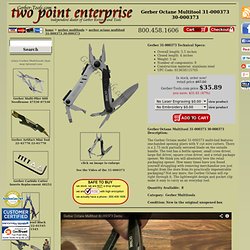 Gerber Octane Multitool 30-000373
Gerber 31-000373 Technical Specs:Overall length: 5.5 inchesClosed length: 4 inchesWeight: 5 ozNumber of components: 9Construction material: stainlesss steelUPC Code: 013658115705 In stock, order now!retail price $67.50Gerber-Tools.com price $35.89you save: $31.61 (47%) Gerber Octane Multitool 31-000373 30-000373 Description:
A Story of One Swiss Army Knife, One Airplane, Two Fathers and Two Sons My son and I (and my red swiss army midnight manager knife) were returning from a Washington D.C. trip when our life took a series of unexpected twists and turns. By way of background, this story ends with my 9 year old son in tears, a genuinely sympathetic United Airlines employee and the gifting of my favorite red midnight manager swiss army knife to a father and son that we will never know. The day starts at 3:00 a.m. with my son and I waiting for the blue Shuttle Express van to take us to Duells Airport, D.C. Naturally, it shows up nearly an hour late and the stress level is high enough to make the flight to Southern California.
Swiss Army Knife - Victorinox Knives - Engraved Swiss Army Knife - Buy Knifes
Swiss Knife Shop featuring Victorinox Swiss Army, Wenger Swiss Army, Leatherman, Henckels, Wusthof, and BUILT
Gerber 31-000486 Technical Specs:Open length: 7.12 inchesBlade length: 3.12 inchesClosed length: 4 inchesHandle material: aluminumWeight: 2.4 ozUPC Code: 013658116894 In stock, order now!retail price $33.00Gerber-Tools.com price $16.98you save: $16.02 (49%) Gerber EVO Mid-Size Tanto Knife 31-000486 30-000202 Description: The Gerber EVO mid size knife model 31-000486 features a partially serrated tanto blade. The blade is coated surgical stainless steel.
Gerber EVO Mid-Size Tanto Knife 30-000202