Edu vid
Art Project, powered by Google. Khan Academy. TED: Ideas worth spreading. Big Think. Videos on the People, Issues, and Ideas Changing the World. The Story of Stuff. Home. RSA Animate - The Empathic Civilisation. Learn Liberty. Gel Conference - The world's top creative leaders, exploring good experience. The Official Site of Bill Gates - The Gates Notes.
ResearchChannel's Channel. Welcome to YouTube!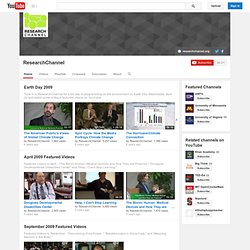 The location filter shows you popular videos from the selected country or region on lists like Most Viewed and in search results.To change your location filter, please use the links in the footer at the bottom of the page. Click "OK" to accept this setting, or click "Cancel" to set your location filter to "Worldwide".
---