Chomsky
Noam Chomsky was born in Philadelphia and educated at the University of Pennsylvania, where he received his B.A. (1949), M.A. (1951), and Ph.D. (1955). In 1955, he was appointed to the faculty of the Massachusetts Institute of Technology (MIT), where he has served as professor of foreign languages and linguistics.
Noam Chomsky, Gale Encyclopedia of Psychology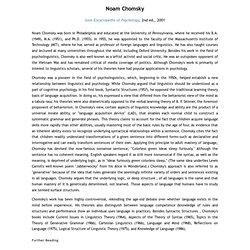 Compiled by Elizabeth Crabtree (May 1999) Biography Theory Time Line Bibliography Noam Chomsky was born in 1928 in Philadelphia, PA.
Psychology History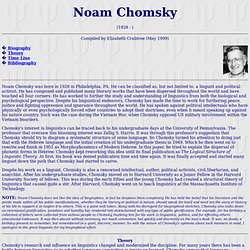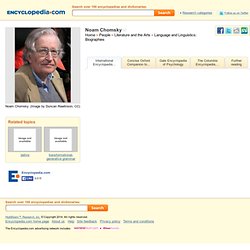 Noam Chomsky Facts, information, pictures | Encyclopedia.com articles about Noam Chomsky
In the field of linguistics, Noam Chomsky occupies a position close to that held by Isaac Newton in physics during the eighteenth century. Because language is central to being human, Chomsky has also long occupied a foundational role in the cognitive sciences that have burgeoned since the middle of the twentieth century. While Newton had an equally intense and ambitious career as an alchemist and a doomsday Biblical scholar, the politic Sir Isaac kept these careers, largely successfully, a dark secret.
Avram Noam Chomsky ( / ˈ n oʊ m ˈ tʃ ɒ m s k i / ; born December 7, 1928) is an American linguist , philosopher , [ 8 ] [ 9 ] cognitive scientist , logician , [ 10 ] [ 11 ] historian , political critic , and activist .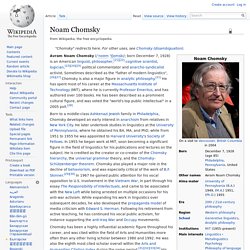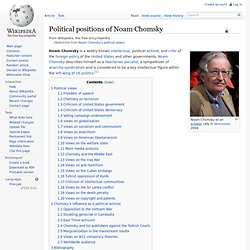 Noam Chomsky is a widely known intellectual , political activist , and critic of the foreign policy of the United States and other governments.
Noam Chomsky's political views