Chomsky
Noam Chomsky, Gale Encyclopedia of Psychology. Noam Chomsky was born in Philadelphia and educated at the University of Pennsylvania, where he received his B.A. (1949), M.A. (1951), and Ph.D. (1955).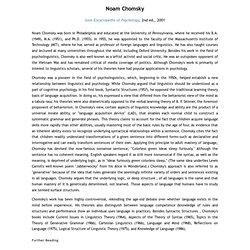 In 1955, he was appointed to the faculty of the Massachusetts Institute of Technology (MIT), where he has served as professor of foreign languages and linguistics. He has also taught courses and lectured at many universities throughout the world, including Oxford University. Besides his work in the field of psycholinguistics, Chomsky is also well-known as a leftist activist and social critic. He was an outspoken opponent of the Vietnam War and has remained critical of media coverage of politics. Although Chomsky's work is primarily of interest to linguistics scholars, several of his theories have had popular applications in psychology. Chomsky, Noam (1928- ) | Encyclopedia of Psychology. Psychology History.
Chomsky's research and influence on linguistics changed and modernized the discipline.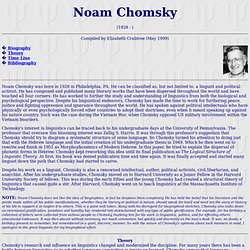 For many years there has been a battle between linguistics as to whether language acquisition is innate or learned. Chomsky argues that language acquisition is an innate structure, or function, of the human brain. Noam Chomsky Facts, information, pictures | Encyclopedia.com articles about Noam Chomsky. Noam Chomsky. Avram Noam Chomsky (/ˈnoʊm ˈtʃɒmski/; born December 7, 1928) is an American linguist, philosopher,[20][21] cognitive scientist, logician,[22][23][24] political commentator and activist.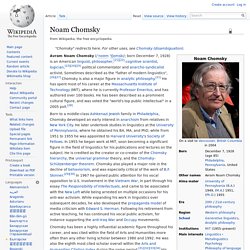 Sometimes described as the "father of modern linguistics",[25][26] Chomsky is also a major figure in analytic philosophy.[20] He has spent most of his career at the Massachusetts Institute of Technology (MIT), where he is currently Professor Emeritus, and has authored over 100 books. He has been described as a prominent cultural figure, and was voted the "world's top public intellectual" in a 2005 poll.[27] Born to a middle-class Ashkenazi Jewish family in Philadelphia, Chomsky developed an early interest in anarchism from relatives in New York City.
He later undertook studies in linguistics at the University of Pennsylvania, where he obtained his BA, MA, and PhD, while from 1951 to 1955 he was appointed to Harvard University's Society of Fellows. Noam Chomsky's political views. Noam Chomsky is a widely known intellectual, political activist, and critic of the foreign policy of the United States and other governments.
Noam Chomsky describes himself as a libertarian socialist, a sympathizer of anarcho-syndicalism and is considered to be a key intellectual figure within the left-wing of US politics.[1] Political views.
---