Non-Complete
Cabinet of Wonders
On the Non-Complete: On the Non-Complete in Visionary Architecture - Amos Bar-Eli. Urban Exploration / Exploration Urbaine - Online since 1998! Photos of abandoned places. Friched.net - Urban & Industrial Archeology. Houses Gone Wild. We think of feral dogs as dangerous, foreboding and to-be-avoid – but wild houses have a strange allure despite (or likely because) they are abandoned abodes, deserted homes gone from domestic spaces slowly back to nature.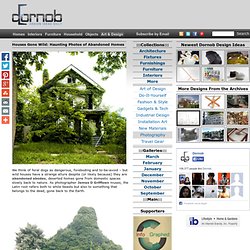 As photographer James D Griffioen muses, the Latin root refers both to while beasts but also to something that belongs to the dead, gone back to the Earth. Some of his shots capture this process at an incredibly late stage, such as the house above which is entirely camouflaged by the greenery that has grown to cover it – only discernible because the branches and vines conform to the shape of the structure. Others photos catch the domestic devolution at intermediate stages, snapshots of partial overgrowth where there is still some strange balance of building and nature – one could almost imagine someone still occupying this structure and simply never leaving it.
WAG: Elko Tract: Exploring the Lost City. There's three of us in the Toyota, and when we turn onto the back road, we cut the lights off and drift onto the shoulder.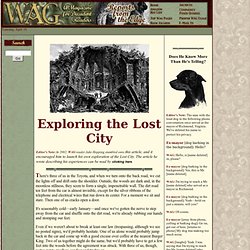 Outside, the woods are dark and, in the moonless stillness, they seem to form a single, impenetrable wall. The dirt road ten feet from the car is almost invisible, except for the silver ribbons of the telephone and electrical wires that run down its center. Detroiturbex.com. Detroit in Ruins. Unfinished work.
An unfinished work is creative work that has not been finished.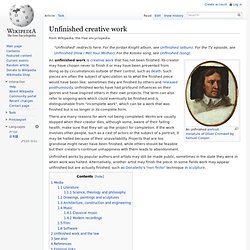 Its creator may have chosen never to finish it or may have been prevented from doing so by circumstances outside of their control, such as death. Such pieces are often the subject of speculation as to what the finished piece would have been like; sometimes they are finished by others and released posthumously. The Process of Artistic Creation in Terms of the Non-finito. Jeremy Angier May 07, 2001 New York Academy of Art The Process of Artistic Creation in Terms of the Non-finito If Michelangelo had not been born, would it have been necessary to invent him?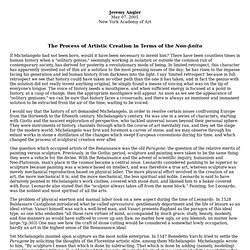 There have been countless times in human history when a "solitary genius," seemingly working in isolation or outside the common run of contemporary society, has derived for posterity a revolutionary mode of being. Non finito. Non finito is a sculpting technique literally meaning that the work is unfinished.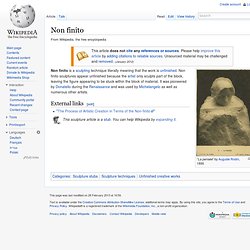 Non finito sculptures appear unfinished because the artist only sculpts part of the block, leaving the figure appearing to be stuck within the block of material. It was pioneered by Donatello during the Renaissance and was used by Michelangelo as well as numerous other artists. Unfinished Italy Documentary - unfinished-italy.com. Unfinished building. The Szkieletor remains unfinished because it would be too costly to complete or demolish.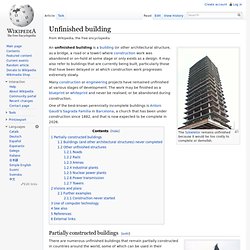 An unfinished building is a building (or other architectural structure, as a bridge, a road or a tower) where construction work was abandoned or on-hold at some stage or only exists as a design. It may also refer to buildings that are currently being built, particularly those that have been delayed or at which construction work progresses extremely slowly.
Many construction or engineering projects have remained unfinished at various stages of development. The work may be finished as a blueprint or whiteprint and never be realised, or be abandoned during construction. Folly. In architecture, a folly is a building constructed primarily for decoration, but either suggesting by its appearance some other purpose, or merely so extravagant that it transcends the normal range of garden ornaments or other class of building to which it belongs.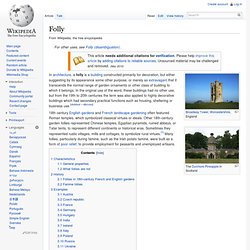 In the original use of the word, these buildings had no other use, but from the 19th to 20th centuries the term was also applied to highly decorative buildings which had secondary practical functions such as housing, sheltering or business use. [dubious ] 18th century English gardens and French landscape gardening often featured Roman temples, which symbolized classical virtues or ideals. Ferdinand Cheval. Ferdinand Cheval Cheval's Palais idéal Ferdinand Cheval (born 1836 in Charmes-sur-l'Herbasse, Drôme, France; died 19 August 1924) was a French postman who spent thirty-three years of his life building Le Palais idéal (the "Ideal Palace") in Hauterives.[1][2][3] The Palace is regarded as an extraordinary example of naïve art architecture.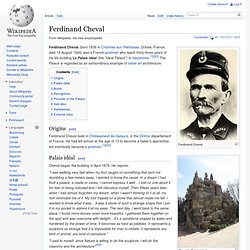 Origins[edit] City Visions Europe - Interview with Ines Weizman. Eine von Europas bekanntesten und kreativsten Metropolen ist ohne Zweifel London.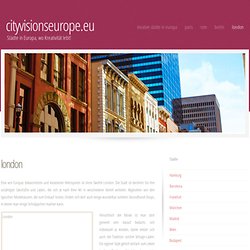 Die Stadt ist berühmt für ihre unzähligen Geschäfte und Läden, die sich je nach ihrer Art in verschiedene Viertel verteilen. Abgesehen von den typischen Modehäusern, die zum Einkauf locken, finden sich dort auch einige wunderbar sortierte Secondhand-Shops, in denen man einige Schnäppchen machen kann. Hinsichtlich der Mode ist man dort generell sehr darauf bedacht, sich individuell zu kleiden, daher erklärt sich auch die Tradition solcher Vintage-Läden.
Ein eigener Style gehört einfach zum Leben in dieser Stadt- es gibt nichts, das es nicht gibt! Während im Allgemeinen der Stil zwar eher schick ist, begegnet man dennoch immer wieder äußerst exzentrischen Looks in der Innenstadt, in der Trends gesetzt werden. Notes on incomplete architecture. An On-line Book Draft First Draft Presented at the Congress for the New Urbanism 2000 Michael Mehaffy.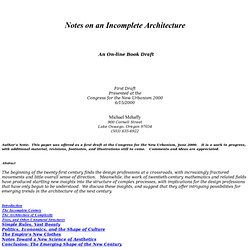 Edward Burtynsky [ Photographic Works ] Eric holubow: urban exploration photographer. Friched.net - Urban & Industrial Archeology. Thomas E. Pringle. Yves Marchand & Romain Meffre Photography. Abandonedography. Eric Lusito - Traces of the Soviet Empire. .:: abandoned places - bulidings, factories, churches, industrial objects ::. Welcome to our new, long-awaited website, devoted to unusual and mysterious places in Poland. This site is the brainchild of two men, admitted psychos ;), who out of boredom, set out to find and photograph these abandoned places like no one else before them. We invite you to visit our gallery and look through our photos - perhaps you will see the same hidden beauty in these places as we do.
If you enjoy doing this kind of thing on your own, we encourage you to share your experiences and photos with us. [opuszczone means abandoned in Polish] Abandoned. Домик Доцента v.3.0| Индустриальная и подземная фотография | фотосталкер. Abandoned and forgotten places, ruins, cemeteries, factories. Jundl website. Home page. Tim Feresten - Photographs. Portraits of Place - Modern Ruins, photographs by Shaun O'Boyle. WELCOME TO THE WORLD OF KEIZOU MAEKITA. היכלות נטושים - שרון רז. היכלות נטושים – שרון רזתיעוד בתי קולנוע נכחדים בישראלתערוכה חדשה בגלריה בבית האדריכל18.04.13– 07.03.13 . ערב עיון במסגרת התערוכה יתקיים בגלריה בבית האדריכלביום ה' 18.04.2013 בשעה 20:00 במסגרת ערב העיון ידונו אספקטים שונים - אדריכליים, קולנועיים ותרבותיים - של הפריחה והדעיכה של בתי הקולנוע בישראל ובכלל.
בתכנית:שרון רז: על עצמו, על פעילות התיעוד הצילומי ועל היכלות נטושיםצבי אלחייני: היבטים אדריכליים של בתי הקולנוע בישראל באמצע המאה העשריםבני תורתי: היבטים קולנועיים - כיכר החלומות והגעגועים לבית הקולנוע האבודדוד שליט: היבטים תרבותיים - על בתי הקולנוע ועל תפקודם בעתיד על המשתתפים: שרון רז: אדריכל, צלם ומתעד מבנים ותיקים ונטושים בישראל ("אדריכלות נעלמת", "נטוש").צבי אלחייני: אדריכל, חוקר אדריכלות ומייסד "ארכיון אדריכלות ישראל" שבמגדל שלום מאיר, ת"א.בני תורתי : תסריטאי ובמאי קולנוע. Non-complete Architecture. Paper title: Simultaneity of interior \ exterior: spatial ambiguity and representation complexities. A conceptual exploration through Alberto Campo Baeza's architecture Abstract The paper renders an inquiry into the simultaneity of interior \ exterior as it is manifested in paintings, architectural representations, and the experience of space.
---